The Uruguayan is having an absolutely sensational campaign, inspiring Liverpool to a top four challenge, but is the form of the 26-year-old letting other players off the hook? Henry Jackson (@OnFootballTweet) gives his verdict.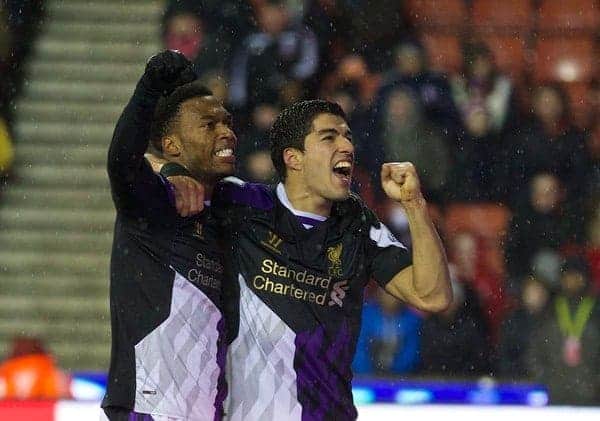 First things first, Liverpool are having a terrific season and, of course, it's not all down to Suarez. There have been many terrific team performances, and other individuals have chipped in at crucial times too.
Brendan Rodgers has got his side playing some terrific football, and if they keep churning out the wins a Champions League place will be their's next season.
Despite this, there can be can no doubting that Liverpool would not be in the position they are without Suarez. Whether it be his goals, assists or general brilliance, he has been sensational. He is on course to be the most prolific scorer in a season in Premier League history. This is despite having missed the first five league games and not scoring any penalties.
Because Suarez has been so influential, there are a number a players not performing to the best of their ability who are being let off the hook. El Pistolero is so good that he is masking flaws within the side at present.
GOALKEEPER and DEFENCE
Simon Mignolet has looked very shaky of late, and his howler against Manchester City cost Liverpool dearly in a game they deserved to get at least a point from. It could be argued that he should have done better with Samuel Eto'o's opener in the loss to Chelsea too.
The 25-year-old also looked suspect during Sunday's victory over Stoke, punching tamely a couple of times and failing to keep out Jon Walters' weak shot. Had Suarez not scored twice and created another, Mignolet may well have been the villain on another day.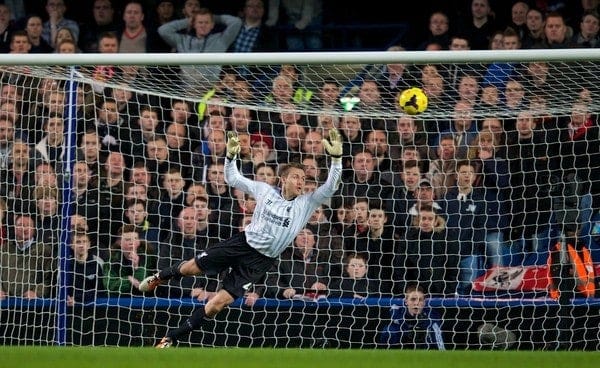 There is no doubting the Belgian's ability, but he is not enjoying an impressive run of form at all at the moment. They often say the form of a goalkeeper influences the form of his defence, and that appears to be the case at Liverpool at the moment.
Glen Johnson is another who, were Suarez not inspiring Liverpool to crucial wins, may well be in the firing line for a huge amount of criticism. The England international has been atrocious since his return from injury, whether it be his dreadful distribution or his general lack of interest.
There seems to be something playing on Johnson's mind, whether that be the contract talks that stalled earlier in the season, or something else in his private life.
It's not just Johnson who deserves criticism, however. Defensively Liverpool have not been great at all this season. In fact they have been distinctly average in a lot of games. Under Gerard Houllier and Rafa Benitez, the Reds were always rock solid at the back but sometimes lacking in attacking areas. Under Rodgers they are the opposite.
They have conceded more goals than any of the other top seven sides. Martin Sktel and Kolo Toure have been erratic, Daniel Agger has been bullied at set pieces and Aly Cissokho looks out of his depth. There are too many sloppy goals being conceded, whether it be goals from corners or individual errors from Liverpool players.
Of all the full-backs at the club, only youngster Jon Flanagan has excelled. Even Jose Enrique, out injured for a number of months now, was not consistent enough when he was fit.
MIDFIELD
Although the midfield quartet of Steven Gerrard, Jordan Henderson, Lucas and Joe Allen have all been good when they've played at different times this season- Henderson has been Liverpool's best player barring Suarez- they've only scored five Premier League goals between them. That is not good enough.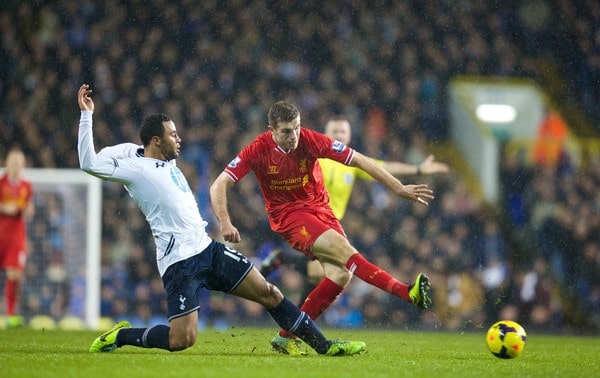 Henderson has just one in 21 league games, while three of Gerrard's four have been from the penalty spot. While Suarez plays like he is it's not a problem at all, but it's if the Uruguayan's goals dry up that it becomes an issue.
ATTACK
Raheem Sterling has been excellent recently, but still needs to score more, while Philippe Coutinho's two goals is a very mediocre return for someone of his ability. The Brazilian needs to be getting double figures every season.
Suarez has scored 22 of the Reds' 51 league goals, and the worry is that, if he suddenly has a dip form, who is going to step up to the plate? Daniel Sturridge's return from injury is huge in that respect.
CONCLUSIONS
Last season, Manchester United won the Premier League mainly because of the outstanding performances of Robin van Persie. Without him, Sir Alex Ferguson's very average squad would never have won the league. The Dutchman is out injured at the moment, and United's flaws have been exposed. The same thing happened at Barcelona last season without Lionel Messi in the side.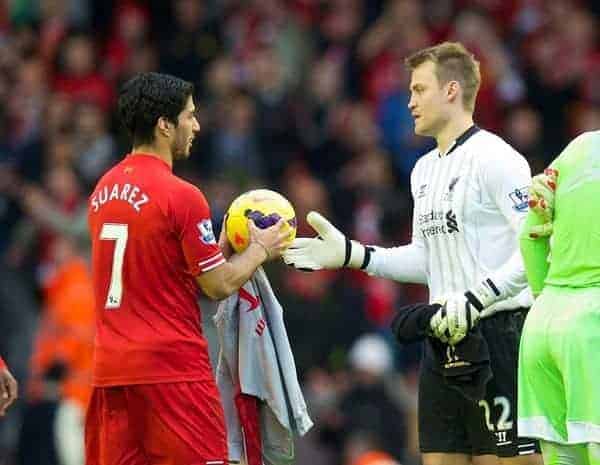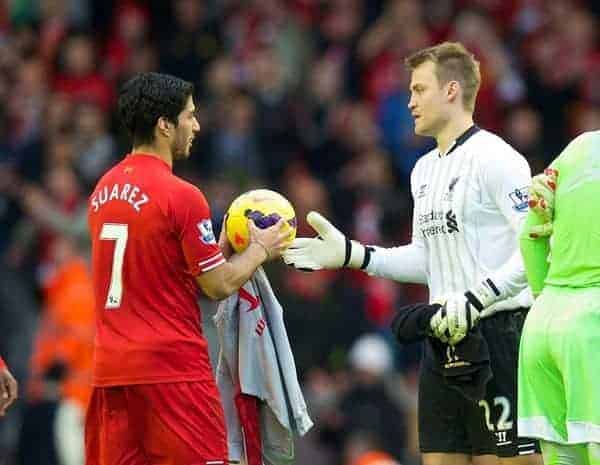 Although no Reds fan would like to admit it, there is a similar feeling to this with Suarez this season. He is arguably the most in-form player in the world at the moment, and is walking away with all of the Player of the Year awards in England. He is unplayable at present.
As mentioned above, while he continues to play like he currently is, there is no problem. The likes of Mignolet, Johnson and Coutinho will all continue to get away with below par performances because Suarez really is that special. An injury or a dip in form for the Uruguayan may well highlight the flaws within the side hugely, in my opinion.
Liverpool are playing well, and are making excellent progress under Rodgers, but they are far from perfect.
Do you agree with Henry? Are Liverpool too reliant on Suarez?