The most talked about topic on Twitter on Tuesday night was Liverpool's 4-0 thrashing of Everton in the 222nd Merseyside derby at Anfield.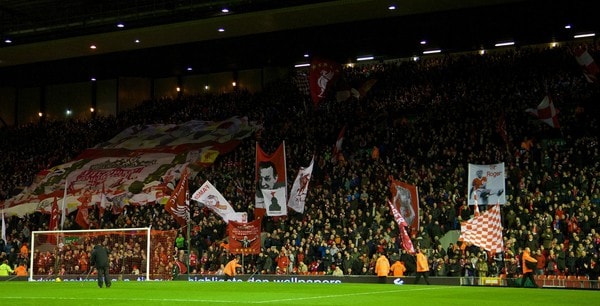 On an epic night for the Red half of the city, goals from Steven Gerrard, Daniel Sturridge (2) and Luis Suarez sank Roberto Martinez's Toffees to their worst derby defeat in over 30 years.
It could well have been more too, but for some missed chances and Sturridge missing a second-half penalty which would have completed his hat-trick.
Around the ground, the atmosphere was superb — surely the best in several years, as a renewed optimism rang around Anfield.
That optimism and spirit was echoed in tweets before, during and after the match — fans buzzing from beating the local rivals so convincingly.
We've rounded up 20 of the best tweets from the match, which paint a picture of how passionately Liverpool fans see this victory, which moves Brendan Rodgers' side four points clear of the Blues in the Premier League table.
The city is all ours…! #LFC #EFC pic.twitter.com/HX68pONg2r

— LFC Photo (@LFCphoto) January 29, 2014
Demolition Derby. This morning's backpages pic.twitter.com/uGDxcto6vz

— George Riley (@georgeyboy) January 29, 2014
VIDEO: Full Match Liverpool vs Everton in case you missed it or want to see it again….. http://t.co/vS4i012UaJ #LFC

— MostarLFC (@MostarLFC) January 29, 2014
Waw… Thanks lads, it was so loud I could hear The Sangria song from home.#YNWA

— Luis Garcia (@LuchoGarcia14) January 28, 2014
Biggest Derby win since 1982. First time #LFC scored 4 against #EFC at Anfield since 4th March 1972!

— AnfieldIndex (@AnfieldIndex) January 28, 2014
Photo: A night to remember at Anfield… #LFC pic.twitter.com/ukM7GaNEhK

— Liverpool FC (@LFC) January 28, 2014
Wow!!!Liverpool ON FIREEEEEEE!!!! Get in!!! #MerseysideDerby

— Pepe Reina (@PReina25) January 28, 2014
The passion in those eyes #CaptainFantastic pic.twitter.com/og644radkO

— Jay_Riley (@Jay_78_) January 29, 2014
Great start of the week.important win yesterday and today Liverpool beat Everton 4-0 in the Merseyside derby!!Amazing result

— Dirk Kuyt (@Dirk_18_Kuyt) January 28, 2014
4-0. pic.twitter.com/jADhv4ak7I

— (@matchimages) January 28, 2014
Our @MirrorSport back page Sturridge hammers the Toffees and then apologises. Funny old game! http://t.co/qhN4TGALA1 pic.twitter.com/CuWmdGw6cy

— Daily Mirror (@DailyMirror) January 28, 2014
Hey hey hey.. 4-0 victory and bragging rights in Liverpool… Guess I'm not good at pens!! Glory to God #grateful pic.twitter.com/JycNiF7qLB

— Daniel Sturridge (@D_Sturridge) January 28, 2014
Bet the giant wishes he'd stayed in bed… #lfc pic.twitter.com/79TbW7fjk8

— Kop Magazine (@TheKopMagazine) January 29, 2014
Radio City commentary highlights — #LFC 4-0 #EFC http://t.co/1hjYJ0kfin

— Not Brian Kettle (@briankettle) January 28, 2014
There's going to be a lot of sickies pulled tomorrow. I'd give them compassionate leave.

— Jim Boardman (@JimBoardman) January 28, 2014
Liverpool are magic, Everton are tragic.

— This Is Anfield (@thisisanfield) January 28, 2014
Y.N.W.A pic.twitter.com/y9Nmixn6fN

— Daniel Agger (@DanielAgger) January 29, 2014
That´s the #MerseysideDerby we all dreamed about. Keep fighting!! #LFC #YNWA pic.twitter.com/7YwNYLqfs9

— Luis Alberto Romero (@14_luisalberto) January 28, 2014
Great result for Liverpool well done @D_Sturridge on the goals and great comeback to get the win from us tonight never give up!

— andre wisdom (@andrewisdom47x) January 28, 2014
Hope all the Lfc fans are having a good night tonight! Make sure if anyone is out no violence. #myfeetareup #cupofwhitetea #redordead #peace

— Daniel Sturridge (@D_Sturridge) January 29, 2014