Adam Griffies (@WhatahitsonLFC) praises Philippe Coutinho's performance in the Merseyside derby, casting aside recent doubts about the Brazilian's form.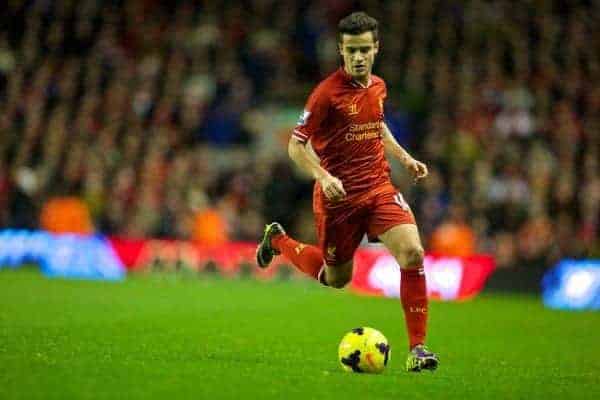 A year after his arrival on Merseyside, question marks have recently been raised over Philippe Coutinho's place in Brendan Rodgers' starting eleven.
In some ways, the Brazilian had fallen victim to the high standard and expectation he garnered for himself with a series of glowing performances during his first six months in a red shirt. They were performances which belay the fact he was just 20 years old upon joining the club.
Each misplaced pass from the Brazilian, seemingly increasing in regularity has been greeted by growing groans around Anfield and in particular, the attacking midfielder's profligate shooting has driven supporters to ask 'Is he really as good as we thought?'
Last night, he responded to those murmurs, emphatically.
Derby Display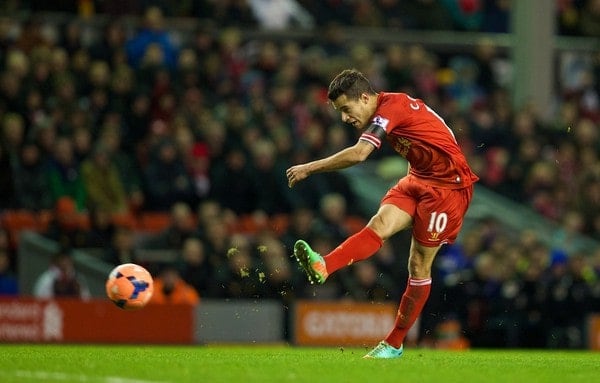 In arguably the biggest game of his career so far, he blew any question marks surrounding his recent displays away and recaptured his early-2013 form.
Deployed in a central role behind the frontline, Coutinho buzzed exuberantly around Everton's midfield, constantly binding Reds' attacks with intelligent movement into pockets of space and laser-like passing vision. His assist for Daniel Sturridge's first goal illustrated this perfectly, sliding a typically well-weighted ball through for the striker to score.
That was one of four key passes he executed in the match, more than any other Liverpool player. With the air of arrogance that Brendan Rodgers spoke of wanting his players to have recently, he glided expertly about the pitch, consistently making himself available for the ball.
Coutinho's participation in the game was underlined by statistics too, as he played the most passes (45) and had the most touches (65) of any Liverpool player on the night.
Tenacity
But, unusually, it wasn't just in the attacking third of the pitch that Coutinho stood out. Perhaps content to vacate the midfield battle in the past, the Reds' number 10 looked determined to impact the game and get stuck in, often dropping deep to form a central trio with Jordan Henderson and Steven Gerrard.
This helped us remain compact, and form an impenetrable defensive block. His incessant, almost Mascherano-like hounding of the opposition enthused me most, forcing Everton into mistakes and subsequently providing a springboard for constant, flowing counter-attacks.
http://www.youtube.com/watch?v=x8-oaQNXkkk
The 21-year-old's defensive contribution was highlighted by the fact he completed five tackles in the match, the second most of all 22 starting players, and comfortably more than he has managed previously. He was fired up; we were seeing another side of our Brazilian magician, a side I don't think we have seen before.
Ironically, had Joe Allen passed a late fitness test and proved his availability, the Welshman might have started last night's game to provide a solid midfield base in a 4-3-3 formation, putting Coutinho's place in the side under threat. The Brazilian would have been competing with the in-form Raheem Sterling for a place in the Reds' attack alongside the ubiquitous Suarez and Sturridge, meaning he was probably favourite to miss out.
But that's not the point, is it? The point is, Coutinho did start, and produced his best overall performance for Liverpool to date.
The playmaker's importance to us should not be underestimated and if he continues to play with last night's level of fervour and dynamism for the rest of the season, the chance of us reaching our targets will increase. His assist for Sturridge's goal was the fifth league goal he's been involved in during this campaign, scoring two and creating three.
His numerical output is an area where he'll be keen to improve, and our manager expects him to. "I think Coutinho will get more too," Rodgers stated. "He will naturally get more goals but he is a wonderful player for us, he is a key who opens up many things in a game. I look at him as a [Luka] Modric type. And when you look at Modric over four years at Tottenham he got 13 goals [in the league] but his influence was massive and Coutinho is of that type."
It's high praise and, in my opinion, justified.
Whether or not you feel he needed to, Phillipe Coutinho was out to prove a point last night, and he certainly did that.