Ah, three days into the transfer window and we already have a front-runner for worst Liverpool related rumour.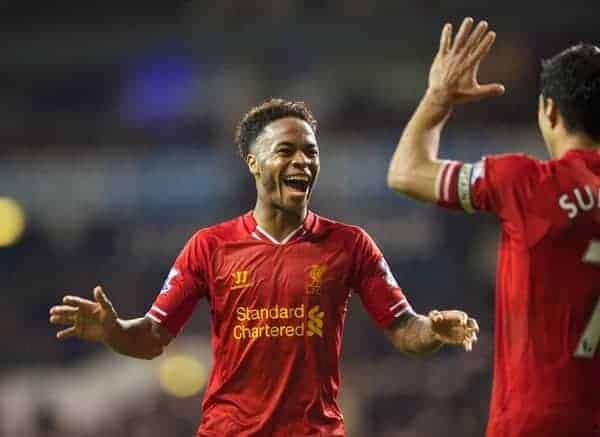 No surprise for the source of this one – The Mirror's Darren Lewis.
Lewis claims that Liverpool will allow Raheem Sterling, who has started the last eight Premier League games, to leave once they complete the prospective signing of Basle's Mohamad Salah.
Lewis claims Rodgers will sanction the loan move "once an experienced replacement was brought in" – obviously forgetting that, arguably, Sterling is more experienced than Salah, who has never played in the Premier League.
Highly doubt Sterling is going anywhere in January. One of our top performers in recent weeks. Salah or not we need him in the squad.

— Kop 305 (@Kop305) January 2, 2014
Just because Salah is a mere 21 years old, and has played in the Champions League, doesn't make him more experienced. Sterling has 42 Premier League appearances and over 50 for Liverpool.
If anything, surely it would be Salah who would be eased into the first-team.
Yes, a loan move for Sterling may have made sense a month or more ago, but not now he has shown such progress in the absence of Daniel Sturridge, working well in a front three alongside Luis Suarez and Philippe Coutinho.
Loan out Sterling when our squad is so thin? Who pays these journalists?

— Annie Road (@ThoseScouseLads) January 2, 2014
Rodgers has spoke of his desire to improve the depth and options available in the squad – loaning out Sterling would completely contradict this. What the boss wants is a strong, competitive squad heading into the second half of the season as they push for a top four finish.
Of course, as with all these rumours, the report in The Mirro has now been regurgitated by every media outlet on the internet – all failing to spot how little sense it makes.
If anyone is to head to Swansea, it's more likely to be Iago Aspas if/when a new forward can be signed. And if a young winger with a desire to get regular football is to head out on loan, it will be Jordon Ibe, not Sterling.
Remember this January, in the world of transfer rumours, two plus two really can equal five.
Update: Swansea chairman Huw Jenkins has already denied the move, saying "It's not correct that we are trying to sign Raheem Sterling." As expected.