Neil Collins dissects Liverpool's 5-3 victory over Stoke at the weekend and finds both positives and negatives.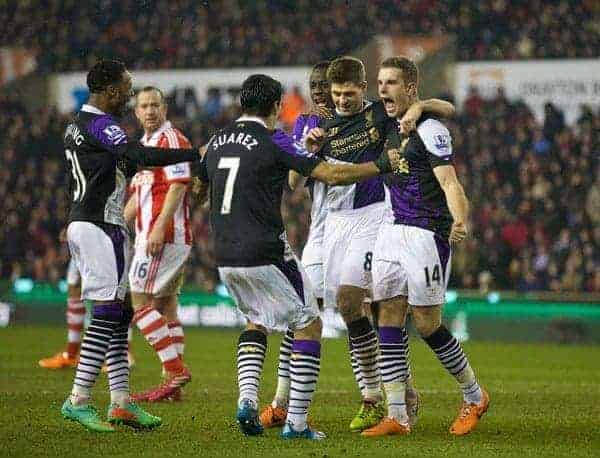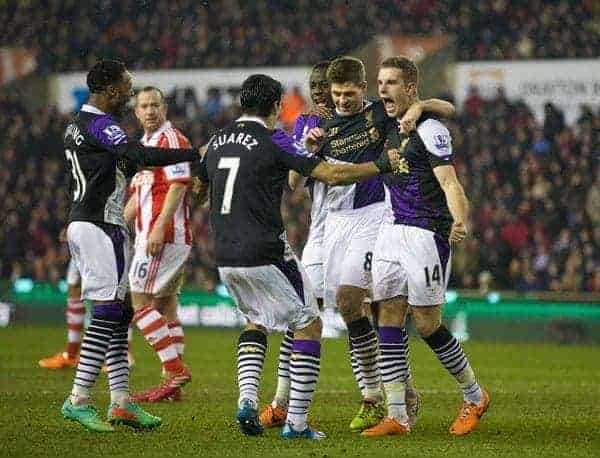 After losing crucial six-pointers against Man City and Chelsea, an unenviable trip to Stoke was always going to take on added significance. After all, we hadn't won there in the league since 1984.
However, Liverpool passed this robust test of their Champions League credentials with flying colours. And whilst it might not have been pretty, yesterday marked a huge win for Rodgers' Reds.
Here's five talking points…
The S.A.S.
Sturridge looked like he hadn't missed a kick since that last-gasp equaliser against Everton nine games ago. Replacing Coutinho after the hour-mark, the 24-year-old took just five minutes to set up Suárez with a sublime drop of the shoulder and flick following a break from halfway.
Suárez then returned the favour with an inch-perfect cross onto his strike partner's head for the fifth. Sturridge's sharpness in juggling a bouncing ball before lashing home demonstrated a player exhibiting no signs of rustiness after a six-week lay-off.
That's 32 between them in the league now (22 for Suárez and 10 for Sturridge), which is incredible given their prolonged periods on the sidelines.
Our goal tally of 51 this season is only second behind Man City's 59, and is the joint highest total we've scored over 21 games since Dalglish's Reds romped to the title in 1987-88. Furthermore, our goal difference of 25 is also second behind City in the league, which could make all the difference in May.
Defensive Difficulties
Alarmingly, only Fulham and Hull have failed to score against us in the last 18 league games as our back-line continues to creak.
Injuries meant that Rodgers had to break up the S.A.S. (Škrtel and Sakho obviously), who were beginning to show an improved understanding and looked like becoming the boss' preferred pairing.
Škrtel appeared to be on the verge of linking back up with Benítez at Napoli last summer before a commanding display against the Mancs saved his Anfield career. He's been a staple of the Reds' defence ever since. Yet, whilst he's a fearless no-nonsense defender who provides great blocks, he's quickly becoming a liability.
Recently, he's taken to wearing opponents like glove-puppets in the penalty area and tugging away harder than a spotty adolescent. At least Sakho and Coutinho wait until half-time to swap shirts. Škrtel was even humping Shawcross in the goalmouth like an excitable Jack Russell at one point. Soon he'll get caught and cost us big-time.
Other times he completely stands off his man though. Škrtel and Touré were nowhere near touch-tight on Crouch when he scored a simple, unchallenged header without even needing to jump. Škrtel was slow to close down Adam's rocket for the second, and the third zipped between his legs.
On his first start at centre-back since that Hull horror-show, Touré was lumbering and lethargic, whilst Cissokho continues to look out of his depth. I hoped his hopeful hack toward the corner flag that led to the opening goal would result in a much-needed confidence boost. Yet, his first touch was dreadful and his link-up play with Coutinho down the left was non-existent.
And then there was Johnson, who continues to play with the complacency of knowing there's little competition for his place. He stood watching Arnautovi?'s cross for Stoke's first, and it says something when Suárez was closer to getting a tackle in. It speaks even greater volumes that third-choice full-back Cissokho is currently playing better than him. Surely Kelly should be given a go now?
Role Reversals
Yesterday, Rodgers reversed roles by granting Lucas a licence to roam, whilst Gerrard was deployed in the Ron Burgundy role.
The skipper is the first to admit that he has to pick and choose his moments more wisely than his younger self who produced endless lung-busting runs in Istanbul.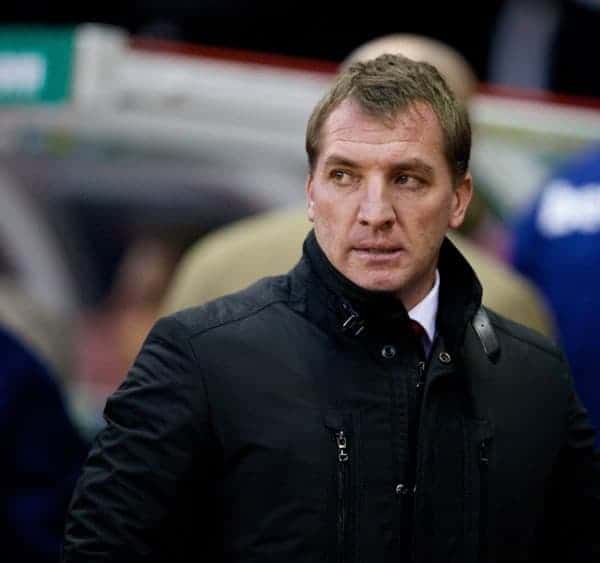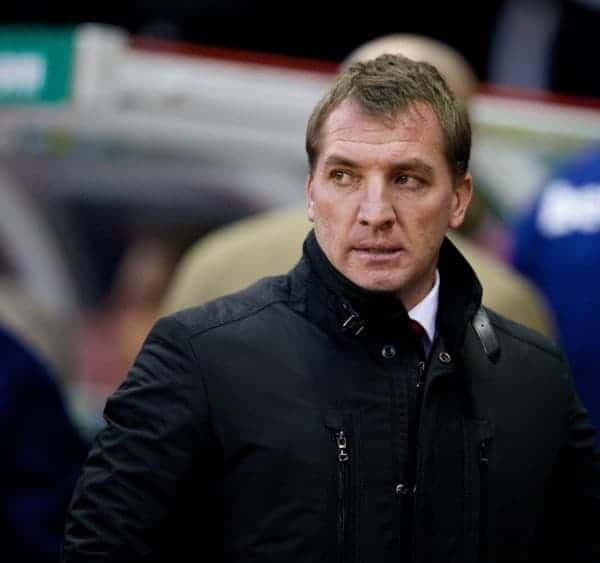 But Gerrard being used in a holding midfield berth has divided fans more than a Coutinho through-ball. Personally, I think his performance was encouraging and his displays will improve once he's fully adapted.
He gained possession 16 times, which was more than double of any of his teammates, and made more tackles than anyone else on the pitch. The position also allowed him to deliver raking balls and buffer the back four with his aerial prowess.
However, it wasn't without teething problems. Miscommunication between him and Henderson resulted in Adam's goal, whilst his miscue led to Stoke's third.
Meanwhile, Lucas frequently helped out in the final third with neat distribution; passing the ball more in the opposition half than any other Liverpool player and totalling a pass completion rate of nearly 90%. Yet, despite being typically tireless Lucas didn't pose much attacking threat in terms of shots and crosses.
I strongly believe we should still accommodate the team around Gerrard. Sterling and Henderson shouldn't be dropped on current form, whilst you can't underestimate Coutinho's creativity regardless of his erratic shooting. Therefore, Lucas may become the fall guy if Rodgers gives starting roles to Sturridge or Allen in the coming weeks.
Raheem's Resurgence
It wasn't long ago that Sterling was in danger of becoming the forgotten man at Anfield. The 19-year-old enjoyed an explosive start to his Liverpool career before the boss wrapped him in cotton wool for the second half of last season.
Sterling's form then stagnated with critics citing his perceived attitude problems and that he had become complacent after securing a big new contract.
Yet, since scoring a simple tap-in against Norwich last month the youngster has excelled; grabbing goals and causing havoc in his link-up play with Suárez.
He set up the first and combined with Suárez and Sturridge for the killer fifth, whilst the penalty incident in which he cleverly invited Wilson's challenge proved to be the turning point.
On Being: Liverpool, Sterling was infamously told by Rodgers that he would be on the first plane back to Merseyside after answering back the boss. Yet, on current form he'll be on the first plane to Rio.
Goalkeeping Gaffes
Mignolet made himself an instant hero by saving a last-minute penalty against Stoke on the opening day. Heroic performances followed against Villa and Everton where he gained us more points.
Yet, he's declined recently and isn't looking so much like a 'monster between the sticks' as Carra called him. Mignolet is an excellent shot-stopper, but he's looked nervy of late and hasn't instilled confidence in his defenders. Yesterday, he frequently punched away crosses and flapped at others. His distribution from hands and feet was unpredictable too.
Furthermore, individual errors against Man City and Chelsea have cost us and his blunder for Walters' daisy-cutter was terrible. My only defence could be that his view was obstructed, and he was wrong-footed when the shot trickled through Škrtel's legs.
Now Mignolet needs to get these mistakes out of his system by producing a couple of saves for the cameras. On his debut, he endured a challenging start before overcoming his nerves to steal all the headlines. I have no doubt he'll do the same again.