Steven Maclean calls on Liverpool fans to stop looking at Steven Gerrard through rose-tinted glasses and challenges Brendan Rodgers to reconsider the permanent first team role he plays.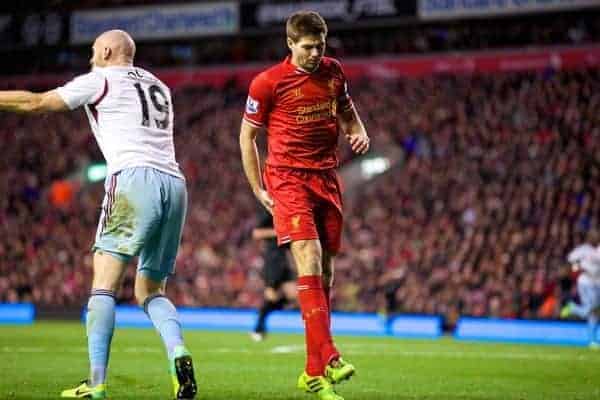 Many Liverpool fans – and possibly even the club's manager – are currently in a state of denial. It is, perhaps, understandable that we should find coming to terms with the decline of a player like Steven Gerrard so difficult. For years Gerrard carried Liverpool, his superhuman displays papering over the cracks while the club's foundations rotted. So it would seem somewhat ungrateful to admit that it is now the team that carries Gerrard just as the club's bedrock begins to firm.
But in failing to recognise that Steven Gerrard circa 2014 – a full 15 years after he made his debut – is not the same Gerrard of FA Cup winning heroism in 2006, Istanbul, or even two seasons ago, we do the team and the player himself a disservice.
One of the arguments routinely rolled out to support Gerrard's continued inclusion is that he still creates chances, with his six assists this season cited as evidence. Assists are a notoriously misleading statistic (as a player can create good chances only for a striker to miss them, or can benefit from a player like Suarez scoring from the most ordinary of passes) but even accepting their validity, five of those six were from set-pieces. Of course, set-pieces are an important part of the game and goals from them count as much as goals from open play, but we should really expect a designated set-piece taker to chalk up some assists in a team that forces many corners and free-kicks. If Gerrard were not taking them, someone else would be, and Philipe Coutinho also has two assists from set-pieces (corners against Norwich and the recent game against Hull in Gerrard's absence) despite taking far fewer than the captain.
Another line commonly trotted out to defend Gerrard's prolonged inclusion is that a midfield of Lucas, Allen and Henderson simply doesn't wield enough goals, but with four of Gerrard's five coming from the penalty spot, it's clear that his inclusion is no solution, even if an over-dependence on goals from strikers is a problem. In fact, during the five games in which Gerrard's injury kept him out of the starting line-up, seven of Liverpool's twelve goals came from midfielders or defenders.
Even those who accept that Gerrard was never ideally suited to a tactically testing central midfield role, let alone now, engage in mind gymnastics when concluding that the answer is to play the captain further forward in an attacking midfield role. The problem with this, is that in a Rodgers team, the defending begins at the front, and those players whose job it is to prise open defences from between the lines when in possession are equally tasked with winning it back when the opposition has the ball. This requires both stamina and mobility over short distances; two things an ageing Steven Gerrard does not possess.
After a disastrous 45 minutes against Aston Villa in which Gerrard resembled a boxer whose corner should have thrown in the towel rounds ago, few would still insist he has the makings of a team's most defensive midfielder. But with only one open play goal and assist to his name in nearly 1500 minutes of play this season, and being incapable of pressing in the way Rodgers wants from his advanced midfielders, evidence that he could occupy a more attacking role is equally lacking.
After the 0-5 thrashing of Spurs at White Hart Lane without Gerrard, Rodgers said himself that it was the best performance of his tenure. Following the draw with Villa, his comments perhaps give a clue to the real issue, "the system is irrelevant … The style will always be ­maintained to control and ­dominate games." 'Control' has never been Gerrard's strong point. In his pomp it was Gerrard's ability to grab the game by the scruff of the neck and power past opponents that marked him out as an exceptional footballer. The control of which Rafa Benitez often talked came not from Liverpool's regular match-winner, but Xabi Alonso, who sat behind Gerrard making things tick. Alonso and Javier Mascherano took responsibility for marshalling the space Gerard vacated on his surging runs, providing a solid base from which he could spring into action.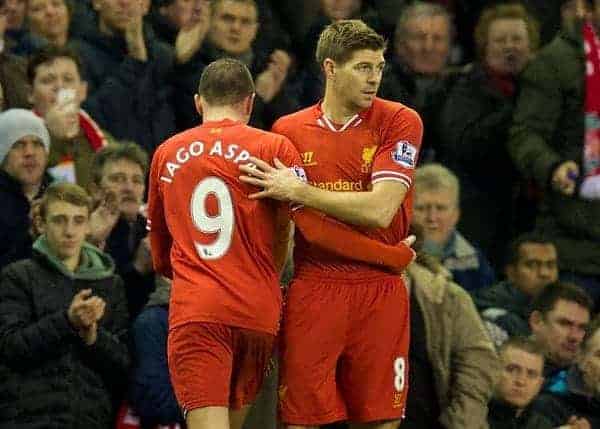 It was the kind of tactical control we were promised but rarely saw under Rodgers until Gerrard was forced out through injury. Despite deputising during a run that included the league's two toughest away games at City and Chelsea, Lucas, Allen and Henderson finally gave Liverpool's engine room the dynamism, mobility and control a truly top team requires. In those games against Tottenham, Cardiff, Man City, Chelsea and Hull when Gerrard did not start, Liverpool's fragile defence conceded only three goals. In the two games since his return against Stoke and Villa – hardly Premier League heavyweights – Simon Mignolet has recovered the ball from his net on five occasions.
In a team designed to function like clockwork, with each component playing a simple part combining to form a complex whole, the "style" Rodgers talks about is one built on the central tenants of 'Total Football' or 'Tiki-Taka'. For the most part, this is within Gerrard's skill set: he still has a good first touch and the ability to pass accurately – even if those qualities did desert him at the weekend. But equally fundamental is the mobility and speed of players over short spaces, and this is where the Gerrard of today is found wanting. While his teammates buzz around like a swarm of bees, he appears static and ridged. The new role Rodgers and Gerrard have spoken of seems born out of a recognition that he lacks the agile nippiness common to his teammates, and requires a specialist function in order to remain integral.
Rodgers' desire to accommodate his captain at the expense of his philosophy is perhaps understandable, even if mistaken. Gerrard isn't only one of the club's greatest ever players, he is an icon; a talisman even. But the belief that his inclusion is of benefit to the team despite the evidence his absence provided is bordering on superstitious. As a young manager, perhaps Rodgers simply doesn't feel he has the clout required to drop a club legend idolised by many fans who still see him as one of the club's best. Even Gerrard's biggest critics would think it a shame if Liverpool finally ended decades without a league title with Gerrard on the sidelines. If player and manager are realistic, however, they might realise that the best chance Gerrard has of retiring with a league winners medal to his name lies in him taking on a lesser role.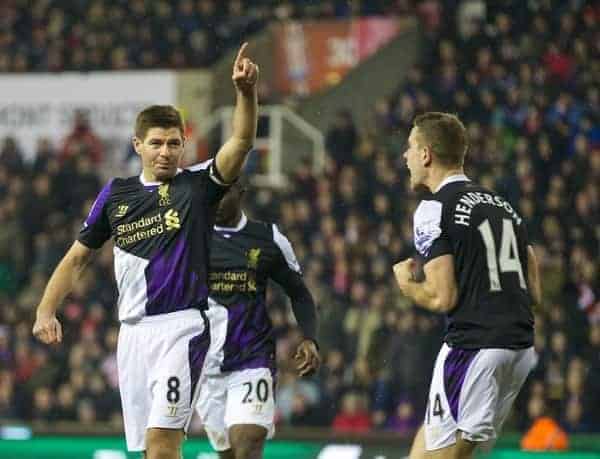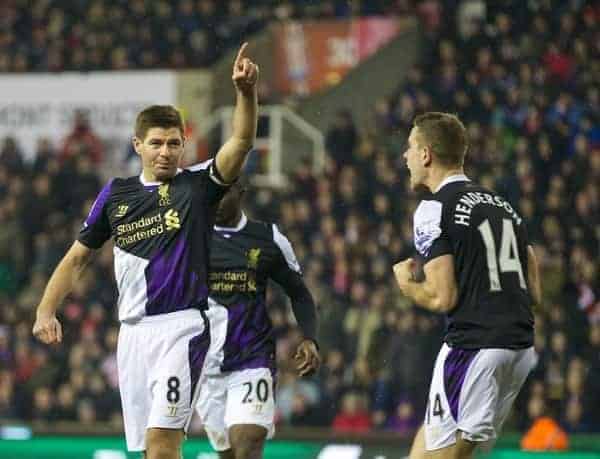 And should they realise this, there is still a part for Gerrard to play. Against lesser sides at Anfield, his ability to pick a pass can be crucial in opening up stubborn defences, as it was against Villa when his pinpoint ball to Suarez set him up to win the penalty. But he will need two of Lucas, Allen or Henderson doing his leg work for him. Brought on for the last 30 minutes of games, Gerrard's could still have the strength and stamina in the old legs to help, rather than hinder the side.
So Brendan Rodgers has a decision to make. It's a decision so important, it could mean the difference between genuinely challenging for the league title this season, or missing out on Europe altogether. Should the latter happen, Gerrard can kiss goodbye to any hope of completing his silverware set.
It is better to play a small part in something big, than to play a big part in something small. That is the conclusion both Rodgers and Gerrard most come to for the good of the team, themselves and fans who have waited so long.