Liverpool manager Brendan Rodgers and managing director Ian Ayre spoke to the media within an hour of each other on Monday, both quizzed on the club's failure to sign target Mohamed Salah.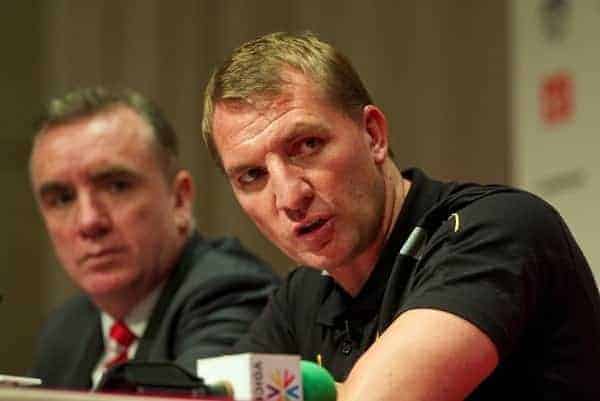 Salah, the Egyptian winger, signed for Chelsea over the weekend in a deal reportedly worth £12m. Liverpool had been heavily linked with the 21-year-old.
Ayre was speaking at a rather hyped up commercial announcement that saw Indonesian airline Garuda become the club's first training kit sponsor – a deal worth a reported £16m per season over the next two years – while Rodgers was speaking at his pre-Everton press conference.
Ayre claimed "The player decided he didn't want to come to Liverpool."
Rodgers, merely an hour later told reporters "It was deemed in this case that we couldn't do a deal and Chelsea could. So the boy has gone there."
Two quite contradictory statements.
Meanwhile, Salah's agent is quoted saying "It was a long and fair negotiation with Liverpool, but it lasted two-and-a-half months – too long."
Ayre said "We know what the value of the player is and how far we were prepared to go. That is something myself, Brendan and the others involved in the process discuss openly. We won't overpay. In every transfer window you win some and lose some."
Liverpool are certainly losing some this transfer window. They're yet to sign anyone and when quizzed about the transfer window Rodgers was far from optimistic.
"There's certainly nothing imminent" he confessed. He explained that his desire was to sign players who can improve the first XI, not just take up a place in the squad, saying he'd rather promote a youngster than do that.
"If no one comes in, that'll galvanise us even more" claimed Rodgers. "We've got a group who can really be up there."
The manager claimed he remained "optimistic" but confessed that not signing anybody would be "disappointing".
Liverpool may not have signed anyone in this transfer window, but they have announced three bumper commercial deals. Not the best timing.