Following an impressive performance against Swansea last weekend, Jack Lusby (@LusbyLatest) believes Joe Allen is proving his worth to Liverpool and Brendan Rodgers.

Prior to Liverpool's 5-1 annihilation of Arsenal at the beginning of February, statistical analysts Anfield Index ran a poll via their Twitter feed, asking whether Joe Allen should start in favour of Philippe Coutinho for the tie.
The results were fairly comprehensive:
https://twitter.com/AnfieldIndex/status/431913035536822272
Taking a small audience sample, the 78 percent clearly preferred Liverpool's diminutive Welshman over his Brazilian counterpart.
The perceived notion was that Allen, as a confident ball-player and strong midfield presence, would allow Liverpool to dominate the middle of the park in what is arguably Arsenal's strongest area.
Obviously, Liverpool's Brendan Rodgers plumped for the dynamic Coutinho, who responded with a superlative display.
According to Squawka, the playmaker boasted a team-best of five chances created, with one assist.
Allen has since failed to make the starting line-up for a Premier League encounter. However the Welshman included for the FA Cup loss at Arsenal, with Jordan Henderson struggling following wrist surgery.
With Henderson and Steven Gerrard forming a consistent base in Rodgers' midfield, and Coutinho providing several of the enigmatic performances of late that previously made him undroppable, it seems a difficult task for Allen to force his way back into the team.
Swansea, 4-3
On Sunday, introduced in place of the continually impressive Raheem Sterling on 58 minutes, Allen entered the Anfield cauldron with performances fraught.
Prior to his introduction, Liverpool struggled to maintain possession and, caught on the break more often than not, lacklustre defending allowed Swansea to equalise on two occasions.
With the game poised at 3-3, Allen was surely brought on to provide an extra body to supplement a stretched midfield three, and this proved a masterstroke by Rodgers.
Previously perceived as a master passer, with risible 'Welsh Xavi' comparisons rampant, the ex-Swansea man is now seemingly developing his game.
On his arrival at the club, Rodgers hailed Allen as unique, as the Daily Star reported:
"I would have paid many millions more for this kid. He's unique in that he's a British player who is incredible on the ball."
Allen now seems more adept at breaking up play aggressively and statistics, via Anfield Index, prove this.
In 32 minutes on the pitch, Allen won five tackles and won possession seven times overall; only Glen Johnson and Steven Gerrard, as outfield players, bettered these feats respectively.

The Future for Allen – A Modified Midfield?
With Allen performing in Henderson's previous role of the midfield engine – snapping at the heels of the opposition, breaking up play and keeping attacks moving – this possibly indicates the Welshman's role for the club in the future.
Just as Gerrard has adapted his game to a more defensive role, Henderson has performed the opposite: a commanding display at Anfield on Sunday proving this.
As per the Daily Express, Brendan Rodgers has been instructing the 23-year-old to add a more attacking bent to his game:
"His first goal was an outstanding goal. We've been talking to him about getting up there [into the penalty area], because in training his finishing is sublime. He practises and he works at it.

"But what was really pleasing for me was his second goal. We've been telling him to get into the box and arrive in there, because he's got the energy and the legs to do that."
Rodgers' words could've come from Gerard Houllier's mouth 15 years ago, with the Frenchman key in Gerrard's development.
Henderson's two goals – the first a perfectly placed 20-yarder, the second the reward of attacking persistence – were reminiscent of Liverpool's captain at his best.
With Gerrard and Henderson proving their versatility, it is perhaps time for Allen to adapt his game further; the possession stats prove this.
Who to Replace?
Whilst the introduction of Allen on Sunday was an inspired decision, what remains questionable was the decision of who to replace.
With Raheem Sterling near his effervescent best, it seemed unfair to withdraw the winger before the hour mark.
The Englishman's performance was typified by an exquisite through-ball to set up Daniel Sturridge's third-minute opener, displaying a vision beyond his 19 years.
With Sterling, Henderson and Gerrard all impressing of late, and with Rodgers an exponent of the midfield three, this leaves Coutinho.
The Brazilian, as mentioned above, has enthralled the Anfield faithful at times this season, most notably in home wins against Everton and Arsenal.
However, his form has definitely plummeted this season after a hugely impressive maiden campaign in the Premier League.
This season, Coutinho has a tackle success rate of 37 percent, a pass success rate of 79 percent and, most alarmingly, a shot accuracy rate of just 40 percent; all statistics courtesy of Squawka.
Coutinho or Allen?
With Liverpool's attack continuing to shine, and the engine room operating astutely, there leaves little option for Brendan Rodgers when considering Joe Allen's participation.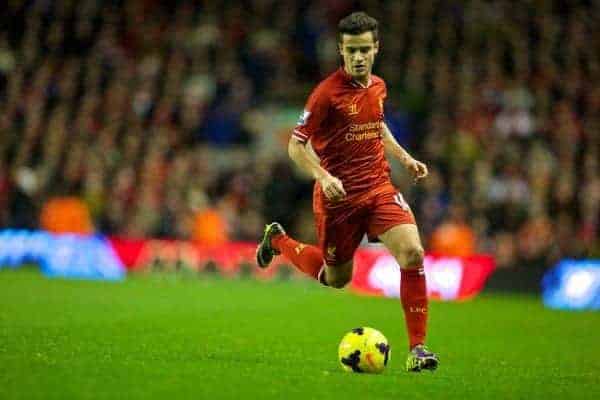 Perhaps it would be valid to suggest that Rodgers follow predecessor Rafa Benitez's tactical remit of rotation, particularly with Allen and Coutinho.
As Coutinho's statistics have proven, especially compared to Allen's, he can often get lost in a game.
Allen is seemingly contrary to this, his confidence in winning possession and also his infamous passing ability the antithesis to Coutinho's physical inadequacies.
As impact players go, Coutinho surely serves as the more effective; his eye for a killer through-ball second to none in the current squad and could be employed when thwarted by a rigid defence.
With tough fixtures away to Southampton and Manchester United forthcoming, perhaps it is time Rodgers considered his trusty Welsh pass-master for a starting role.
Should Joe Allen be considered for a starting berth in the near future? And should Coutinho make way? Let us know in the comments below.