After an empty January transfer window for Liverpool, we question whether we know enough as fans to make accurate judgements on the club's transfer policy.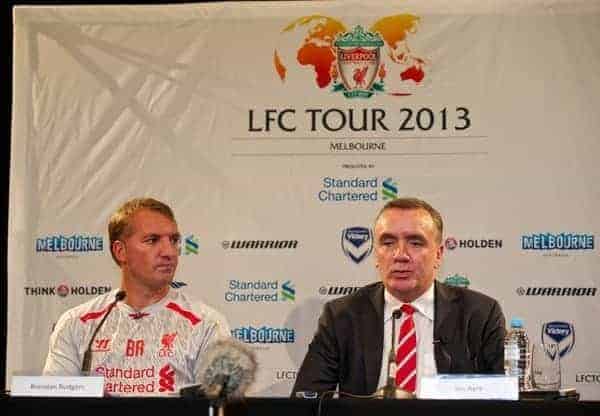 Liverpool's inability to pull off a signing in the January transfer window has been met with some very stern questions from fans.
Having lost out to Chelsea in the pursuit of Mohamed Salah last week, transfer deadline day turned into a rather rumour-fuelled chaotic day, with the Reds failing to complete a deal with Dnipro Dnipropetrovsk for Yevhen Konoplyanka.
Cue a tirade of abuse on social media aimed towards the club's managing director, Ian Ayre, who had been in Ukraine trying to find an agreement with Dnipro.
Ian Ayre needs to get sacked, he's actually useless.

— Danny (@FormidableRed) January 31, 2014
But with little information being leaked out of Ukraine, and the few bits that were relayed by English journalists being, ultimately, speculation, is it right to blame Ayre?
Ian Ayre is an easy target. Collapse of this particular deal was not his fault. He was dealing with an impossible owner

— Ben Smith (@BenSmithBBC) January 31, 2014
Some suggest Liverpool struggled to see through the signing of Konoplyanka with Dnipro due to being unable to agree a payment schedule. Others cite the fee as stumbling block. Then there's the other complications — economic rights, image rights, and the theory that Dnipro's owner had a late change of heart.
Konoplyanka wouldn't sign terms & do medical without Dnipro's authorization. Owner being an idiot for not signing. We left it very late too.

— San (@Zizouology) February 1, 2014
Of course, these are all suggestions. Pure speculation, and most of the time guesswork. You could piece together the bits of information messrs Ben Smith, Tony Barrett and Neil Jones fed, but that's not set in stone either.
Plenty saying a deal's been done for Konoplyanka but no agreement has been lodged with the Premier League. One hour to go………

— Tony Barrett (@TonyBarretTimes) January 31, 2014
Medical & personal terms were done, #LFC had triggered buyout clause. Owner refused to sign paperwork.

— James Pearce (@JamesPearceEcho) January 31, 2014
Matt Ladson, writing for the Bleacher Report, suggests Liverpool may wish to consider upping the ante to seal the deal in transfer negotiations:
If you have a business, and in order to grow that business you would benefit from a new piece of technology, you may have to pay a little more than you wish to get that required technology.
However, it would be fair to argue that Liverpool have been caught out from overspending before, with Stewart Downing, Andy Carroll and Charlie Adam just a few of the more recent nightmares.
Readjusting your budget or value for a player mid-negotiations is dangerous and borders on gambling.
Furthermore, in terms of a perception of a club's transfer policy, a club which refuses to budge on their valuation of a player will not be taken for a ride, though the consequence may mean missing out on the player.
@Support_Believe I insist on overpaying by £2-5mil for everything. They love me down Tescos.

— Breakfast Percy (@BreakfastPercy) January 25, 2014
Nevertheless, the increasing line of failed bids for players — Henrikh Mkhitaryan, Willian, Diego Costa, Salah and now Konoplyanka — does suggest there is an issue with Liverpool's transfer policy.
Then again, four of the aforementioned opted to move to, or stay at, Champions League clubs. Hard to attribute that as a failure of transfer strategy.
Whether the problem starts at the transfer committee's choice of targets, or a misguidance on Liverpool's valuation of a player compared to his current club's, we don't know. Do we need to know?
Dave Usher's take on Konoplyaka-gate and the empty January transfer window is to look at the immediate impact on the team, in quite a refreshing article for ESPN. He writes:
The decision to not strengthen in midfield and at full-back is far more likely to hurt the Reds, especially if they lose any more players to injury. The one straw for Kopites to clutch at is that the deployment of Coutinho in that more withdrawn role could be like having a new signing. Let's face it, that's the closest thing Liverpool have to one after another disappointing transfer window.
If there are no players available to improve the first team though, what can be done?
Questions will inevitably be asked by fans, although speaking into the abyss of social media is neither helpful, nor productive. But do fans have another mouthpiece? Probably not.
It also begs the question, does the club need to explain it's transfer policy to fans, or not? To what degree is the club accountable to the fans? The issue is wide-reaching.
The club's interest is to put positive spin on any issues surrounding potential confrontation by fans. A win against West Brom on Sunday would be the best medicine for Liverpool Football Club right now.