Following the recent debut of Joao Carlos Teixeira, Jack Lusby (@LusbyLatest) ponders what's next for Luis Alberto at Liverpool.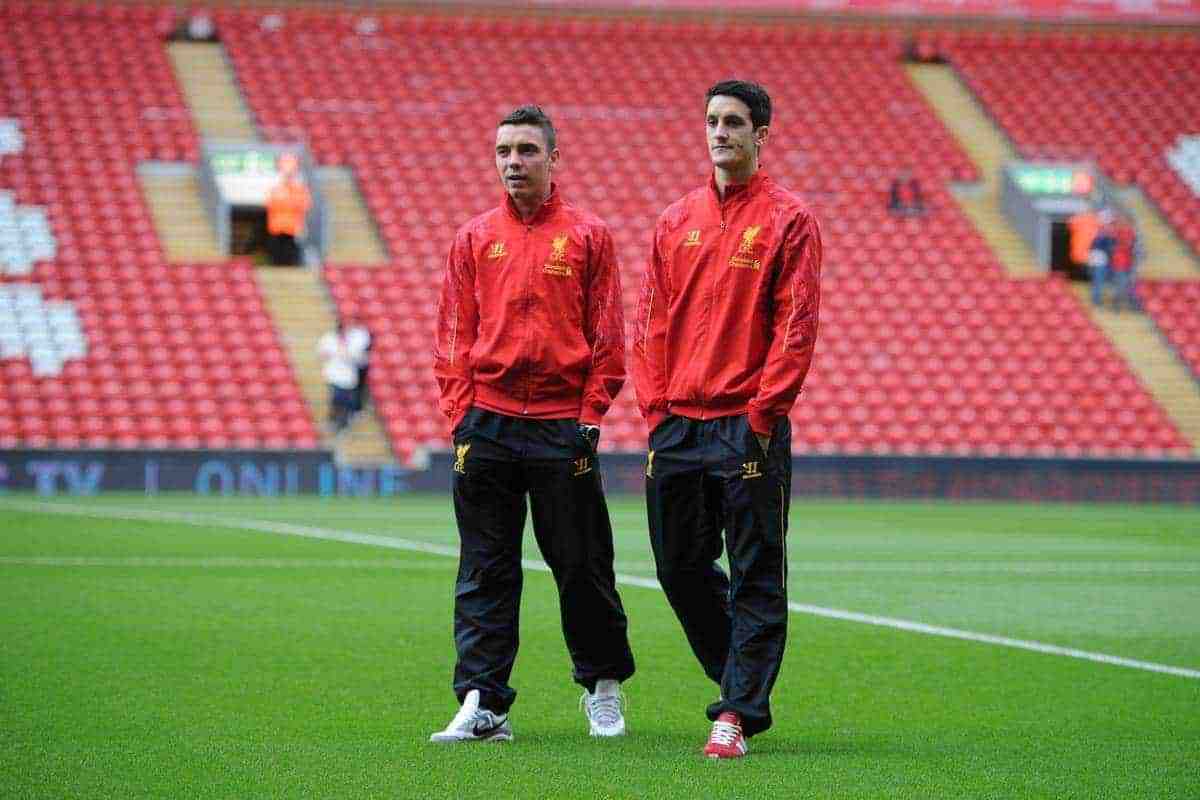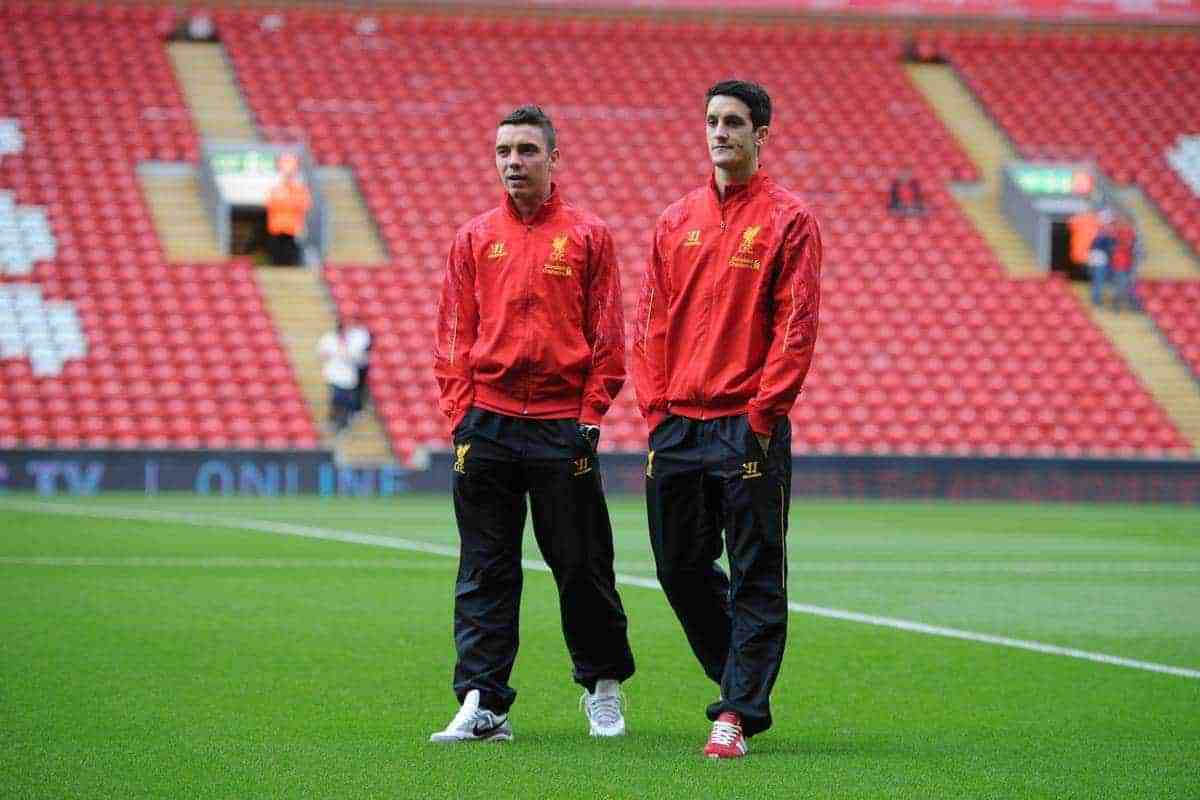 In recent weeks, Brendan Rodgers has commendably offered cameo roles in the Premier League for some of his brightest young attacking talents.
Entering the final stages of the emphatic destruction of Arsenal last weekend, Liverpool fans were treated with the introduction of highly-rated winger 18-year-old Jordon Ibe, who responded with a promising showing.
Similarly, Joao Carlos Teixeira was a surprise inclusion in the match at Fulham, handed his debut with 10 minutes to go and with The Reds chasing a winning goal. Much like Ibe, the 21-year-old impressed, even providing the through-ball with which Daniel Sturridge won the match-winning penalty.
Conspicuous in his absence was Luis Alberto, not among the subs in either of the last two fixtures at Fulham and Arsenal.
Arrival
After arriving from Sevilla in the summer, in a reported £6.8m move, much was made of the Spaniard, particularly so of his versatility in the attacking positions.
"I can play in any number of positions from midfield all the way to up front, I don't feel out of place anywhere," said Alberto upon his arrival. Such versatility would surely help his cause at his new club.
This would have appealed to Rodgers who, earlier this season, commended the output of Jordan Henderson across many positions. "Wherever he plays there's no drop-off – you still get the same" he told The Independent.
With Liverpool's attacking options (beyond the infinitely esteemed Luis Suarez, Daniel Sturridge and Raheem Sterling) undoubtedly thin, it would surely make sense for Alberto to have featured more for the club so far.
Last season, according to Transfermarkt, on loan at Barcelona 'B' Alberto managed 11 goals and 18 assists, often deployed in the 'false nine' role.
Albeit this was in a much less demanding league, with Barcelona 'B' restricted to the Spanish equivalent of the Championship, however this is still a commendable output.
Gerard Deulofeu, another player who has graduated from Barcelona 'B' to the Premier League – in his case on loan at Everton – has proven that the step up in quality can be taken in one's stride.
A more direct attacking option, Deulofeu boasts a record of 18 goals and six assists in 33 games for the Spanish side last season – again, according to Transfermarkt.
Where Everton manager Roberto Martinez has been bold and often deployed the 19-year-old winger, Rodgers has restrained the talents of his counterpart prospect.
In the disappointing 2-1 FA Cup loss, again to Arsenal, Alberto wasn't even afforded a place on the substitute's bench.
Mediocre, but more established, attacking options Victor Moses and Iago Aspas, along with Teixeira, were preferred to the Spaniard.
If recent showings are to be taken as evidence, it seems now that Luis Alberto is way down the pecking order.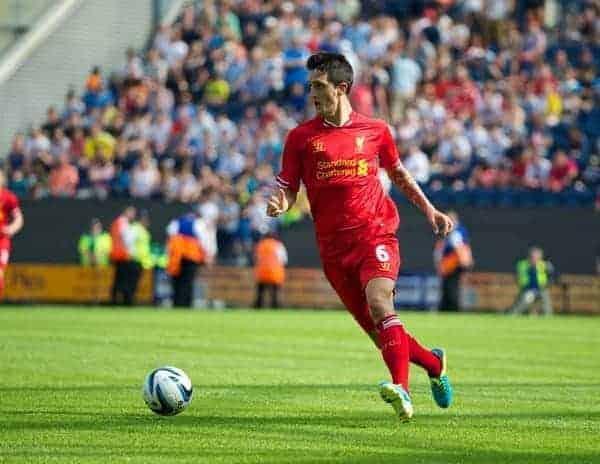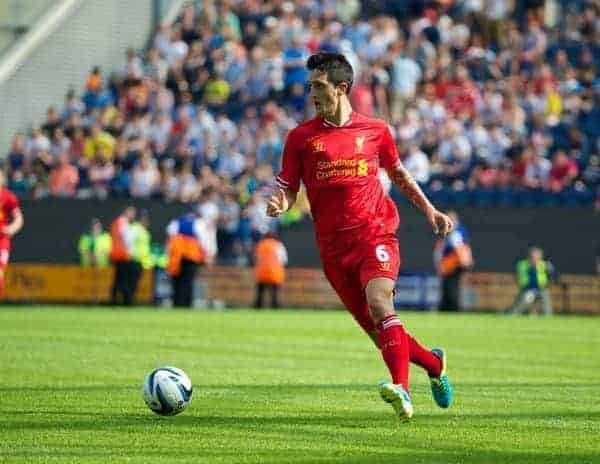 Performances
From the limited appearances gifted to the youngster so far, there is no performance-related evidence to suggest that Alberto should be ostracised.
Statistically, Alberto matches up to perhaps his closest comparison figure in the Liverpool squad: Philippe Coutinho. Figures courtesy of Squawka attest to this.
As referenced in my previous article 'Why Liverpool Can Cope Without Yevhen Konoplyanka', Alberto has created a chance every 48 minutes in the Premier League so far, whilst Coutinho has created a chance every 43 minutes.
Again as per my previous, these figures are skewed by a gulf in respective playing times. This by no means suggests Alberto is on par with Coutinho, merely that Alberto is far from inadequate.
Furthermore, Alberto boasts a pass accuracy of 85%, which matches that of Steven Gerrard.
Alberto is clearly a viable option for Liverpool when it comes to an oft-paltry attacking pool.
So does Alberto's exclusion suggest there is a problem in the works?
It is remarkable how often Rodgers has seemed quick to exile players whom don't take to his liking.
Last season according to Squawka, Oussama Assaidi completed a mere 77 minutes in the Premier League, and was quickly shown the door.
This season this can be seen with Aspas, who continues to play what would be generous to call a bit-part role for the club, despite moving to Anfield for a similar fee to Alberto this summer.
Whether this is due to committee-sanctioned signings or other factors entirely is mere speculation. Ultimately, this is Rodgers' squad.
Clearly, we as fans don't see all that occurs behind closed doors; it could well be that Alberto is slack in training or harbours a poor mentality.
We can judge on performances alone and, as mentioned above, Alberto is yet to underperform.
He is yet to be given the chance to.
So what is next for Luis Alberto?
Whilst it is alarming for the club to spend close to £7m on a player who has barely left the bench this season, the pragmatic view would be to view Alberto as one for the future.
It would be churlish to suggest that just over half a season's exclusion should warrant the player considering a permanent move away.
As evidenced by successful moves of Fabio Borini and Suso this season, another loan move could well enhance the Alberto's future prospects.
Moreover, it is important to note that Alberto is only 21, and that Rodgers' predilection towards youth skews analysis of his development, or lack of, somewhat.
The recent inclusion of Ibe and Teixeira serves to underline Alberto's lack of appearances, but also to provide encouragement for the young playmaker.
Both have proven that chances need to be seized with both hands, and this should prove to hearten Alberto for the rest of the season.
Given the chance, Alberto must take it.
Do you feel Brendan Rodgers has treated Luis Alberto unfairly so far this season? What's next for the Spaniard? Let us know in the comments below.