Luis Suarez has told his critics to only judge him by what he does on the pitch — letting his football do the talking.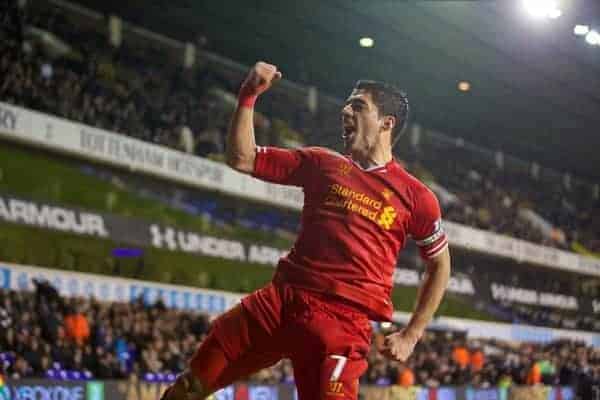 The Liverpool forward has had a torrid time with the British press since his move from Ajax in 2011. During his transfer saga last summer, he even cited the newspapers as a reason why he wanted to leave the Premier League.
But now a more mature and focussed Suarez is saying all the right things, and looking forward to a bright future at Liverpool.
The 27-year-old Uruguayan's 23 goals this season have helped the Reds progress rapidly from the team that finished seventh in the league last year.
Liverpool go into this weekend's trip to Southampton in fourth, just four points off league leaders Chelsea and Suarez, speaking to Sport magazine says the press should be judging him differently now.
"Everyone has his culture, his way of living, and you're not going to be able to change that," Suarez said.
"What I would love, something I've always said, is that they judge me as a player on the pitch. By what I do on the pitch. Anyway, it's not good to read too much of what they say, because you know there are a lot of lies."
A victory for Brendan Rodgers' men at St Mary's on Saturday evening will move them nine points clear of fifth place Tottenham, who are chasing that fourth Champions League spot.
Suarez signed a new long-term deal at Liverpool in December, and is now relishing the opportunity to play in front of the Kop on the special European nights the club is so famous for.
"I dream about playing with Liverpool in the Champions League," he added. "My teammates have told me it's something incredible, something truly unique, to play in that competition at Anfield. I'd love to do it. That said, there's a lot of the league left to play. We have to keep doing the things we're doing.
"We know all about those nights at Anfield. Everyone in the world knows about it, knows the club. All players appreciate the significance of the Champions League here, and that it's difficult to match Liverpool on that stage."
Southampton vs Liverpool gets underway at 5.30pm on Saturday, 1st March and it's live on Sky Sports 1. Click here to read our full match preview and team news.