Simon Mignolet says the spirit of Liverpool's squad this season has been rejuvenated by successful training sessions in the build-up to Premier League games.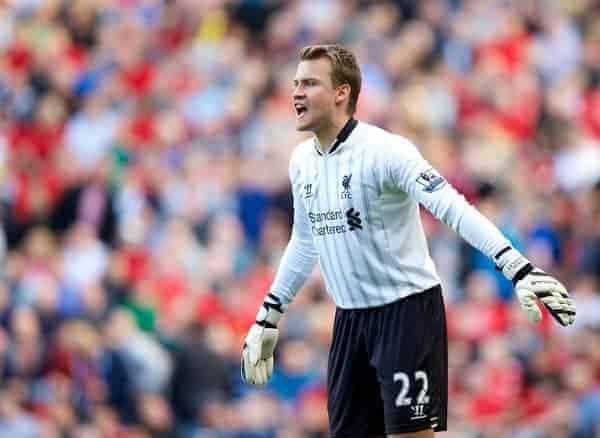 Brendan Rodgers' men are now playing with a confidence to their game that has helped them to fourth in the league, just four points off top, with 11 games of the season to go.
When Liverpool were pulled back from two goals down against Swansea City on Sunday afternoon at Anfield, a Reds team of a year ago may have let their heads dropped and gone on to lose the game.
But such is the side's resilience this season, that they soldiered on to a 4-3 victory and important three points.
"It's not only on the pitch, it's also on the training ground – we go until the end and everybody works really hard," explained Mignolet on the club's official website.
"We try to get the maximum out of every little session, even in small training games we want to win every single game. That's the spirit of the squad. We know that we'll work for the full 90 minutes, until the last minute of the game.
"There have been a few occasions now where we have got a result in the end out of positions where we weren't getting a result. This week and also Fulham, but I remember the derby with Everton at the beginning of the season as well.
"We've done that so far and hopefully we can keep that going until the last game of the season. There have been a few now; the one away to Fulham and now at home against Swansea."
Liverpool now travel to Southampton on Saturday for a 5.30 kick-off at St. Mary's knowing another win would heap pressure on the three teams above them.
Furthermore, owing to the fixture schedule, they could leapfrog Manchester City into third. City face Sunderland in the League Cup Final on Sunday.
Meanwhile, Chelsea are at local rivals Fulham and Arsenal face a tricky away test at Stoke — both Saturday 3pm kick-offs.
Liverpool's fourth-place contenders Tottenham are at home to Cardiff City at 4.30pm on Sunday.
"It's very important that you keep winning and it means we're able to continue in the same manner. We can look forward to the next game, which happens to be Southampton this weekend – which is obviously going to be a tough game again.
"But we'll try to do our best and make sure we get the result there as well."
Southampton vs Liverpool gets underway at 5.30pm on Saturday, 1st March and it's live on Sky Sports 1 in the UK.