Steven Gerrard says Liverpool's 5-1 "demolition" of Arsenal on Saturday was the best Reds' performance he can remember in 15 years.
Liverpool completely outdid Arsene Wenger's side at Anfield, with four goals in the first 20 minutes of the game, putting the match beyond the then Premier League leaders very early on.
A brace from Martin Skrtel was followed by goals from Raheem Sterling and Daniel Sturridge, before Sterling struck again early in the second half.
Bouncing back from a disappointing 1-1 draw away at West Brom the weekend before, it was a performance captain Gerrard revelled in.
"That is right up there," he told the club's official website. "We have absolutely demolished a top team there from start to finish. I am trying to think back of a performance, especially in the first half, that I can remember in the last 15 years.
"Maybe one or two in the Champions League got close, but that was as explosive as it gets. That's definitely in the top three performances I have been involved in.
"You are talking about a side that is top of the league with world-class players, ones who are worth £42million; Jack Wilshere, one of the country's big hopes who we are looking to perform at a World Cup, and Santi Cazorla."
Liverpool now travel to Fulham for a Wednesday night clash that could see them close the gap on third place Manchester City to just one point, should they win and other results go their way.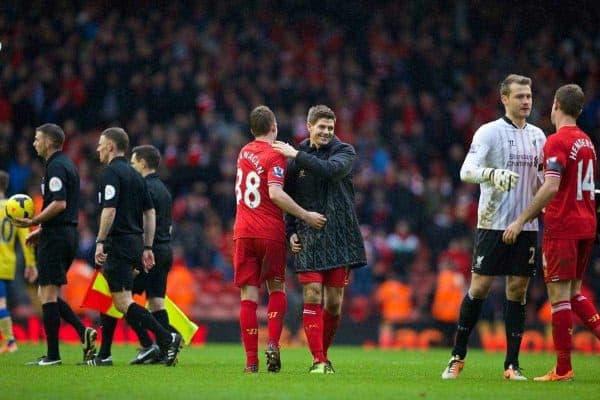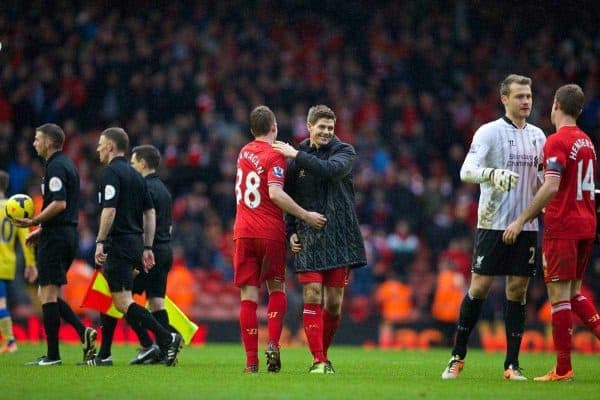 Gerrard believes beating the Gunners on Saturday was the perfect warm up to a difficult week, which also sees them meet Arsenal again in the FA Cup fifth round at the Emirates Stadium on Sunday.
"I think the thing after a performance like that is: can we motivate ourselves to get close to producing something similar against Fulham?" he added.
"If we do, we will do the same to Fulham. But that is the dangerous thing. We performed fantastically against Everton and then slipped up against West Brom having taken the lead. We should have seen that game out.
"You can set markers and you can have one-off games but it means nothing if you don't continue to play well and get something from it at the end of the season.
"We aren't going to look back at the end of the season and think 'How good were we against Arsenal?' if we never got the top four. We can enjoy this but we have got to move on quickly and try to get three points against Fulham."
Fulham vs Liverpool gets underway at 8pm on Wednesday, 12th February 2014. It is not live on TV in the UK.