A confident Brendan Rodgers addressed a room of journalists at Melwood on Friday afternoon to preview Sunday's clash against Tottenham at Anfield, and play down title talk.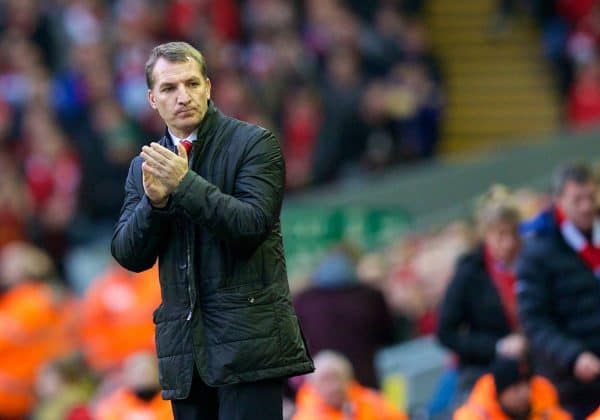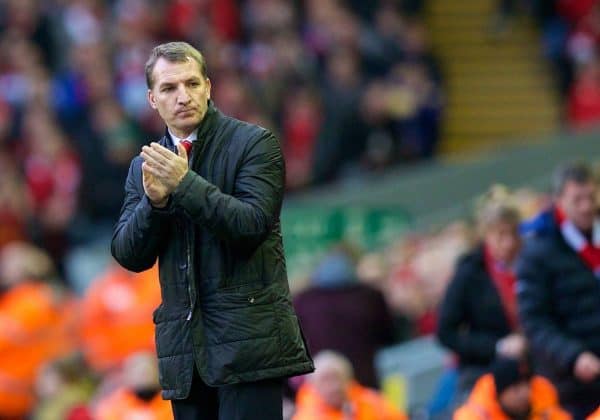 Liverpool go into this weekend's games second in the Premier League, with seven games to go. The Reds will be hoping both Chelsea and Manchester City drop points on Saturday against Crystal Palace and Arsenal respectively.
Having been welcomed by thousands of fans on Anfield Road and beaten Sunderland 2-1 at Anfield on Wednesday night, Rodgers took a positive, but cautious approach to his press conference.
On Tim Sherwood's claims that the pressure is on Liverpool…
"We're feeling very relaxed and focus. There's no expectation on us, and certainly no pressure either.
"Perhaps Tim Sherwood should look at Tottenham – who should be challenging higher – maybe they are the ones under pressure."
On Wednesday's 2-1 victory over Sunderland…
"It was a tough game against Sunderland, but we were under control. Credit to the players, showing we can win in a different way."
On cementing their top four position…
"There's still 21 points to play for, so we're not guaranteed a Champions League place. We can only focus on our next game.
"It'll be a tough game against Spurs. They've got some really good players and Tim Sherwood is passionate."
On being the youngest manager in the title race…
"This is my fifth season as a manager, but I've been on the touchlines for 20 years. I'm not putting into practice what I've learnt.
"Now I can implement tactics and ideas I've tried in youth football at a senior level. I'm not new to this, and thoroughly enjoying it."
On creating a successful club for the future…
"We're very hungry to succeed and that can give you a real advantage. We've proved that already this season. Experience isn't everything.
"We're looking to make sustainable success. That's our objective. We're looking to build something here."
On title rivals slipping up…
"I'm only bothered about Liverpool and the players we have. We've got world class talent, youth, local talent. All an important balance.
"Our focus is only on ourselves. We respect other teams with excellent managers, but you can't be worrying about what other teams do."
"When we beat Spurs 5-0, we played fantastic attacking football, and kept a clean sheet. Tim's done really well, brought passion back.
"We're at Anfield this weekend. We expect to win every time, whoever we're playing.
"We're not always going to be four, five or six-nil up in games. Sunderland defended very well, but we dominated until they scored.
"We've got seven games left and 21 points to play for. The objective has always been to finish as high as possible."
On team news and players being fit…
"Everyone is fit and the condition of the team is very good. Only Jose Enrique still out.
"Because we press aggressive, physiologically the players is brilliant. We play with high intensity, they input exceptional qualities."
On Steven Gerrard…
"Steven Gerrard can dictate the player from behind but if you give him enough time he could play anywhere. He's intelligent.
"Gerrard equaling the records and status of Kenny Dalglish shows how impressive he's been for the club."
On claims Liverpool are a one-man team…
"When Luis [Suarez] played every game, we finished 8th and 7th. We're building a collective here. It's not just about one player."
Liverpool v Tottenham gets underway at 4pm on Sunday, 30th March and it's live on Sky Sports 1 in the UK.