Matt Sproston (@Spros1) looks back on the start to Raheem Sterling's career and his remarkable return to form.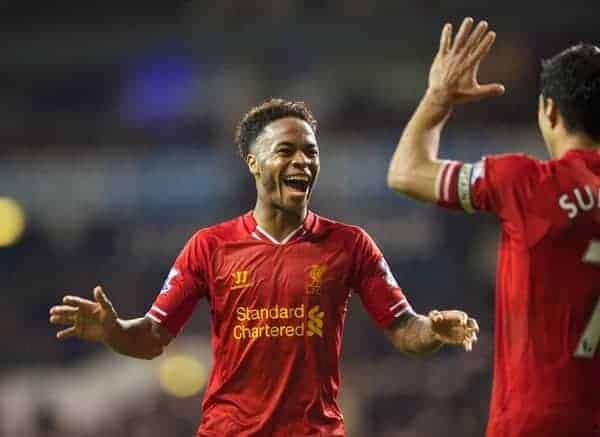 If ever there was a word designed to add pressure to the shoulders of a young footballer, "wonder kid" would be it. There is a website dedicated to football wonder kids (current wonder kid of the month Adnan Januzaj).
There are webpages to help Football Manager gamers locate the next wonder kid of the game. There is even a dictionary definition "a young person whose excellence in his or her discipline is appropriate to someone older and more experienced."
The transfer window silly season is usually when the wonder kids come out of hibernation. Suddenly, a player who should properly be described as "a good prospect" is now a "wonder kid" or "the next (fill in the name of an unrealistically good comparative player)."
When you have nothing better to do, google "the next" and then add the name of any great footballer. The results are hilarious. Luis Alberto is the next Andres Iniesta. Shinji Kagawa is the next Xavi.
Neymar is, of course, the next Pele. Alex Oxlade-Chamberlain is the next Gerrard. Prior to Christmas the media was saturated with stories of Scottish "wonder kid" Ryan Gauld, also known as "the next Messi". Once the transfer window passed, the stories of his amazing exploits disappeared. Funny that….
When Liverpool signed Raheem Sterling in February 2010 he was touted as the next John Barnes. No pressure there then! It quickly became apparent to anybody with LFC TV (or half a brain) that this was nonsense.
Sterling is black, Jamaican born, plays on the wing (albeit the other wing) but other than that there were not too many similarities. Sterling was probably the best part of a foot smaller than Barnes for a start (or certainly looked it). Whereas Barnes was a perfect blend of power, pace and elegance, Raheem was slight of frame with quicksilver feet and lightning acceleration.
Early televised youth team performances did nothing to dampen down expectation, particularly the 9-0 FA Youth Cup win over Southend United in February 2011 in which Sterling scored five.
A few days later he was included in the first team squad that travelled to Sparta Prague in the Europa League, made possible only by the fact that he was on half term holiday from school.
Raheem had to wait until 24th March 2012 before making his first team debut as a late substitute in a dire 2-1 home defeat to Wigan and made 2 more substitute appearances that season.
The start of the 2012-13 season saw Raheem make his full debut at home to Manchester City in a 2-2 draw. Raheem would go on to feature in most of the games in the first half of the season due to squad imbalance and injuries.
A call up to the England squad and a debut in a friendly against Sweden in November capped a remarkable rise to prominence. On the face of things, Liverpool had found their latest superstar.
However, all was not rosy in the garden. Raheem's debut came on the back of rumours in the press that he was unhappy with a lack of first team opportunities and was considering a move and further press stories surfaced about a possible international call up from Jamaica, stories which undoubtedly influenced the early international debut.
The shambolic "Being Liverpool" TV series highlighted an embarrassing pre-season "spat" with Brendan Rodgers. The sort of incident that probably happens 10 times a day at any football club suddenly put the spotlight on Raheem, unfairly singling him out as a troublemaker.
High profile and protracted contract negotiations in late 2012 led to more press stories about a possible transfer to one of Liverpool's rivals. A contract reportedly in the region of £40,000 per week was eventually agreed and signed in December 2012.
However, many fans were unimpressed with the amount of press coverage and size of the contract compared to the end product on the pitch as Raheem's form dipped.
Supporters who remembered the consistent early career brilliance of Owen, Fowler, MacManaman and Gerrard were distinctly underwhelmed by 1 goal in 32 games up to the end of 2012 and not too many more assists.
From New Years day 2013 until the end of the 2012 –13 season he would play only eight more times as his season ended with a whimper while the team's performances and results improved dramatically in his absence.
Brendan put his fall from prominence down to tiredness both mental and physical, saying that he had lost his "zip".
Off the field, Raheem found himself with legal troubles. An assault charge from 2012 was dropped just before trial in May 2013 and a further assault charge was brought to trial in September 2013 with Raheem acquitted.
A roller coaster year of early season promise followed by media attention, hype, expectation, contract negotiations, injury, loss of form, burnout and court cases would have been enough to see many a promising career fizzle out. However, it was at this low point that the signs that Raheem might be more than just a half season wonder started to show.
For me, the beginning of the resurgence was Notts County at home in the Capital One Cup. What should have been a straightforward win became complicated when the game went to extra time and Liverpool were reduced to 10 men by an injury to Glen Johnson.
Rodgers put Raheem to right back and rather than throw a hissy fit or look lost, Raheem rose to the challenge and showed great maturity and resolve to see the game through (imagine asking Januzaj to play left back….).

From then on his performances improved and the rich vein of form which started with a gritty and dynamic performance against West Ham at Anfield in December shows no sign of ending. In fact, every time you think Raheem can't get better he kicks on again.
Rodgers has been glowing in his praise for Raheem, highlighting his tactical awareness. To Raheem's credit, a new found physical maturity is clearly the result of hard work rather than a growth spurt, a man of the match performance against Stoke showing that he is now more than capable of mixing it with the most physical teams.
However, it is the end product that is now most impressive. Goals and assists are now flowing freely. 6 goals in 17 games since the aforementioned West Ham game.
A fully deserved call up to the England team resulted in a man of the match performance and an almost certain trip to the World Cup.
The improvement has been astonishing. From the end of last season when arguably he had fallen behind Jordan Ibe as Liverpool's most promising young winger he has now moved ahead of the likes of Oxlade-Chamberlain, Andros Townsend, Aaron Lennon and Adam Johnson into the starting XI for his country.
We should not forget that he is still only 19, younger than Joao Carlos Teixeira, Luis Alberto, Jon Flanagan, Brad Smith, Andre Wisdom all of whom are young players trying to find their way into the first team. Certainly, Brendan will treat him carefully to avoid any further burnout, the Southampton substitute appearance is evidence of that.
Raheem will surely start against Manchester United though and, if there are any doubters as to his quality, that game will be the perfect stage for him to show the gulf in quality between him and the current "wonder kid of the month". If you are wondering Januzaj is only 2 months younger than Raheem.
From my own perspective, I can happily say that I'm fully converted. I admit to being initially sceptical as to whether Raheem had the tools both physically and mentally to make it at the highest level. Now rather than asking "is he good enough" the only question for me is "how far can he go?"