Social media was awash with red on Saturday night as Liverpool fans celebrated their side's 3-0 victory over Southampton which puts the team second in the Premier League.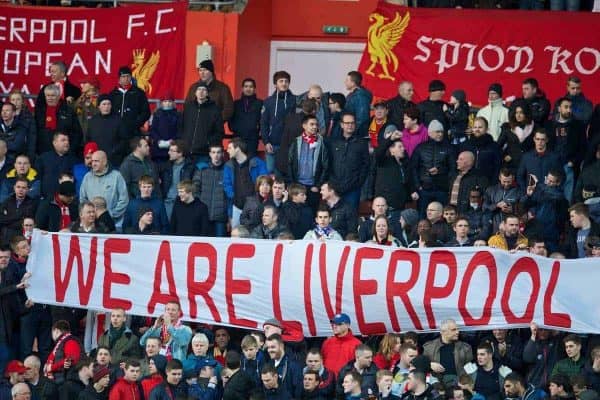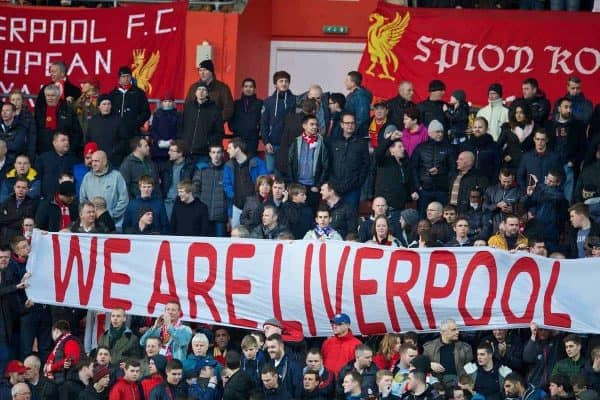 Arsenal's defeat at Stoke City earlier in the day meant Brendan Rodgers' side had the opportunity to leapfrog both them and Manchester City, and keep up with league leaders Chelsea.
Jose Mourinho's Blues remain four points clear at the top of the table after their 3-1 win at local rivals Fulham on Saturday afternoon.
Luis Suarez got Liverpool's first of the day, capitalising on sloppy defending to finish expertly in the 16th minutes.
The Reds survived a prolonged wave of pressure from the Saints to go into half-time with the lead, before the introduction of Raheem Sterling in the second-half saw the 19-year-old double Liverpool's lead with his first touch of the game.
Sterling had been on the pitch no more than 80 seconds when he struck home Suarez's low cross.
Steven Gerrard added a third from the penalty spot in stoppage time at the end of the game when Suarez was brought down by Jose Fonte in the area.
It was another wonderful day in Liverpool's fantastic season and they go into next week's international break having not lost in the league in 2014 — still the most in-form team in the top flight.
With 10 games to go, talk of Liverpool as title contenders has dramatically increased, though their next game — on Sunday, March 16th — sees an unpredictable trip to Manchester United at Old Trafford.

But for now, Liverpool fans are celebrating at the side cementing their place amongst the top four, with Champions League qualification now in sight.
Here's a round-up of some of the best (and clean!) tweets we've spotted since the full-time whistle at St. Mary's on Saturday.
Let us know your post-match thoughts and reaction in the comments below, on Twitter @thisisanfield or in our forums.

BRING ON THE MANCS!!!!! #LFC – 16 March. Hoping all our players return unharmed from the meaningless friendlies in midweek.

— LFCZA (@LFCZA) March 1, 2014
As I'm busy tweeting about Suarez chasing anything he wins a penalty. He has no respect.

— Paul Tomkins (@paul_tomkins) March 1, 2014
4 wins in a row, unbeaten in 2014, 2nd in league with 10 games to go. What a season!

— LFCTS (@LFCTS) March 1, 2014
Well done Liverpool. Another great result and 4th win in a row. And yes we are 2nd…..

— MostarLFC (@MostarLFC) March 1, 2014
Absolutely buzzing.

— Matt Ladson (@mattladson) March 1, 2014
Best win of the season for #LFC: #AFC, #THFC, #EFC and #MUFC were all weak and unthreatening. Southampton were excellent.

— Not Brian Kettle (@briankettle) March 1, 2014
What a brilliant result. Perhaps the most 'professional' result of our season. Tough fixture, everyone did their job, clean sheet, 3 points.

— Joseph Musker (@Musker_LFC) March 1, 2014
It's on. #WeAreLiverpool

— Green Scouser (@Green_Scouser) March 1, 2014
I guess its time to BELIEVE #LFC

— Jay_Riley (@Jay_78_) March 1, 2014
Massive win today pushes LFC ahead of Arsenal. While every match feels critical, today's clean sheet made it fun to watch

— Linda Pizzuti (@Linda_Pizzuti) March 1, 2014
We're 2nd in the Premier League in March. Help.

— What•a•Hit•Son•LFC (@whatahitsonlfc) March 1, 2014
Rodgers is a genius. What he's done with us since taking over is just fantastic.

— LFCTS (@LFCTS) March 1, 2014
What a great win that is. Southampton are a handful but 2nd half we got a grip of them and we score goals for fun! Keep on rolling redmen.

— The Liverpool Way (@theliverpoolway) March 1, 2014
Luis was out of breath, panting from the 3rd minute until the end, but he played with the same intensity throughout.

— Srijandeep Das (@LFC_360) March 1, 2014