Danny Gallagher on the rejuvenation of Jordan Henderson that has seen him go from a transfer flop to a shinning light in Liverpool's future.

13th August 2011, and a freshly purchased Jordan Henderson makes his debut for Liverpool against former club Sunderland; firmly under the spotlight following a big money move, reported to be around the £16 million mark. The question on fans' lips everywhere, could this lad become a regular in the iconic Liverpool midfield, and daresay, a long term replacement for Steven Gerrard?
Fast forward 18 months and the same player finds himself enduring what would frankly be labelled a torrid time on Merseyside, occupying a regular position upon the bench and growing accustomed to the social wilderness with regards to first-team international football. It got to a stage where many fans had already cast their aspersions about the lad from Wearside, deeming him 'not Liverpool standard', despite sporadic encouraging performances woven amongst a culmination of consistent mediocrity.
The purchase and immediate impact of Joe Allen, along with the born-again Lucas Leiva in the heart of the Liverpool midfield appeared to spell the end for Henderson, with the former pairing acting as well-oiled cogs in a rigorous line-up, meticulously accommodating Steven Gerrard. So much so that it seemed almost imminent that the youngster would be passed on as part of an amicable transaction to Southwest London club Fulham, in order to accommodate Clint Dempsey's arrival at Anfield in the summer of 2013.
Fight
Nevertheless, said move never materialised and Rogers at the time declared that Henderson had vowed to stay and fight for his Liverpool worth. And fight he certainly did.
Henderson's form this season, thus far, has been nothing short of magnificent. To the watchful eye, his performances have included the full package of aesthetic pleasure; from astute passing to methodological tackling, from off the ball play-reading to calculated pressing, all areas of Henderson's game have improved exponentially, a joy to behold.
This, a far cry from the miserly lows of the previous two seasons, perfectly captures the essence of a player who vowed never to give up and prove his ever-increasing queue of critics wrong.
Following the throwing down of the gauntlet by Rogers at the beginning of the season, Henderson has not only taken his chances, but displayed the rare combination of both consistency and simultaneous growth; subsequently seeing him stand only third behind Simon Mignolet and Steven Gerrard in the number of minutes played for Liverpool this season.
Value
With only 10 games left to go in the current premier league season, Liverpool's current form and new found ruthless streak has many asking the unimaginable question.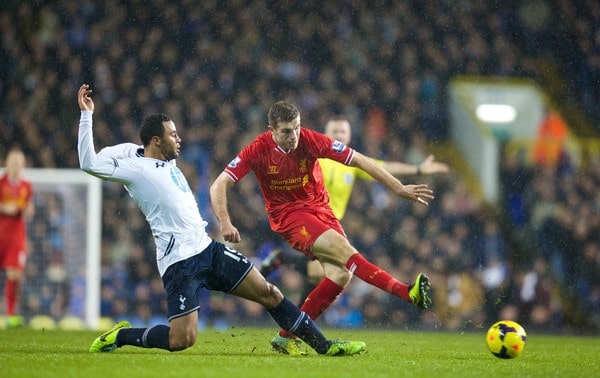 Henderson's form is in part, hugely responsible for this. Alongside messers Sterling, Sturridge, Suarez and Coutinho, Henderson's rise and understanding with his team mates has provided Rogers with a delectable platform of which to construct his preferred art of play. Performances such as the 5-1 demolition of Arsenal or the hard-fought 4-3 with Swansea best encapsulate this, with Henderson and his midfield compatriots providing both stability and creativity for our highly potent attacking line-up.
With Gerrard openly admitting of his ongoing transition to modify his game in order to optimise his vitality to Liverpool, Henderson's rise arrives at a perfect time to ensure all that the reds' midfield is both assured, but also more than ready to develop. Although it is still early days, Henderson's value is certainly currently being felt around Anfield, and who knows how much this could be accelerated come the end of the season.
Hunger
The sign of a good player is particularly one who does not take their current form for granted. This is certainly the case with Henderson as of this season – the number 14 himself conceding that the training staff often tell him not to overdo it following additional individual training.
This hunger and desire is something that is exceedingly well received by the passion of the Kop, with chants for the midfielder growing in volume, week-in week-out.
What is deeply satisfying however, is that with the current form of Liverpool's midfield, fans are rewarded with seeing a familiar unity and intensity at the heart of the Anfield pitch, something that has been sincerely lacking since the departures of Javier Mascherano and Xabi Alonso alike.
With this new steely determination and contagious confidence, there is no reason to doubt that Henderson cannot become a permanent fixture in the Liverpool midfield for years to come, truly staking a claim to be one of the first names on the team-sheet.
This season alone, thus far, Henderson's chance creation is up by a large percentage, standing at 49 as opposed to last year's 33, still with 10 games to go. Likewise, his 44 recorded dribbles vastly engulf last season's lacklustre 17.
England
With the minor event of a World Cup looming this summer, Roy Hodgson must be well placed in assembling a high calibre midfield.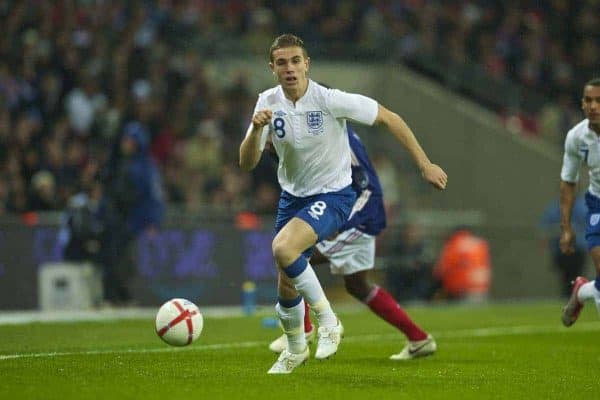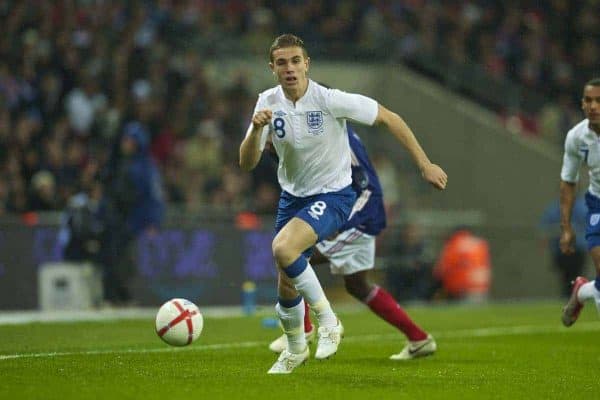 Given the current form of other home-grown players that the premier league has to offer, Henderson's exploits for Liverpool must place him highly upon the inclusion list; at the moment an odds-on starter in the minds of many.
Aside from Wayne Rooney and perhaps Southampton's Adam Lallana, it is debatable that no other midfielders aside from Liverpool's own Steven Gerrard and Raheem Sterling have been on a similar performance level to Jordan Henderson.
With his succinct understanding with Gerrard and the constant enhancement of his own game, Henderson could stand as a real asset for England this summer. Brazil is a place that Hodgson will certainly see Henderson's flexibility as a god-send, affording him the option to either sit alongside Gerrard or provide a productive outlet for the ever marauding Rooney.
Time will tell as to if or how Roy Hodgson uses Jordan Henderson, however one thing is for certain; if the Wearside lad's form continues, Liverpool fans could be in for a very enticing end to the season. Few things are more pleasurable in football than seeing a young lad, knocked back by the critics, rise in the face of adversity and become one of the most outstanding performers within their respective league.
I will end this piece with a quote I'm sure many will enjoy, deriving from an autobiography recently written by some old bloke going by the name of Fergie – former manager of currently 7th placed Manchester United. Some people's losses really are others' gain…
''We looked at Henderson a lot and were enthusiastic about him but noticed that he runs from his knees while the modern day footballers run from their hips. We thought this might cause him a problem in his career later on. ''