It's three years to the day since the Dutchman scored a hat-trick at Anfield against Manchester United. Henry Jackson (@OnFootballTweet) looks back at Kuyt's Liverpool career, in particular his impact in big games.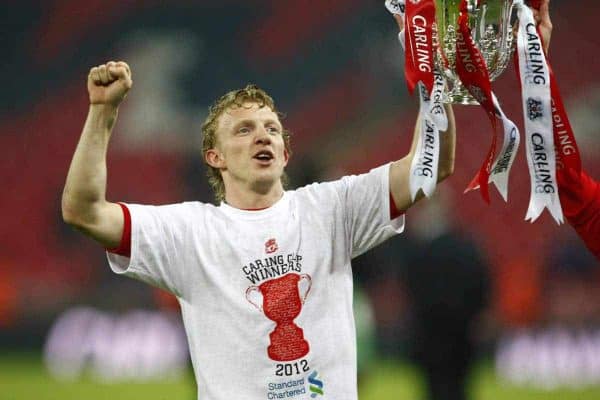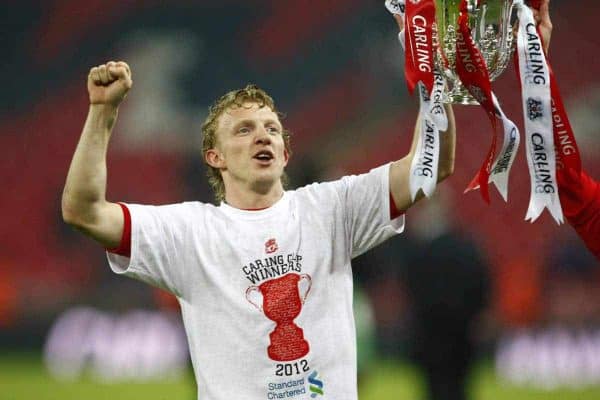 When it comes to ability, Dirk Kuyt was far from the most gifted player ever to grace the Anfield turf. He wasn't the quickest or the most creative, but he was mighty effective.
His work-rate was extraordinary, while his movement and unselfishness in front of goal was hugely underrated. He wasn't as exciting to watch as any of Liverpool's current attacking crop, but he was a very fine player in his own right.
The 33-year-old spent six years at Liverpool, between 2006 and 2012, scoring 71 times in 285 appearances. While some forwards get cheap goals to add to their tallies throughout their career, Kuyt was very much a player who did it time and time again when it really mattered.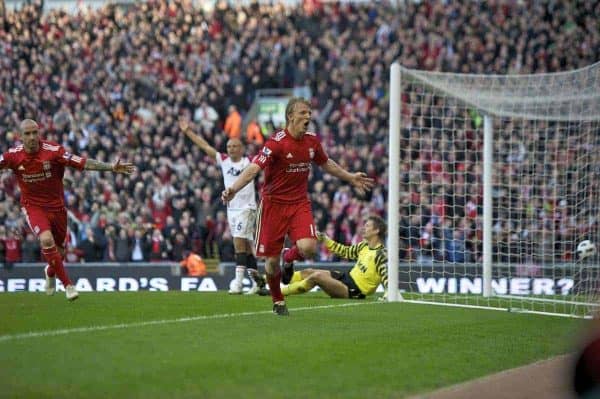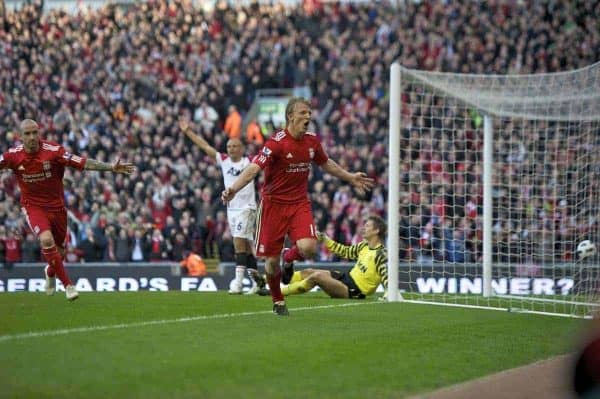 UNITED
The aforementioned hat-trick, scored on this day in 2011, was typical Kuyt; gritty but effective. All were close-range, poached efforts, but they got the Reds over the finish line against a strong Manchester United team who would reach the Champions League final that year.
That was not the only time Kuyt helped break United hearts, however. A year later, with their FA Cup fourth round clash tied at 1-1 at Anfield, he pounced clinically late on to send Sir Alex Ferguson's side crashing out.
He was terrific in the unforgettable 4-1 win at Old Trafford in 2009, and also created a goal for Fernando Torres there a year later.
EVERTON
Evertonians everywhere must have been delighted to see the back of Kuyt in 2012, such was his success against them in Merseyside derbies. He scored five times against the Toffees, and virtually every goal was a crucial one.
His two penalties at Goodison Park in 2007 are probably his most famous. With the Reds trailing 1-0 after a Sami Hyypia own goal, he twice stepped up under immense pressure to earn a massive win for his side. He also scored the vital second goal there during the 2009/10 campaign, as Liverpool won 2-0.
The current Fenerbahce star's two derby goals at Anfield were equally as important. The first, a header in 2010, was the only goal of the game, while the second was also from the penalty spot, helping earn his side a 2-2 draw in 2011.
CHAMPIONS LEAGUE
Kuyt had some unforgettable moments in the Champions League, with a number of them against some of the other so-called 'big four' sides in the Premier League at the time.
He scored the winning penalty in the 2007 semi-final shootout against Chelsea, dispatching the ball coolly past Petr Cech to send Anfield wild. In the subsequent final against AC Milan, although Liverpool lost it was the Dutchman who scored his side's goal on the night.
He also gave the Reds the lead in the 2008 semi-final against the same side, and scored at Stamford Bridge in the unforgettable 4-4 quarter-final draw a year later.
With Liverpool losing 1-0 to Arsenal in the first-leg of the quarters in 2008, it was again Kuyt who popped up with a goal to give Liverpool a vital away goal. They would go on to progress in the return leg.
The 98-time capped Netherlands international has also scored massive goals against some of Europe's biggest clubs. His late strike against Inter Milan in 2008 was pivotal in the context of the tie, while he played a key role in Liverpool's fantastic win at Camp Nou against Barcelona in 2007.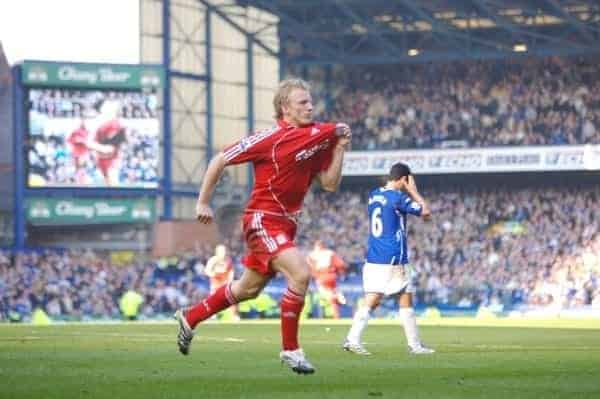 OTHER BIG GOALS
The striker turned winger scored plenty of other memorable efforts in big games. His extra-time goal helped Liverpool win the 2012 League Cup triumph over Cardiff; he also converted his penalty in the shootout.
His last-gasp winner in the Reds incredible 3-2 away win at Manchester City was one of the standout moments in Liverpool's superb 2008/09 campaign, while Chelsea and Arsenal have both suffered at the hands of him in the league as well as the Champions League.
CONCLUSION
Dirk Kuyt was never a great player, even in his prime, but he was someone who made a team great. Others around him- Steven Gerrard, Xabi Alonso and Fernando Torres are examples- invariably made more headlines than him, but the impact he often made in games was as noticeable as anyone.
He might be easily forgotten now because of the attacking brilliance Brendan Rodgers has at his disposal, but there will times when we as Liverpool fans will be crying out for Kuyt to be on hand to score one of those vital goals. Especially with these enormous, season-defining games coming.
What's your favourite Dirk Kuyt moment? Would he get in the current Liverpool side?