Following Liverpool's 4-0 victory at home to Spurs, manager Brendan Rodgers hailed his side's flexibility. Here, Jack Lusby (@LusbyLatest) looks at the options available to Rodgers in the midfield.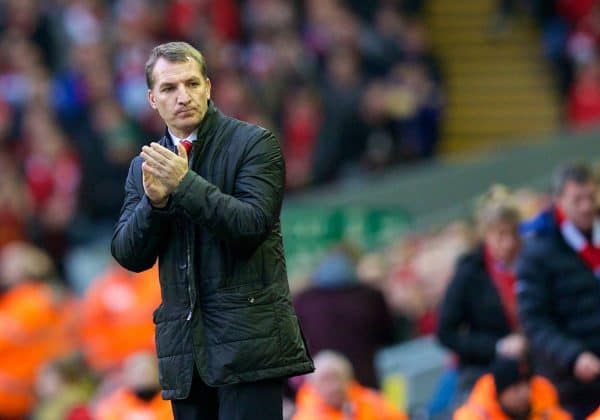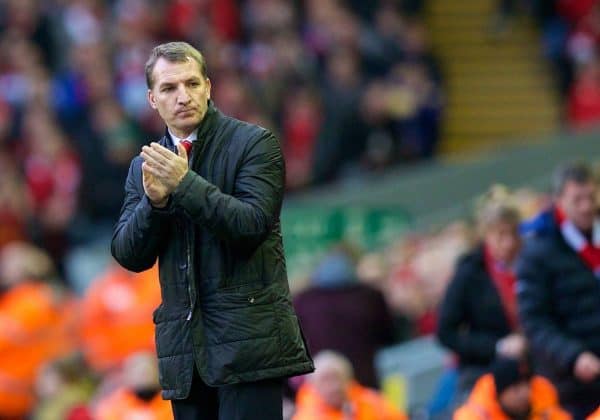 "We've played a number of systems this season, and I'm thankful that the players take on board the ideas and have that flexibility; the last four games we played a diamond, and today we played 4-3-3. We played with two strikers through the middle and one off-set in Raheem [Sterling], and he was outstanding today. Likewise Joe Allen was when he played in the diamond, and came on [today] and had a great contribution. So we've got flexibility which is important, that's what we're trying to develop here."

– Brendan Rodgers, speaking after the 4-0 win at home to Spurs
Brendan Rodgers' recent comments aptly praise his midfield options, hailing their flexibility and outstanding contributions; however, for all of the praise deserved by the players, it's in Rodgers' tactical flexibility that Liverpool have found their title-challenging lynchpin.
In Rodgers, Liverpool currently have the most tactically astute manager in the Premier League. Forget Mourinho, Martinez, and don't even think to mention Moyes; Rodgers' flexibility is forging a new plateau in Liverpool's celebrated history.
Three players in particular stand out as options for Rodgers in the midfield – with Jordan Henderson and Steven Gerrard de facto standards – and those are the aforementioned Joe Allen and Raheem Sterling, alongside Phillipe Coutinho.
Joe Allen and the Midfield Diamond
Dropped for the Spurs game, in recent weeks Rodgers' trusty midfielder Allen has been pivotal as the Ulsterman utilised a midfield diamond.

Following an impressive cameo appearance in the 4-3 home win against Swansea City in February, Allen started the next four games for the Reds; it was likely this performance against his former side that convinced Rodgers to employ this option.
As per Squawka, Allen won 88 percent of his defensive duels in that 33 minute appearance: this included an 83 percent success rate in the tackle, winning the ball five times out of six.
Furthermore, the Welshman also boasted a pass success rate of 95 percent, completing 18 out of 19 passes.
As he progressed in this midfield diamond, Allen effectively flooded the midfield, snapping at heels and interception balls, in what was particularly joyous in 3-0 away victories against Southampton and Manchester United.
Looking forward, Allen gives Rodgers a welcome option within games where the Reds are, uncharacteristically, unlikely to win the midfield battle; this could be particularly important in Liverpool's vital home game against Manchester City next month, a fixture which Allen shone in early last season.
Raheem Sterling: Liverpool's Mr. Versatile
Skipping away from Anfield on Sunday evening, bottle of champagne in hand, Raheem Sterling was awarded man-of-the-match after another dominant performance against Spurs.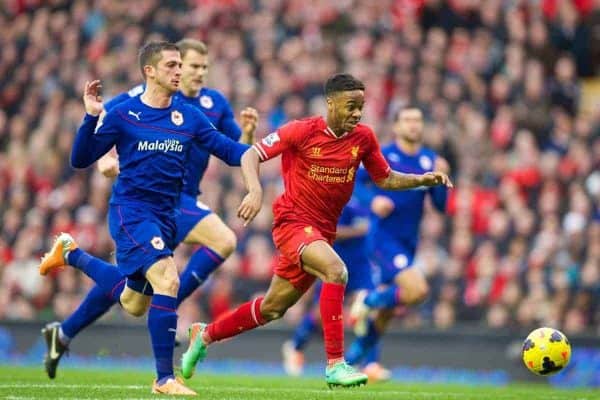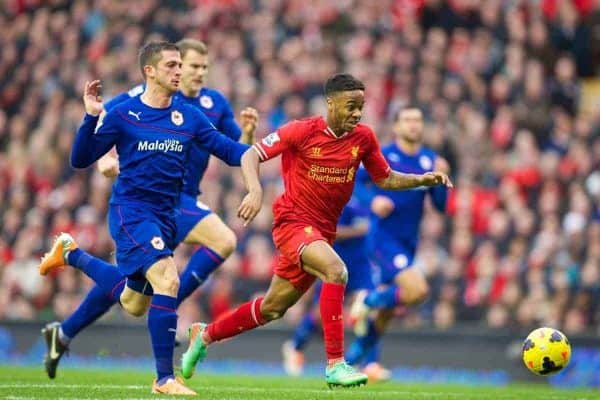 Having deflected rumours of a loan move earlier in the season, Rodgers has seen Sterling become Liverpool's most versatile attacking option, and he is central to his manager's experimentation.
When deployed recently as part of the midfield diamond, Sterling could be found in unfamiliar territory at its tip. Working just behind Luis Suarez and Daniel Sturridge, Sterling was able to use his pace and ability to run at players in a more central role which proved immeasurably effective.
With attributes similar to a young Michael Owen, Rodgers could depend on the Jamaican-born youngster in this position in the future.
Elsewhere, naturally, Sterling has performed sensationally when included as part of Liverpool's attacking trio, whether on the left or the right; his versatility lending itself to the Reds' devastating fluidity in the attack.
At Spurs, Squawka notes Sterling as having won 83 percent of his attempted take ons – completing five of six – as he continually tormented left-back Danny Rose; elsewhere, the England international was unlucky not to finish the game with an assist after Hugo Lloris expertly saved Suarez's powerful close-range header.
Such is his development under Rodgers at Liverpool that the 19-year-old can now be considered one of the best defensive wingers in the Premier League. For a player with such a small frame Sterling is able to hold off even the most physical of opponents – such as Marouane Fellaini in the recent win against Manchester United – and is often found covering at full-back.
A young player who already has many strings to his bow, Sterling will be key to Rodgers' tactical shifts in this title run.
Phillipe Coutinho: The Playmaker
Derided, perhaps fairly, until recently for his contribution to away fixtures throughout this season, Coutinho has produced two particularly impressive performances in Liverpool's last two fixtures – one of which being a man-of-the-match performance against Sunderland last week.

It is a common misconception that the diminutive Brazilian is lightweight, and easily pushed off the ball.
Much like Sterling, Coutinho has developed into an adept defensive player, and his commitment in the challenge has proved vital in the last few weeks; most recently, against Spurs, Coutinho could be seen chasing lost balls back towards his own box, such is his desire.
Rodgers hasn't singled out the ex-Inter man for praise of late, and that has perhaps worked to lift any pressure from the 21-year-old's shoulders; many forget that, due to his impressive performances, he is still so young.
This season, as per Squawka, Coutinho has created 48 chances in 27 appearances, including six assists, and continues to prove one of Rodgers' most effective creative options.
In recent weeks Coutinho has shown his flexibility; as part of the midfield diamond against Sunderland, and the most-advanced of a midfield three against Spurs.
Useful now as a starter or as an impact option, Coutinho has proved he can shine in any situation for Rodgers of late.
Do you agree with Rodgers' assertion that Liverpool are now completely flexible? Who will make the biggest impact for Liverpool in the title run-in? Let us know in the comments below.