The 25-year-old failed to live up to the vast fee Liverpool paid for him in 2011, and Henry Jackson (@OnFootballTweet) believes that, although far from a bad player, he was never going to become an Anfield icon.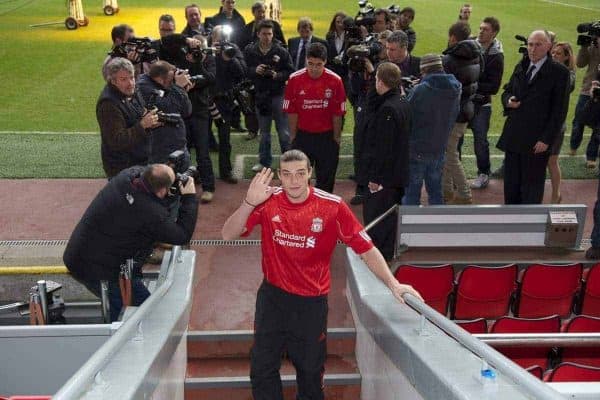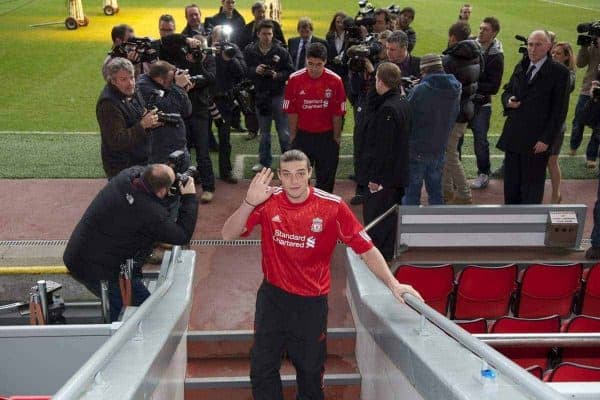 When Kenny Dalglish signed Carroll for £35m in January 2011- a British transfer record for a few hours before Fernando Torres eclipsed it- many Reds fans were very happy with the acquisition.
Many of you may not like to admit that now, but it's the truth. I firmly believed he was a hugely promising young English player who could become a hero at Anfield. I know i'm not alone in that.
As it panned out, his time at the club was a disaster; both for him and everyone associated with it. Injuries hampered his progress without doubt- he only managed 11 goals in 58 appearances but rarely got a proper run in the side- but, ultimately, he was never the right fit for Liverpool.
He lacked pace, wasn't a good enough finisher and could only really be effective if a direct style of play was used. With Luis Suarez also new to the club, it was a no-brainer as to who was going to be the one to spearhead Liverpool's attack both then and in the future.
Under Dalglish it was clear that Carroll would always be given a chance to prove himself if fit, but as soon as Brendan Rodgers took over the reigns in the summer of 2012, the end was nigh.
If ever there was a player who didn't suit Rodgers' high-intensity, fast, fluent style it was the big Geordie. Although he made it clear he wanted to fight for his place, Carroll was farmed out on loan to West Ham for the season, and joined on a permanent deal last summer.
The £15m (plus £2m initial loan fee) Liverpool received was actually very good business- considering how forgettable his Anfield career was- and to only make less than a £20m loss in the end was a real result. They could easily have ended up selling him for less than £10m, such was the damage his reputation had suffered.
It's important to stress that, despite the huge criticism and derision Carroll has received over the last few years, he's actually not a bad footballer.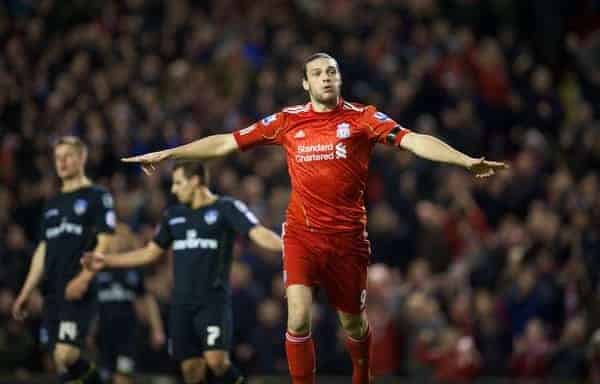 The former Newcastle man is absolutely brilliant in the air- his headed winner against Everton in the 2012 FA Cup semi-final was his finest moment in a Liverpool shirt- and his touch and vision is underrated by some. He's not Zlatan Ibrahimovic, obviously, but he's also not Sean Dundee either.
The fact that he may force his way into England's World Cup squad this summer shows that he's half-decent; even if there isn't exactly a huge amount of competition and the manager is inept.
On Sunday, Liverpool travel to Upton Park looking to keep their title surge going. In Carroll, they will come up against a man who will be dying to prove a point against his former employers.
Since returning from injury he has been a very important player for Sam Allardyce's side, and scored a trademark header away to Sunderland in the Hammers' 2-1 win on Monday night.
The 25-year-old is arguably West Ham's key player at the moment, and their system is built around his aerial prowess. Whoever Rodgers starts at centre-back on Sunday- presumably Martin Skrtel and Daniel Agger given their current form- will have a potentially gruelling 90 minutes on their hands against the former Red.
The imposing striker will want to show Rodgers exactly what he's missing by selling him last summer, and Liverpool will have to be switched on if they are avoid Carroll making the headlines on Monday morning.
Would you have kept Andy Carroll at Liverpool? Do you see him as a threat on Sunday?