Tom McMahon hits back at pessimistic Liverpool fans following Sunday's defeat to Chelsea and says the title challenge is still on — so heads up!

I tell you what, I'm sure glad that Twitter didn't exist in 2005.
Imagine the floods of pessimism you would witness if you checked your Twitter feed at half-time; a 3-0 desolation in the Champions League final, something everyone had been looking forward to all season.
Fans would be calling for the manager's head, ripping into the quality of the squad and probably even take a swipe at captain Steven Gerrard himself.
@Kneejerknaysayer: Ffs I'm not watching this anymore, #LFC have been poor. Rafa out and let's start afresh. #hughesin

@pesimisticdave: What a goal by Kaka, that's it I'm afraid. The lack of quality from Carra there was exposed. Needs replacing ASAP.

@nobottlepete: Gerrard's been poor this half, our captains gone missing. Maybe best for him to go to Chelsea so the team can regain some character #stevieout
Obviously I don't need to say what happened in the second half.
Pessimism was warranted of course – 99/100 times the team 3-0 down at half-time loses – but the fans never stopped singing; never stopped believing. Gerrard himself, in his official autobiography, even made note of the fans lifting the team with a hymn-like rendition of You'll Never Walk Alone.
Then there was the FA Cup final just a year later. When Paul Konchesky curled a looping shot into the top corner from 20 yards past the hapless Pepe Reina (staggering, I know), and with stoppage time about to begin, it looked like all hope was lost.
Gerrard then scores a vintage long-range strike in the dying minutes and the rest is history. Another trophy captured against the odds.
And so, once again, Liverpool Football Club now have their backs against the wall; and some of the fans I've seen have well and truly thrown in the towel at the first hurdle.
Cries of 'make us dream' and chants of 'we're gonna win the league' soon died down after Steven Gerrard  – a recurring figure of Liverpool's dramatic comebacks – slipped and allowed Demba Ba a free shot on goal.
I was gutted, more so for Stevie than for anyone else. No matter how disappointed and how upsetting a loss to the increasingly irritating Jose Mourinho's Chelsea was, it would pale into insignificance compare to how our captain must be feeling.
Steven will have many a sleepless night over an error which was completely out of his control. Hopefully an impromptu visit to Dr Steve Peters is on the cards.
So do you think that Brendan, the squad and Steven Gerrard himself will be sulking around Melwood this week, bemoaning Man City's easy fixtures and Everton's injury-ridden defence?
Or will they brush themselves down, carry on with their business and believe that all is not lost yet? With Brendan Rodgers at the helm – aligned with Captain Fantastic's hunger to win the title – I can't see anything but the latter being true.
And the fans, like the club, need to brush themselves down and support the team just like they have fantastically during the title run-in.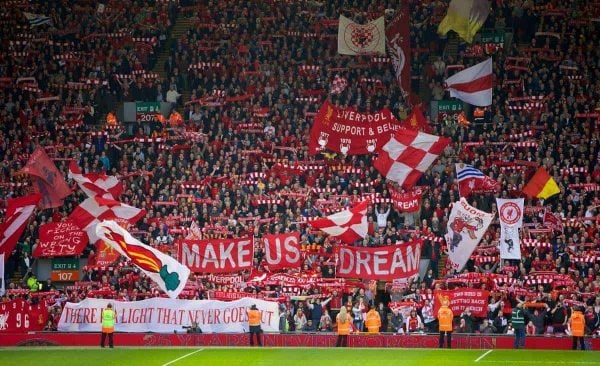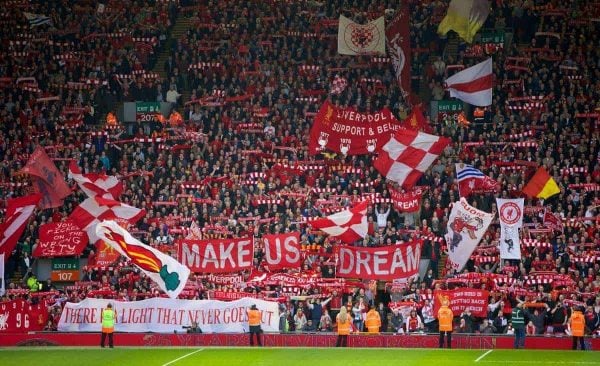 The obvious counter to this argument is that the supporter's views are ultimately unimportant. It is the players and the back-room staff which will ultimately decide who will be victorious, and that a single fan's opinion won't change the team's fortunes on the pitch. After all, the fans gave unreal support against Chelsea on Sunday and the team still lost.
I'm a big believer on Shankly's holy trinity; that for the club to be successful, the players, manager and fans all need to be in unity in order to bring large scale and sustainable success.
While the fan's views are hard to measure and quantify in terms of their contribution, there's no doubt that the recent vibrant and invigorating support has given the entire club an upswing in terms of performance and rugged determination.
'At a football club, there's a holy trinity – the players, the manager and the supporters. Directors don't come into it. They are only there to sign the cheques.'
— Bill Shankly
Liverpool fans are truly not like any other club's – a momentary glance around Anfield last Sunday would tell you that. The Reds' support truly gives the team an intangible and unique advantage, something that petrol dollars and Russian money could never buy.
That's why it's important that, as fans, we maintain the high calibre of backing which has helped elevate Liverpool to potential champions in the first place.
The title is now out of Liverpool's hands of course – Manchester City are just three fixtures away from the title which look simple on-paper – but the momentum and energy of the emphatic support must not fall away.
I have no doubt that the majority of fans will back the team until the dying seconds of added-time against Newcastle United at home.
But to the small-minority who's heads have dropped – with their usual exuberance drained of belief  – the title-challenge is still on and Liverpool are still top of the league, something that seemed unthinkable at the start of the season.
As a great banner once said at Anfield, anything is possible for those that believe.