With Liverpool manager Brendan Rodgers once again publicly backing Spaniards Iago Aspas and Luis Alberto after a "difficult" season, Jack Lusby asks whether this actually spells the end for the pair at the club.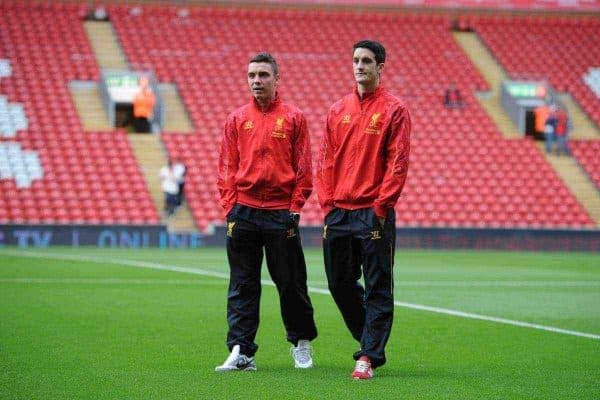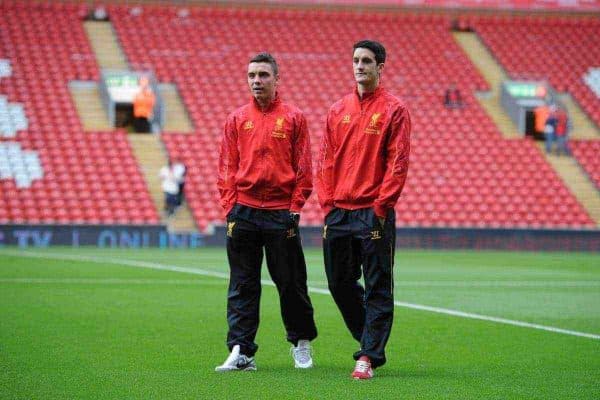 As reported by the Liverpool Echo this week, Liverpool boss Brendan Rodgers has evaluated the respective seasons of summer signings Iago Aspas and Luis Alberto, considering their debut campaigns "difficult" for myriad reasons.
However, dissecting the carefully chosen words of the Reds' manager, one can't help but feel the end is nigh for at least one of these technically-blessed compatriots.
With Liverpool looking to end the season on a high – guaranteed Champions League qualification now the 'at least' situation for the club – top quality signings are surely due to arrive at Anfield in the coming months; whilst increased competition requires a larger squad, many of the Reds' peripheral figures  will be heading into a rather fidgety period of uncertainty.
So do Aspas and Alberto have a future at the club?
Luis Alberto: the Enigma
The bulk of Rodgers' appraisal was aimed at 21-year-old playmaker Alberto, of which he seemed wholly sympathetic.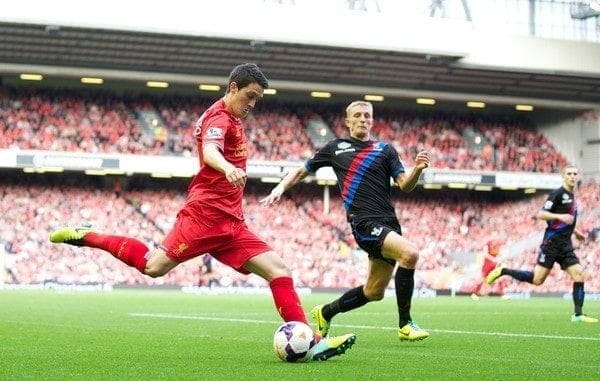 Echo reporter Neil Jones quoted the Ulsterman in reflection:
"It's probably been a difficult season for Luis because he hasn't had many opportunities to make an impact. But he needs to keep working. He's still a very young player and he does have quality. It shows you the level of where we are at. It was a signing for the long term, that was the idea. He's a young player who has come in and sampled life at a big club and made a contribution."
Rodgers paints the picture of a plucky young player who has given his all this season, who remains an unpolished gem, who is perhaps justifiably unsettled after a mixed first season at a big club; to many these are canny assertions.
Signed for a reported fee of around £6.8 million in the summer, lofty playmaker Alberto joined Liverpool on the back of an impressive season on loan from parent club Sevilla at Barcelona 'B'.
As per Transfermarkt, Alberto managed 11 goals and 18 assists for the Spanish Segunda Division club, playing in tandem with Everton's impressive loan star Gerard Deulofeu.
[youtube http://www.youtube.com/watch?v=wm_9hAGOgF0&w=560&h=315]
This season, as Rodgers alludes, the Spaniard has featured sporadically, with Squawka attributing nine league appearances; notably, none of these have come this year and, as Jones writes, Alberto hasn't come into the match-day reckoning in the past eight fixtures.
However, when called upon the midfielder hasn't disappointed, and Squawka attests to a passing accuracy of 85 percent – higher than that of arguable counterpart Phillipe Coutinho – and one assist.
Alberto's exclusion remains an enigma, however within these quotes lies perhaps the possibly fatal blow to the 21-year-old's prospects at Anfield.
Rodgers, an advocate of work ethic and application in training, continued:
"I look at training and assess it every day. Luis is working hard but we've had young players coming in and making an impact like Joao, who has been exceptional. I'm always looking at the dynamic of the squad and it changes from week to week depending on the game."
Whilst his manager considers him to be "working hard", the example of Joao Carlos Teixeira, Liverpool's 21-year-old Portuguese playmaker, shows perhaps Alberto isn't working hard enough.
Rodgers is a manager of high standards perpetuated by the Reds' increasingly lofty league reckoning – perhaps Alberto isn't at the "level of where we are at"?
Iago Aspas: the Underachiever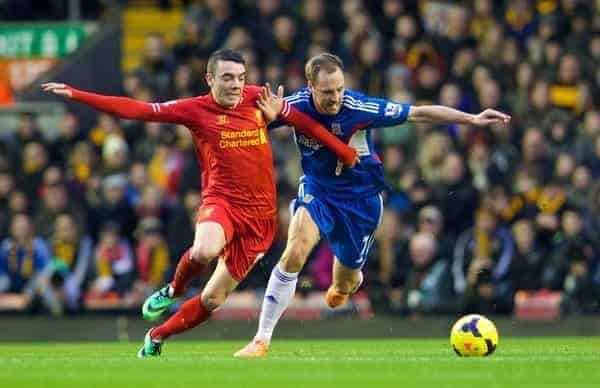 Jones continues Rodgers' appraisal with choice words on Alberto's compatriot, 26-year-old striker Aspas:
"I really feel for Iago. It's been so difficult for him. He has a world-class striker in Luis Suarez for competition and another who has come in and done exceptionally well in Daniel Sturridge. Daniel is potentially world class and I'm sure we will see that over the coming seasons."
Whilst undisputed third-choice Aspas finds himself in rather an unfortunate situation – behind the league's two best strikers in the Liverpool pecking order – the Spaniard isn't a mere victim of circumstance as Rodgers seems to suggest.
Signed after an impressive season for La Liga's relegation-avoiders Celta Vigo – scoring, as per BBC Sport, 12 goals in 35 league games – Aspas impressed in his initial appearances for the Reds.
Starting in captain Steven Gerrard's August testimonial game against Olympiakos at Anfield, Aspas wowed the Anfield crowd at times with some clever flicks and deceptive skill; this was to continue throughout the Reds' pre-season campaign.
However, once the physical beast of the Premier League reared its head, the diminutive forward appeared to cower in its wake.
Again according to Squawka, Aspas has failed to score in 13 league appearances for the club, and has only attempted two shots – one of which was off target.
Despite this poor contribution, Rodgers seemingly can't fault his application, as he says: "I've got the utmost respect for Iago and his professionalism. He keeps working, he has a great character and mentality."
So where does this leave the pair?
The Future
Perhaps most the most telling aspect to be found in these quotes is in Rodgers' respective summaries: both reference a summer review of options and futures.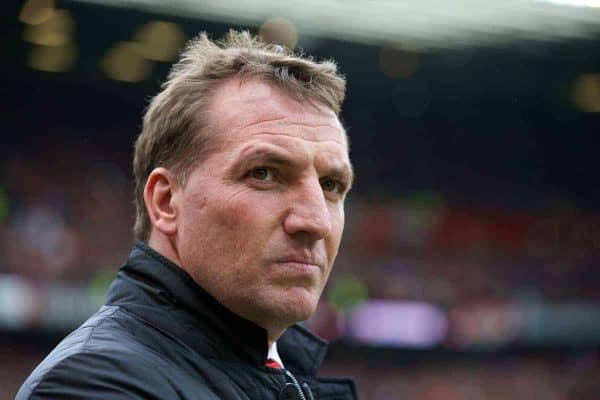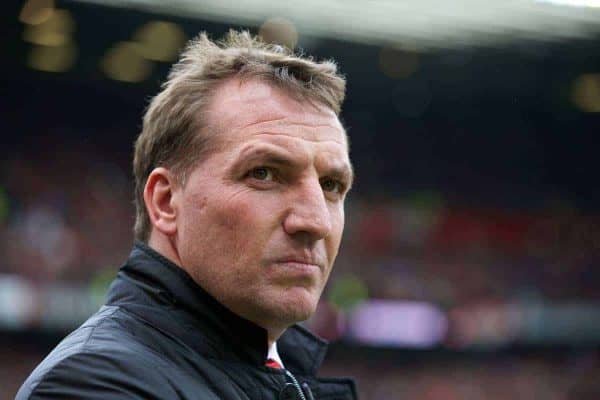 On the back of his assertions, whilst he publicly suggests Alberto has a future at the club, it would be fair to suggest if his application doesn't pick up to standard, a loan move at the very least will be on the cards – this is a solution that may benefit both parties.
Elsewhere, with Aspas, at 26 years old and with such a meagre first-season contribution, this season's review may well result in a summer culling, and it's doubtful many would argue his case.
A combined £14 million spent on two peripheral figures – for the future or otherwise – will perhaps remain a blot in Rodgers' transfer copybook, and his latest quotes suggest cutting the cord may be the best option.
Where do you feel the futures of Alberto and Aspas lie? Will either make an impact at Liverpool in the future? Let us know in the comments below.