The last meeting between Liverpool and Chelsea in December was billed as the 'Master vs. Mentor' – now Brendan Rodgers' "Chihuahuas" are the ones with their tails up. Neil Collins previews Sunday's clash between the two bosses.

WHEN Liverpool sat top of the tree on Christmas Day, few would've given us a chance of winning the whole thing. After all, only the most optimistic of Kopites would seriously have been entertaining title talk in December.
In fact, asking most neutrals would've led to a similar response: "It's a three-horse race". And we weren't even mentioned in that trio.
Previously, United would've won it; sometimes at a canter. Then Moyes plopped into the saddle and they transformed into the oblivious horse that flew his rider into orbit at the first fence, then dashed towards the finish line thinking he'd won; only to get distracted and leap into the crowd. The 'Ginger Genius' has since been mule-kicked out of Old Trafford like the loser in a game of Buckaroo as Liverpool fans screamed a collective, "NOOOOO!!!"
Meanwhile, Arsenal were the outsider who looked like causing an upset; only stopping with the final furlongs in sight to shit itself as usual. Predictably, Abramovich's and Sheikh Mansour's pampered participants glided passed with their luxurious manes fluttering in the sun.
Anyways, enough of the horse analogies before I puke. Talking of fillies always gives me chills due to finishing 'fourth in a two-horse race' back in the 1996/97 season anyway. Besides, the winner won't even be a colt this time; but a Chihuahua.

Rodgers began believing in early February. We were only six days removed from a disappointing draw at West Brom due to a Kolo Touré brain-fart. That result combined with a further two dropped points against Villa in January gave the doubters all the proof they needed.
But then Liverpool annihilated league leaders Arsenal. And then at Fulham, the Reds snatched a late win that was uglier than a John Terry selfie.
Yet, Chelsea were favourites having completed the double over Man City. Apparently, Mourinho wasn't buying it though: "The title race is between two horses and a little horse that needs milk and needs to learn how to jump. Maybe next season we can race."
This is the same "little horse" that Abramovich has invested over £2billion in since first capturing Glen Johnson for £6m in July 2003.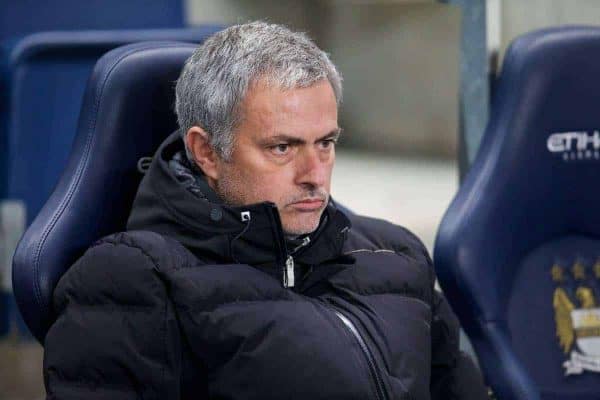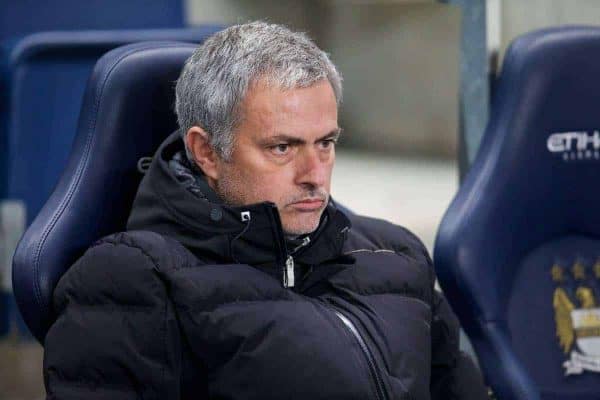 Rodgers' scoffed at Mourinho's mind games: "I don't do all that horse stuff. José is very good at all that. We may be the Chihuahuas that run in between the horses' legs."
Mourinho continued his bleating: "The other dogs don't train a lot and don't rest because they play every three days…Brendan's Chihuahua doesn't do that. During the week it sleeps, eats and trains a little bit. So I have to say his Chihuahua is a privileged one."
Rodgers was too busy winning his next nine games to respond, whilst Chelsea drew at West Brom, and lost to Villa, Palace and Sunderland.
Mourinho's insinuation was that Liverpool had foregone European football and crashed out of the cup competitions to purposely gain an advantage. He offered a similar stance about our perceived single-mindedness when we clashed in the 2007 Champions League Semi-Final: "They are a great team in knock-out competitions…But since January, they have played only one competition: Champions League."
Tensions with Liverpool have always simmered. His first run-in with Kopites came at the 2005 Carling Cup Final with the infamous finger-on-lips celebration: "I have a lot of respect for Liverpool fans and what I did, the sign of silence – 'shut your mouth' – was not for them, it was for the English press." Try telling Carra that, who was intent on separating José's head from his body.
And following the 2005 Champions League Semi-Final first leg at Stamford Bridge, Mourinho even requested that the away support be moved from behind his dug-out to the Shed End for subsequent seasons. Evidently, he preferred the company of a family section to the travelling Kop.
By the second leg he was at it again; moaning about García's 'ghost goal': "The linesman scored the goal…It was a goal from the moon or the Anfield Road stand, I don't know where." He'll still be banging on about that one when he's six feet under.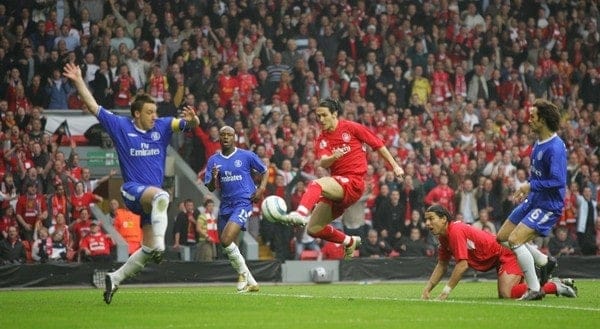 He's unbelievably hypocritical too. His estimation of Eto'o's body-check on Suárez in the box last December was: "It looks like somebody shot him". He then compared the incident to an "acrobatic swimming pool jump." Yet, this is the same guy who had Drogba and Robben in his team for years. Plus, the same paragon of professionalism who settled a touchline dispute by poking Barcelona's Tito Vilanova in the eye. And the less said about last weekend's hissy fit with his cranky assistant; the better.
Many think Mourinho's a psychological genius, who excels in firing barbs at rivals, whilst taking the heat off his own players and focusing the spotlight on himself. I just think he's a total ego-maniac, who revels in the sound of his own voice and the furore it creates. Everything the guy ever says or does is for effect. I just wanna get him in a headlock and explain all this to him as his face turns as blue as a Chelsea shirt.
And even when he's praised our history, his sullen delivery has made it sound like an insult. Who can forget his "Zay are not even a big club, zay are a monster" quote?
However, we should actually take Mourinho talking about us as a compliment because it means we're a threat. The same applied to Fergie, whose most poisonous comments were reserved for when we were really rattling his cage.
And it's staggering how quickly we've become dangerous again. It was only January last year that Chelsea let Sturridge come to mid-table Liverpool for just £12m. Fast-forward 12 months and Mourinho wouldn't sanction a loan deal for Ryan Bertrand to come to Anfield because we hadn't used Moses "correctly." José's masterplan had been to loan the Nigerian to the unthreatening Reds and have him score against all of Chelsea's rivals (like Lukaku) *stifles laughter*

Mourinho invited Rodgers to become Chelsea Head Youth Coach in 2004 following a recommendation from his assistant (and future Liverpool coach), Steve Clarke. Rodgers later became the reserves' manager, and has remained friends with Mourinho (who is 10 years older than him to the day). In fact, Rodgers has maintained a good relationship with the west London club throughout his career; bringing Scott Sinclair and Fabio Borini with him to Swansea, and returning to his old employers with Liverpool.
This was possible because Rodgers was always respected at Chelsea compared to André Villas-Boas, who was never able to shed his image of being the nerd who handed out DVDs and sounded like 'Macho Man' Randy Savage. I bet José wanted to give him a wedgie too.
Conversely, Rodgers drew from his travels across Europe studying various coaching methods to develop into one of the best 'modern' managers around. Obviously, this includes exceeding all expectation in bringing Liverpool tantalisingly close to their first league title in 24 years.
When we last met Chelsea, Sky billed it as 'Master vs Mentor.' And if that can be believed; then hopefully Rodgers will rise up like Frankenstein's monster to destroy his creator.
Brendan's Chihuahuas can see the finish line now, and smell success in their nostrils. Tails will be up again on Sunday; and Lampard and Torres et al can expect their ankles to be nipped at relentlessly (just as long as it's not Ivanovic's forearm). It would be nice if the Chihuahuas piddled down Mourinho's finely-tailored trouser leg and shit in his shoes too.
But I'll be content with another three points…
Neil Collins is the author of a forthcoming book reviewing the epic 2013/14 season at Anfield, available in late May / early June. Follow @NeilCollins86 on twitter for more details.