The 23-year-old's dynamism was a big loss in Sunday's loss against Chelsea, and his replacement simply didn't do enough in his absence, writes Henry Jackson (@OnFootballTweet).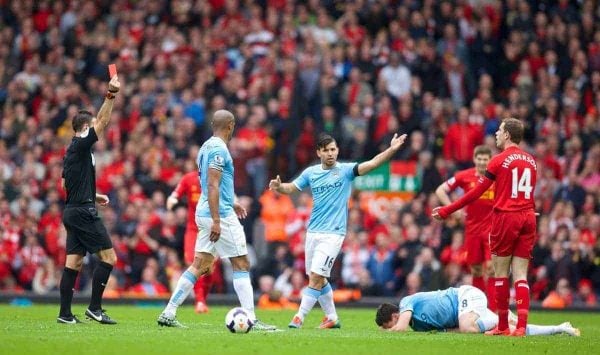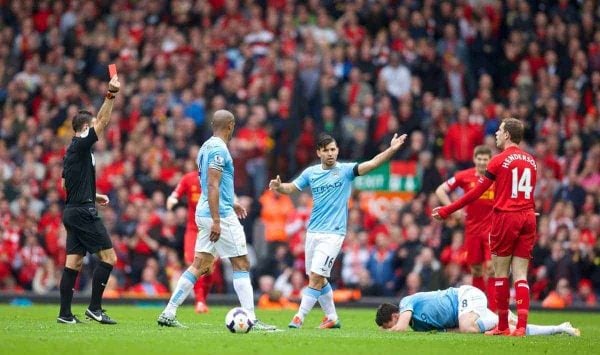 When Jordan Henderson was sent-off in the 3-2 defeat to Manchester City, Liverpool fans worried that his three-game ban could seriously affect their title charge.
The 23-year-old has been the most understated player at the club all season, and if anyone needed persuading on that, the last two games have shown just what a big miss the former Sunderland man has been.
Brendan Rodgers brought in Lucas Leiva as Henderson's direct replacement for the clashes with Norwich and Chelsea, occupying a relatively attacking right sided midfield role in a 4-4-2 diamond formation.
That role requires energy, pace, creativity and an end product, and while Henderson has provided all four of those attributes from August until his dismissal earlier this month, his Brazilian teammate has offered none in space of seven days.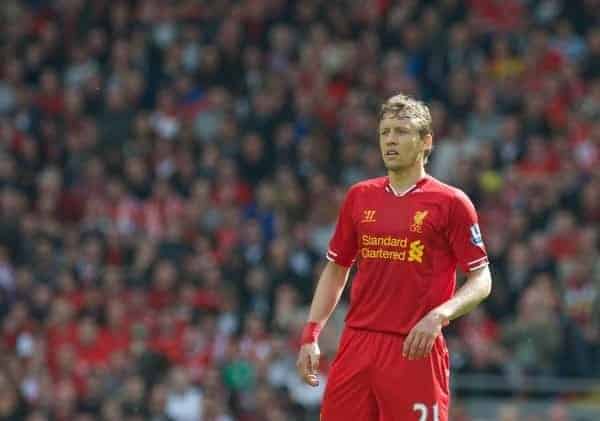 The serious injuries that the 27-year-old has suffered over the past few years have clearly taken their toll on him- admittedly he was never the quickest- and the manner in which his style has slowed down Liverpool's play in the last two matches has been problematic.
Against Norwich the opposition was weak enough for it not to be an issue, but against Chelsea it affected the whole of Liverpool's display. They needed Henderson's power and pace against a very combative Chelsea midfield, and without him something was lacking hugely in that area.
Henderson has been arguably the biggest reason for the Reds' high pressing style. The dynamism he has in his armoury, both on and off the ball, has been so important, with his constant hounding of opponents, box-to-box style style and ability to run in behind the defence something Lucas is incapable of. He was too static against Jose Mourinho's side, and they dealt with him easily.
Because Henderson is not necessarily the most pleasing player on the eye to watch, his creativity is often overlooked too. He has a terrific range of passing, and is capable of unlocking a defence. His piece of skill to set up Daniel Sturridge against Aston Villa in January is the perfect example of this.
Lucas to me does simply not look capable of playing anywhere other than defensive midfield. He looked uncomfortable in a more attacking role, and took on no responsibility himself. Did he play an incisive pass at any point?
Prior to his injury problems he had turned into a very important player at Liverpool. After a very tough start to life at Anfield, much like Henderson, he grew in stature and became integral to the team's hopes.
The way he has played in recent times, however, suggests his days in a Reds shirt could be numbered. He clearly isn't the player he was, and Liverpool can do better than him now. He's been a very fine servant, but surely he is now a squad player at best.
Henderson's Return
When Henderson returns on the final day of the season against Newcastle– there's surely no doubting he will go straight back into the starting XI- it's inevitable that Lucas will make way.

The tricky decision Rodgers has to make, however, is who else to leave out. He will have Steven Gerrard, Joe Allen, Philippe Coutinho, Raheem Sterling, Daniel Sturridge and Luis Suarez all vying for a starting berth, but one will have to miss out.
Gerrard is vital to Liverpool's style of play and is indispensable at the moment- anyone barracking him for his error against Chelsea needs to take a long, hard look at themselves- while Allen is improving by the game. He was one of the better players on the pitch against the Blues and is starting to justify the money the club paid for his services in the summer of 2012.
Coutinho and Sterling have been the creative force behind the team for a number of weeks now, and neither remotely deserve to lose their place, while Suarez is simply one of the most undroppable players you are ever likely to come across.
The player who, personally, should be left out in that case is Sturridge. The 24-year-old has been disappointing for a number of weeks now, and his general influence on the side has not been what is was earlier on in the campaign.
He was clearly not even close to being 100 per cent fit when he came on for Lucas against Chelsea, having missed the last two games through injury.
Whether or not Sunday's defeat to Chelsea ends up being the day Liverpool lost the title remains to be seen, but one thing that is for certain is that Jordan Henderson's absence that hurt them badly.
While his Reds career goes from strength to strength, there is every chance Lucas Leiva's could be at the end of the road.
Would you keep Lucas at Liverpool next season? How much have the Reds missed Henderson? Let us know in the comments section below.