Liverpool have today officially unveiled their new home kit for next season at an event in the city centre, featuring Jordan Henderson, Kolo Toure, Philippe Coutinho and Simon Mignolet.
[table id=50 /]
The new strip takes inspiration from the Roger Hunt MBE era in the 1960s where he was a major factor in the Club's success, including promotion to the First Division and the team's very-first FA Cup win.
Sir Roger Hunt, who was the only Red in the starting lineup when England won the World Cup in 1966, commented: "I played for Liverpool FC for over a decade and I remember the first time Shankly got the team in the all red strip. It was the 25th of November 1964, we played against Anderlecht in the European Cup that night and won 3-0.
"It's great to see that 50 years on Liverpool are still looking like giants in their all red strip" he added.
The four Liverpool players stepped out of a LFC and Warrior branded shipping container that had been placed in the city centre three days prior to the reveal. They were met by thousands of fans who had been patiently waiting for hours to be the first to see the new kit in real life.
"I have a great sense of pride every time I pull on a Liverpool shirt. This shirt feels like a Liverpool classic and helps me remember the greats, like Roger Hunt, who played before us" said captain Steven Gerrard.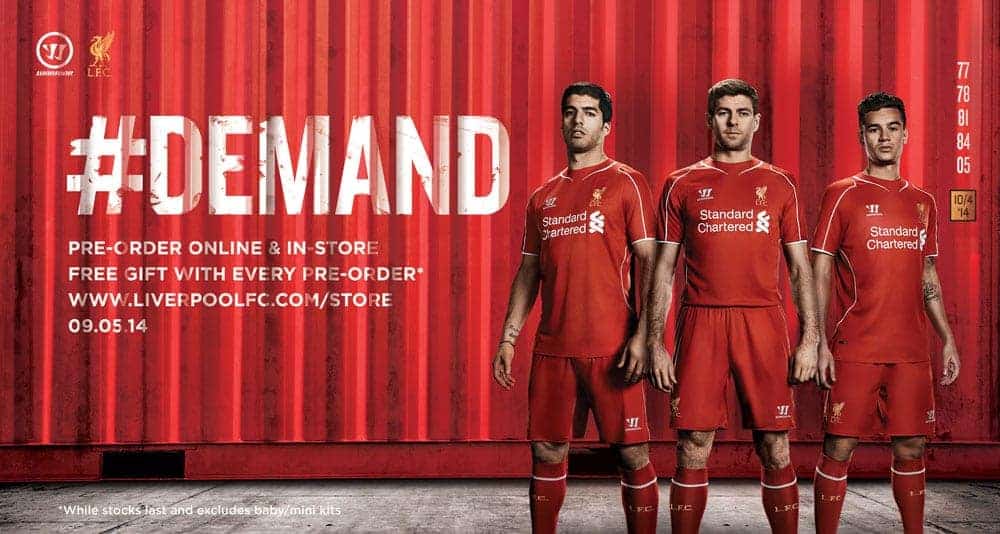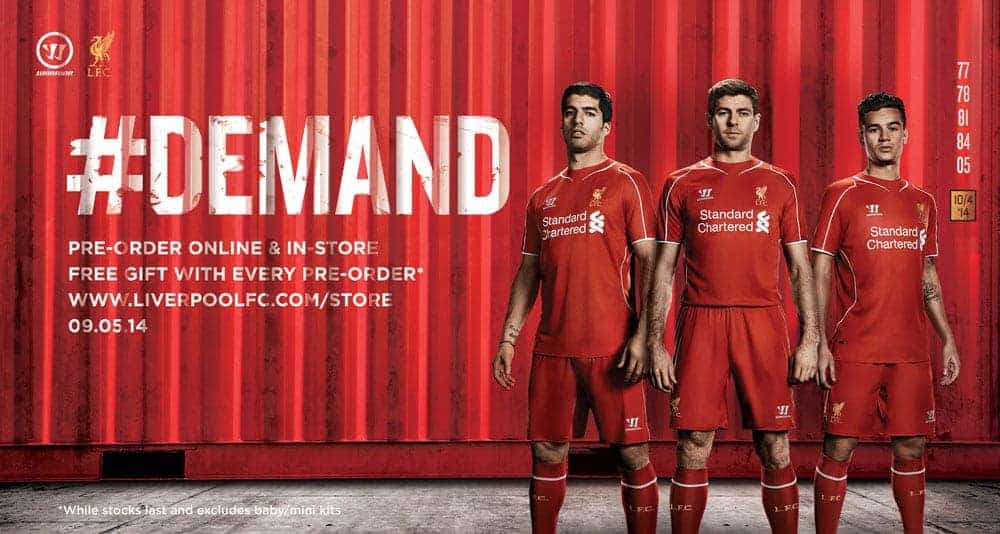 The 2014/15 home strip has been made using War-Tech, Warrior's signature apparel technology system. Benefits of the War-Tech fabric include the shirt being highly breathable as well as moisture-wicking, keeping players dry.
Other new features Warrior has incorporated include a geometric LFC jacquard weave and a collar design that allows freedom of movement and comfort.
[table id=51 /]
"The 1960s was such a defining era for this club. Sir Roger Hunt, Ian St John, Ron Yeats…the list of Liverpool FC legends that played under Shankly goes on and on. For the players to wear a shirt that has taken inspiration from such a successful period for the club, can act as a reminder that they can bring those glory years back to Liverpool Football Club" said Liverpool FC manager, Brendan Rodgers.
Fans can pre-order the 2014/15 Liverpool home kit now from either the Official Liverpool FC Online Store or in any Official Liverpool FC Club Store and with every order fans will receive and exclusive Club towel for free at www.liverpoolfc.com/store.
The new home strip will be available to buy in store and sent out to fans who have pre-ordered on Friday 9 May.