With Daniel Sturridge looking at a place on the bench at the very best against Norwich City on Sunday following his injury, Jack Lusby believes the pressure will be on Luis Suarez to deliver the goals.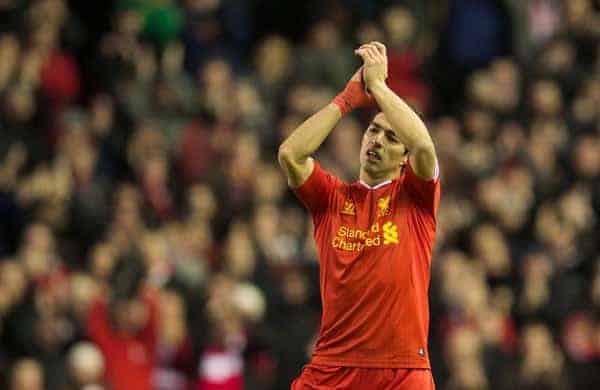 Following last Sunday's triumphant victory over Manchester City, Liverpool stand at the head of the Premier League table, two points clear of their nearest rivals Chelsea with four games to play.
With this knowledge, it is now abundantly clear that the Reds need only gain 10 points to secure the Premier League title, given that one of the upcoming four games is against Chelsea at Anfield.
The first of this run is against Norwich City, at Carrow Road on Sunday, and historically – in recent years, at least – this fixture is one of the club's easiest on paper; therefore, if Liverpool are to be allowed one draw out of the next four games, this should be regarded as a must-win, with Crystal Palace away and the Chelsea game much more imposing encounters.
Naturally, to err on the side of sensibility, all of the club's next four Premier League games should be considered must-wins; but for Liverpool to win the league, winning this one will likely prove imperative.
With that pressure comes the unfortunate injury of Daniel Sturridge, and in the absence of the 20-goal striker, Liverpool's Luis Suarez will be required to step up to the plate.
The pair can't be said to be in their best form of late, although even in a slump in form they are amongst the league's best. Luckily, there is no better fixture for the Uruguayan, if the past few years are anything to go by.
Sturridge Injury
Inflicted after half-time in Sunday's win, Sturridge limped off around the 66th minute, and it has since developed that the striker has complained of tightness in his hamstring; naturally, on this news, the Liverpool faithful groaned.

Currently facing an indeterminate lay-off, the injury isn't considered hugely serious, as The Independent quote Brendan Rodgers as saying:
"It's not too serious and won't keep him out for too many weeks, but he may be out for the weekend…At this moment in time we're just assessing him and seeing how he goes because he does recover very quickly…It's certainly not as serious as what sometimes a hamstring injury can be."
Furthermore, the England international took to Twitter to express his frustration at his latest lay off:
Pushing myself to get back ASAP! Fuming I'm injured but it's life. Everything for a reason. God has his plan. #redordead

— Daniel Sturridge (@DanielSturridge) April 17, 2014
Nevertheless, everyone in the Anfield camp remains positive.
It is likely that Sturridge will be rested against Norwich, and this is the preferable option, given the following Sunday's title-race six-pointer against Chelsea will require all available players at optimum fitness for a full chance of success.
Previous Lay-off
This isn't the first time Liverpool have had to cope without Sturridge this season – knowledge of this fact makes his goal haul even more impressive – and therefore an optimistic precedent has been set.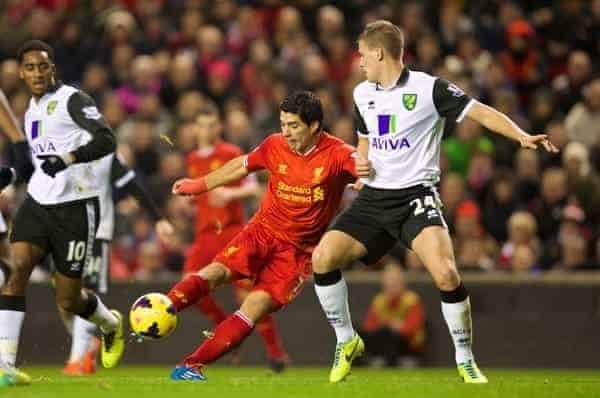 Missing a stretch of eight games from the beginning of December, Sturridge's winter injury happily coincided with a peak in the form and goal-scoring of Suarez; those left fretting after the hour mark last Sunday can rest at ease.
As per Squawka, in those eight games Suarez managed 11 goals. Elsewhere, the Uruguayan created 25 chances – more than any other Liverpool player during that period – and made four assists.
Therefore, those who feel Liverpool will miss the goals of Sturridge can have confidence that Suarez has stepped up in his absence in the past; as Rodgers recently identified the pair as superb "soloists", it is clear that they don't have to work in tandem to achieve their best.
Furthermore, as this fixture is Norwich away, fortunately Suarez has enjoyed huge success at Carrow Road in the past, including that the particular stretch of Sturridge's absence earlier this season.
Suarez vs. Norwich
Against Norwich, Suarez has always been at his very best.
In his four games against the Canaries, the striker has scored 11 goals and made two assists, and these include some breath-taking performances, as Suarez has made his name as the scourge of Norwich.
Three of these games have included hat-tricks, and each have included goals of remarkable quality.
[youtube http://www.youtube.com/watch?v=D9fGPtdYpoQ&w=560&h=315]
Completing his first hat-trick with a goal from near the halfway line, Suarez truly announced himself onto this Premier League stage by astutely lobbing a sprawling John Ruddy to give Liverpool a 3-0 victory at the end of the 2011/12 season.
[youtube http://www.youtube.com/watch?v=TbaObG0unB0&w=560&h=315]
In this 5-2 victory, at Carrow Road at the start of the 2012/13 season, Suarez's second stands out as the Uruguayan shows the tenacity and skill that typifies his game as he dispossessed and proceeded to bamboozle a dismal Michael Turner and fire another past Ruddy.
[youtube http://www.youtube.com/watch?v=vt6yctRNMSE&w=560&h=315]
Finally, if tacticians would have thought Norwich defenders perhaps may have wised up to Suarez's movement and guile by now, his latest goal-haul of four in December of last year shows the Uruguayan's true dominance of the Canaries – all four goals are of sheer quality.
Whether it's the Norfolk air or its hard water – or Carrow Road's tepid atmosphere – Norwich is our star striker's playground.
Pressure
For any other player, the pressure of outplaying a team under title-challenge expectations may prove too much, but Luis Suarez should thrive given the circumstances.
His past performances against Norwich City are far and above encouraging, and the Uruguayan truly does seem to save his best for the unfortunate East Anglian club, but Liverpool must not get complacent at this juncture.
With Suarez aided by the likes of Raheem Sterling, Steven Gerrard, Philippe Coutinho, and even perhaps Victor Moses or Iago Aspas, Liverpool should get by, but as ever they'll need a real performance.
Do you think that Suarez will step up once again against Norwich? Or will Liverpool struggle with Sturridge? Let us know in the comments below.