Dan Holland reports on an emotional day at Anfield as we pay tribute to the 96 who lost their lives doing what we do, supporting our team and of course arguably the biggest domestic game we've had in 24 years.

LIVERPOOL 3-2 MANCHESTER CITY
Sunday, 13th April 2014
Since the final whistle went at Upton Park seven days ago I have been counting down the days in an excitable manner ahead of Sunday's game.
It's the kind of game that all football fans want to attend; witnessing their team in what could be a title decider especially with only 5 games remaining. The kind of game that when the fixtures came out in June last year that I'm sure we all looked at and said "that could be a stumbling block in our pursuit of a top 4 place!"
Happily our season has been far more convincing and successful than even the most optimistic Liverpool fan could have envisaged last summer.
So suddenly today's game held far greater importance as we are now right in the thick of a title race. Win and City need us to slip up. Draw and we would need the Blue Noses to possibly help us out (they would love that). Lose and it would be mission impossible baring a dramatic slip up from City in the remaining fixtures.
Because of the relevance of the game as the week leading up to the game developed slowly my excitement gave way to nerves, by the time kick off arrived I was a wreck!
Before we get on to the match though, a kick off delayed by 7 minutes as a mark of respect to those Liverpool fans who lost their lives 25 years ago, Anfield paid their own and incredibly moving tribute.
You'll Never Walk Alone has steadily got louder and louder as the season has developed but today took on a whole new level.

The Kop awash with scarves and flags, even a United supporting friend put on Facebook that he was moved and the hairs on the back of his neck stood on end as he sat and watched from home. The emotion in the song came through and was an amazing tribute.
Huge credit must also go to the City fans who carried three banners all carrying the Justice message. Thank you for showing a huge amount Class City, well done.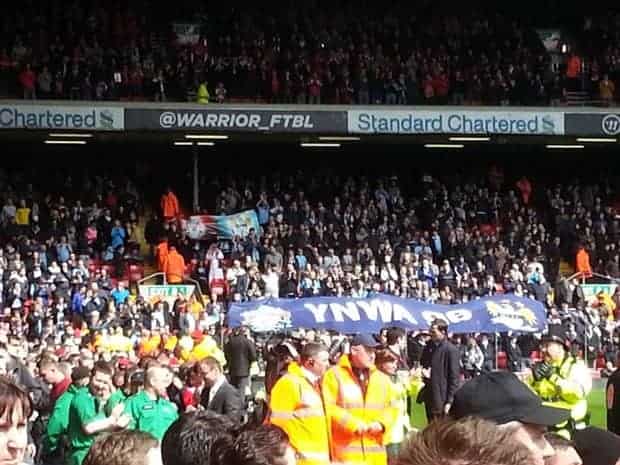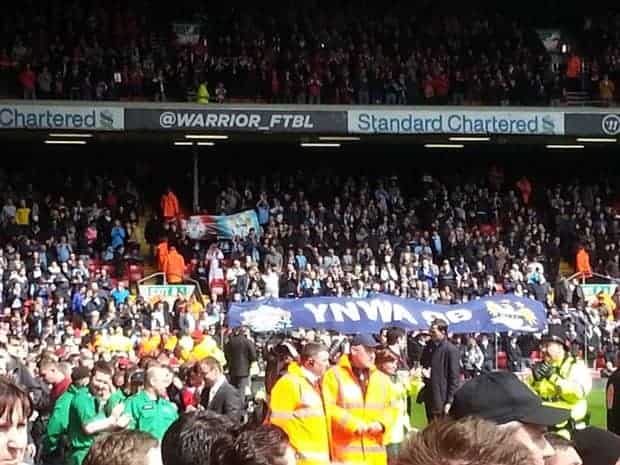 When Mark Clattenburg's whistle signalled the end of the silence, the eruption of noise inside Anfield was deafening, songs greeted our every touch, jeers greeted every City touch.
Brendan was right we had been unleashed and didn't City know it.
Now City fans are normally very vocal but If they were singing, I couldn't hear them from my seat on the halfway line.
Little surprise then that it was us that settled into the game the quicker and took only eight minutes to take the lead.
A typically strong challenge in the air from Martin Skrtel, who by the way is becoming a better defender as the pressure increases and could for me have shared Stevie and Luis' award this week.
Luis Suarez was then typically industrious and skilful in equal measures before feeding Raheem Sterling, who was calmness personified, quickly twisting and turning, the final little turn completely mugged off two season internationals before Raheem calmly placed the ball in the corner of the net.
It could and maybe have been two shortly after when Daniel Sturridge tamely fired wide. Without wanting to be too negative at an extremely positive time, the recent form of Sturridge is disappointing; in the last few games he has been a shadow of the player that started the season. We will need that player back in the next month so fingers crossed he will rediscover that form.
We did take a 2-0 lead though from a corner. I can't remember a season where we have scored and threatened from so many set pieces.
It was again our Slovakian goal machine who rose and flicked a header at the near post beyond Joe Hart who moments earlier had made a stunning save from a Steven Gerrard header. 2-0 and coasting surely the three points were in the bag?
Had we took a couple more half chances they would have been. City somehow picked themselves up and in the final 10 minutes of the first half really came at us and but for two goal line clearances (in the same attack) and a superb save from Simon Mignolet getting down low to his right, could have gone in level.
Half-time came at the right time for us and after surviving that then minute period the confidence had returned.
I thought Brendan would get them in, calm them down and we would come out playing our usual brand of possession football and we would take the sting out of the game. How wrong was I?
City introduced James Milner in what turned out to be a master stroke by Manuel Pellegrini. I was saying to those around me that they've given up and are resting key players (partly tongue in cheek but I've never really rated Milner).
City were again in the driving seat and between Milner and David Silva were running us ragged. They quickly got it back to two all and were inches away from scoring on two other occasions.
How would Liverpool react? This is the first big question we have been asked in a home game this season against the top sides. What happened next was a forced change Joe Allen coming on for Sturridge.
Allen was coming on anyway before Sturridge picked up a knock, but it wasn't the planned substitution. I heard Rodgers say to Colin Pascoe something along the lines of Joe's coming on anyway just change it to Daniel.
I have a feeling it would have been Coutinho making way — that would have changed things!
Allen's composure and tidiness in possession helped us gain control of the game again as did a very vocal rallying call from the skipper. If anyone in the world doubts that Steven Gerrard deserves a Premier League winners medal they need to give their head a wobble.
We slowly became the stronger side again without being overly threatening. Suarez had been wound up by the City defence and showed glimpses of the petulance that so far this season he had eradicated from his game and with Sturridge in the changing room receiving treatment and Suarez falling over on a regular basis a goal threat wasn't really there.

Step up Vincent Kompany. In the pub before the game we were all saying that it would be a huge boost if the City skipper was absent as rumoured due to Martín Demichelis being anything but secure and how good the Belgian is.
I bet City are now wishing he had been injured. First, he was made to look silly by Sterling for our first and now late in the game he slices a clearance into the path of Coutinho who finishes with some aplomb.
3-2, happy again now but know it's going to be a long last 10 minutes plus 5 minutes stoppage time (where did that come from by the way).
Victor Moses came on in what has to be the most baffling of substitutions but there is no way I will criticise Brendan Rodgers.
Unfortunately it was Moses' heavy touch which initially lost possession and eventually led to Henderson's rash challenge resulting in the midfielder getting a straight red card. His energy and enthusiasm will now be hugely missed and means Lucas and/or Allen will have a huge hole to fill.
Thankfully we saw out the remaining minutes without too much incident and made it ten wins in a row. Four more and we will be Champions. I keep saying that to myself but I still don't think the magnitude of that has sunk in.
The scenes at the final whistle were ones of relief, joy and pure passion. The team spirit and togetherness in this group of players is fantastic and is what will hopefully see us through.
The squad would run through brick walls if their skipper asked them to, they like us want to win it for Stevie.
Pellegrini waited by the touchline for an inordinate amount of time just to shake Gerrard's hand. Another show of class from inside Manchester City.
Other teams wearing blue in the top four would do well to learn from them.
A happy journey home and match against a fighting Norwich City side to contemplate. Another Suarez hat trick anyone?