Gary Taylor describes the shift in emotions and belief amongst Liverpool fans this season, and says there's no need to feel anxious as the Reds embark on the final five games of the campaign.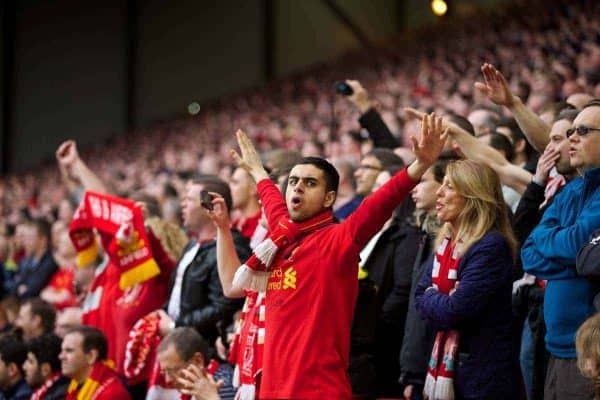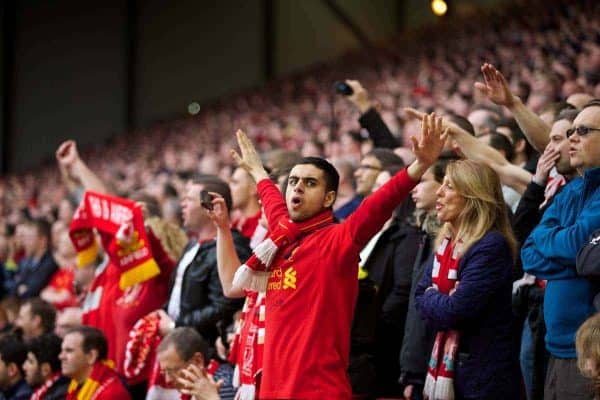 Crazy Times
Things are getting a little bit crazy around L4 at the moment. The words "fever pitch" don't really do it justice. It hasn't felt like this since… well not since this writer can remember anyway.
The thing is (not that we need reminding), it's been so long since the last time we were in this position – and I don't even mean the 24 years since our last league title.
To recall a time when we were genuine front-runners at this stage of the season, following so long a period out in the football wilderness… for that we need to go even further back.
Many of us weren't even born when a certain William Shankly completely revitalised a once unspectacular Liverpool Football Club and propelled us to the summit of the English League Division 1 – laying the foundations for the years of domestic and European domination that followed.
The legacy of that success and the unshakable burden of expectation borne with it has hung heavy in air around Anfield for over two decades. Add to that the fact that in all that time we've been forced to play a rather forlorn second fiddle to our bitterest rivals.
You could argue that we've actually NEVER been in this position before.
All those years… all that frustration… all that hurt… wow, now that really is pressure. Crazy pressure! But even so…  ask me: "Am I worried?"
Hypothetically worried
If you'd have described these current league standings to me at the beginning of the season, the answer to that same (albeit now hypothetical) question would have been a resounding "YES".
Back then, despite the signs of progress in the second-half of the 2012/13 and a pretty decent summer, a fourth place finish would have been fantastic achievement. Even in the context of all the upheaval and instability at our other top four rivals, it would have represented a very good season's work.
There was nothing in our inauspicious start to the season which gave reason to think that opinion was likely to shift significantly over the course of the campaign, though the three hard-fought 1-0 victories did reveal a slightly more gritty, more pragmatic Liverpool side this time around.
Winning, it seemed, had superseded possession as the prime directive but there were definitely still signs of the old demons. Those tendencies towards inconsistency and occasional capitulation which were painfully exposed by the likes of Southampton, Swansea, Arsenal and Hull.
Even as the season rolled on, amidst a growing realisation that the teams around us were far from perfect (all looking fragile at times and dropping points on a fairly regular basis), there were still very real doubts about a top four finish through the first half of the campaign.
Fantastic as it was to still find ourselves in one of those coveted top four slots, looking down on the continuing humiliation at Old Trafford at the hands of the Hapless One – in truth, it was hard to get too carried away.
The ghosts of countless false dawns still haunted us. The highs of a memorable demolition of Spurs and top spot at Christmas were quickly followed by defeats at the Etihad and Stamford Bridge.
However undeserved those defeats may have been, we still found ourselves down in fifth place at the close of 2013. The fragility of our position cruelly exposed over the course of a few days.
"Our best chance in years"
As the January transfer window slammed shut without a single signing, it still felt the same. I was worried even then. And I wasn't alone. A lot of fans were talking about how "this could cost us. This is our best chance in years".
And remember, we were only really talking about the top four back then, about Champions League qualification, about keeping Luis Suarez. It's difficult to take on board the fact that this talk wasn't actually that long ago – certainly not the different lifetime it seems.
It's incredible just how much can change in two short months. How did this happen? Where did it come from? Suddenly we're undefeated in the league in 2014. Nine straight wins (and counting!).
"Our best chance in years" now with a much grander and infinitely more glorious subtext as old foes and hoodoos are brushed aside in a tidal wave of goals, guts and glory, fuelled by some sensational football.
All this orchestrated by our very own tactical genius, Brendan Rodgers, out-manoeuvring opponents at every turn, extracting unbelievable levels of performance from the players, staff and systems.
A team with real hunger and genuine belief fighting tooth-and-nail for everything: the manager, the captain, the fans, each other. No cause too big, small or futile to fight for. All truly, truly beautiful to behold.
Who's worried?
How different things are now with five games to go. To say the goalposts have moved is somewhat of an understatement. We've gone from "MakeUsDream" to "Believe", and in doing so, our expectations have launched themselves into the stratosphere.
Our destiny and "our best chance in years" is now firmly in our own hands. There's so much at stake. So much to lose now. Surely then, this is the time I should be worrying? And yet, I'm not. Not a bit. The anxiety has all but gone.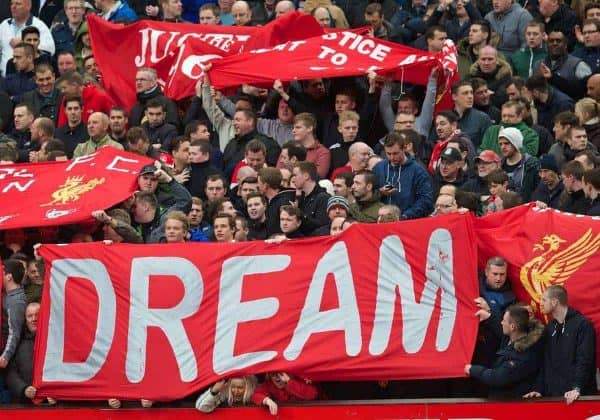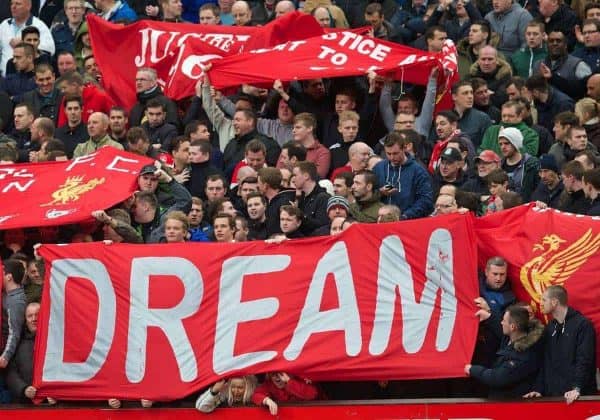 It's not that I have an unshakable belief that we WILL win this league (though the £50 bet placed before the West Ham game says I think we will). And not that I don't care. I'd be gutted beyond belief if we didn't finish the job after all the Herculean efforts to get ourselves into this position.
It's just that if we did, God forbid, miss out this year, I'd happily take the memories of this phenomenal season and console myself with the knowledge that THIS IS JUST THE BEGINNING.
If it doesn't happen this year, then next year will be "our best chance in years" – even more so than this year. The signs are undeniable. The improvements, off the charts.
We've got a fantastic squad with youth and experience, our talismanic captain in the form of his life, the best player on the planet, Suarez, looking ridiculously happy and some great youth coming through.
Add to that Champions League football to attract world class players, an amazing manager, fantastic owners. Whatever happens this season, I cannot wait for the next one!
So who's worried? I think I've answered that, at least as far as I'm concerned. But you might want to ask Messrs Pellegrini and Mourinho.