Anfield has rarely been louder than in the two Champions League semi-finals against the Blues in the Rafa Benitez era, but could weekend's showdown match it?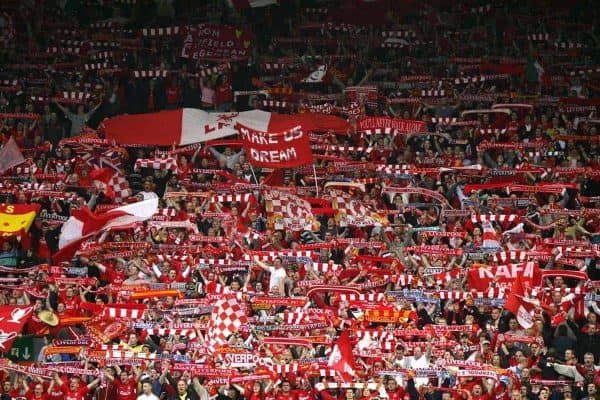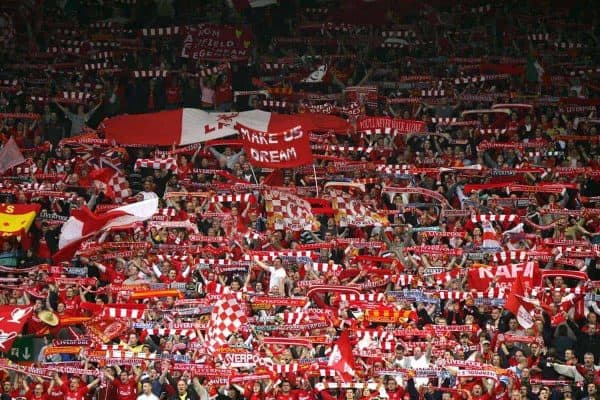 When Liverpool twice knocked Chelsea out of the Champions League at the semi-final stage, in 2005 and 2007, the atmosphere the Reds fans created was something truly special.
It's a bit of a cliche to say a crowd can act as a "twelfth man", but on both unforgettable occasions against Jose Mourinho's side they really did. At that time, if we're being totally honest, the West London club were a superior side, but the sheer ferocity and passion shown inside Anfield gave Liverpool a huge advantage.
Players, managers and even officials spoke in awe about the atmosphere they experienced on those nights, particularly in 2005.
"The atmosphere from the word go was electric and with the early goal everybody just seemed to explode at the same time. It was unbelievable the support they gave us and I think everyone who was at the ground on Tuesday will remember it for a long time."
– Dietmar Hamann
"The crowd were fantastic, there was no way I could have run like that for 96 minutes if I hadn't been feeding off the crowd."
– John Arne Riise
"Liverpool's fans definitely intimidated Chelsea at Anfield… I want to thank the fans for playing such a big part in helping us reach the final."
– Xabi Alonso
"That atmosphere was better than anything I've known and I've been involved in some great nights recently. The games against Roma, Juventus and Olympiakos were unbelievable, but that was something else…there's none better than our fans or Anfield on a European night"

– Jamie Carragher
At the end I felt like jumping in and celebrating with the fans. They're the best in the country by a mile and I just hope they enjoy the final as much as they have this evening."
"When I was coach of Valencia, we played Celtic in the UEFA Cup and the atmosphere was great but this was even better. I will never forget this game. It was good on television but when you are in the ground, hearing it, it's fantastic."
– Rafa Benitez
I felt the power of Anfield, it was magnificent."
– Jose Mourinho
"I have never heard anything like it before and I don't think I ever will again. It is the best atmosphere I've ever played in.
"I walked out into that cauldron and heard that singing and saw that passion. The hairs on my arms were standing up. To see a spectacle like that is inspiring to anyone.
"I just kept looking around, trying to take it all in. I wasn't daunted by it, but it was amazing. I wish more crowds were like that.
"Apart from the volume, it looked spectacular, too. In the seconds before the referee blew his whistle for the start of the match, the whole stadium let out this great long roar as if they were going to power Liverpool to victory."
– John Terry, writing in his autobiography
"I have refereed at places like Barcelona, Ibrox, Manchester United and Arsenal. But I've never in my life been involved in such an atmosphere. It was incredible."
– Referee, Lubos Michel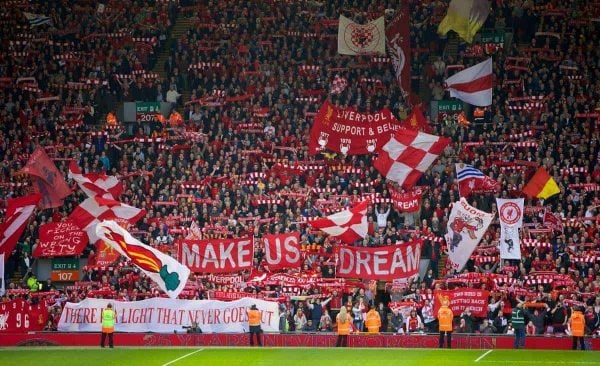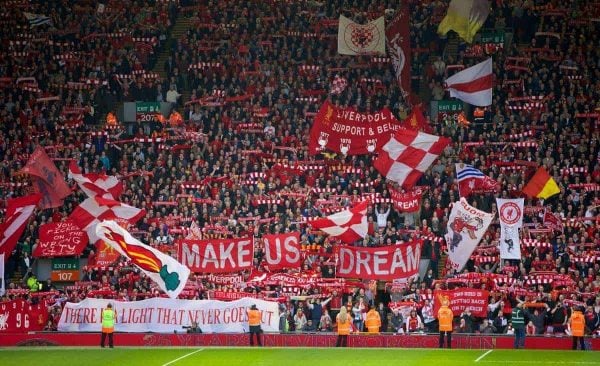 The atmosphere in the potentially season-defining win over Manchester City earlier this month was also arguably on a par with the aforementioned games.
It wasn't just during the game against Manuel Pellegrini's side that the Reds fanatics gave their team such a psychological boost. The incredible reception they received when they arrived at Anfield on the team coach was, quite frankly, unbelievable.
It would have been almost impossible not to be buoyed by that kind of support if you were a Liverpool player watching on.
After throwing away a two-goal lead, an initially nervy crowd roared their side on to a huge victory. At most grounds, City would have won 3-2 having gained control of proceedings, but Anfield is a different animal all together.
On Sunday, Liverpool host Chelsea in another absolutely enormous game in the club's season. A win would knock Mourinho's men out of the title race, and put huge pressure on Manchester City to stay in touch in the process. Defeat would put the title in City's hands and bring the Blues right back into it.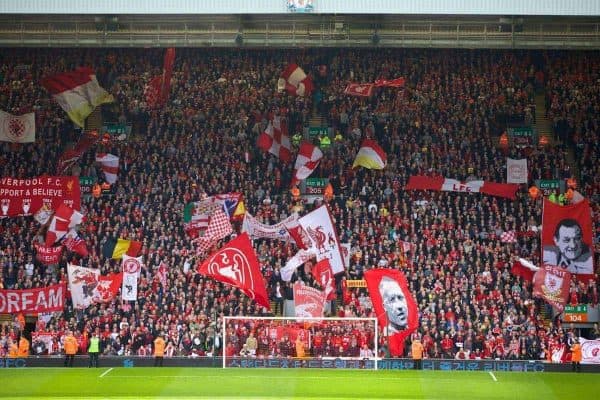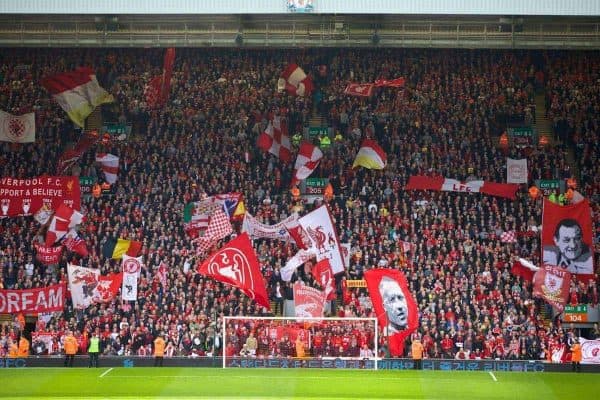 Anfield will be absolutely buzzing, and the fans need to bring exactly the same positive energy they did for the City game. There is every chance this could be the loudest and most passionate the famous ground has ever been, such is the enormity of the occasion.
There are a lot of anxious Liverpool supporters at the moment- at the end of the day we are three games away from arguably the finest achievement in this club's great history- but they must make sure they stay positive on the day.
There may well be times on Sunday when Mourinho's dour tactics are frustrating Liverpool and, who knows, the Reds may even find themselves a goal behind at some point. This is when the fans really have to step up and not transfer negative energy onto the players.
Sunday's game will go a very long way to deciding who the 2013/14 Premier League champions are, but while the players will ultimately decide things on the pitch, the Anfield crowd will play a huge part too.
They must be rival the atmosphere created against their same opponents back in 2005 and 2007. I have no doubt that they will.
What's the best Anfield atmosphere you've ever experienced? And what's your prediction for Sunday's game? Let us know in the comments section below.