Rebecca Parry reflects on a roller-coaster of a season and the way the narrative has been played out.

The world of football is now surrounded by media attention and PR merry-go-rounds. There are the wise words from managers, inspirational cries from captains in post-match interviews, and as everyone has come to either like or loathe this season, the deflecting of most blame from Jose Mourinho.
Even our own manager, Brendan Rodgers, knows what to say when it comes to the media. Everyone remembers the snippets from 'Being Liverpool' and not knowing whether to take inspiration from it or just finding it that little bit cringey. This season has proved that opinion premature.
In this totally unexpected title charge, the players have turned into fans, especially when fighting for that every last ball and playing games as if it's the last in their careers.
The old cliché of being "as one" has actually happened this season, and even though we expect that at this football club, it's good to see it's actually affecting the results on the pitch.
Fans and onlookers from other clubs have dubbed the support when welcoming the coach each game as "pre-parties" and that we celebrated winning the title too early.
The difference being, however, that this wasn't a premature celebration, but a collective support to do as much as the fans could to try and get the Reds over the line.
Wherever this season leaves us, it's all been about the progression, but as we've seen so much in the last few months, it means just as much to the players as it does to the fans.
Even though we should see it more in the modern game, the sad reality is that there is less passion, especially with money influx etc.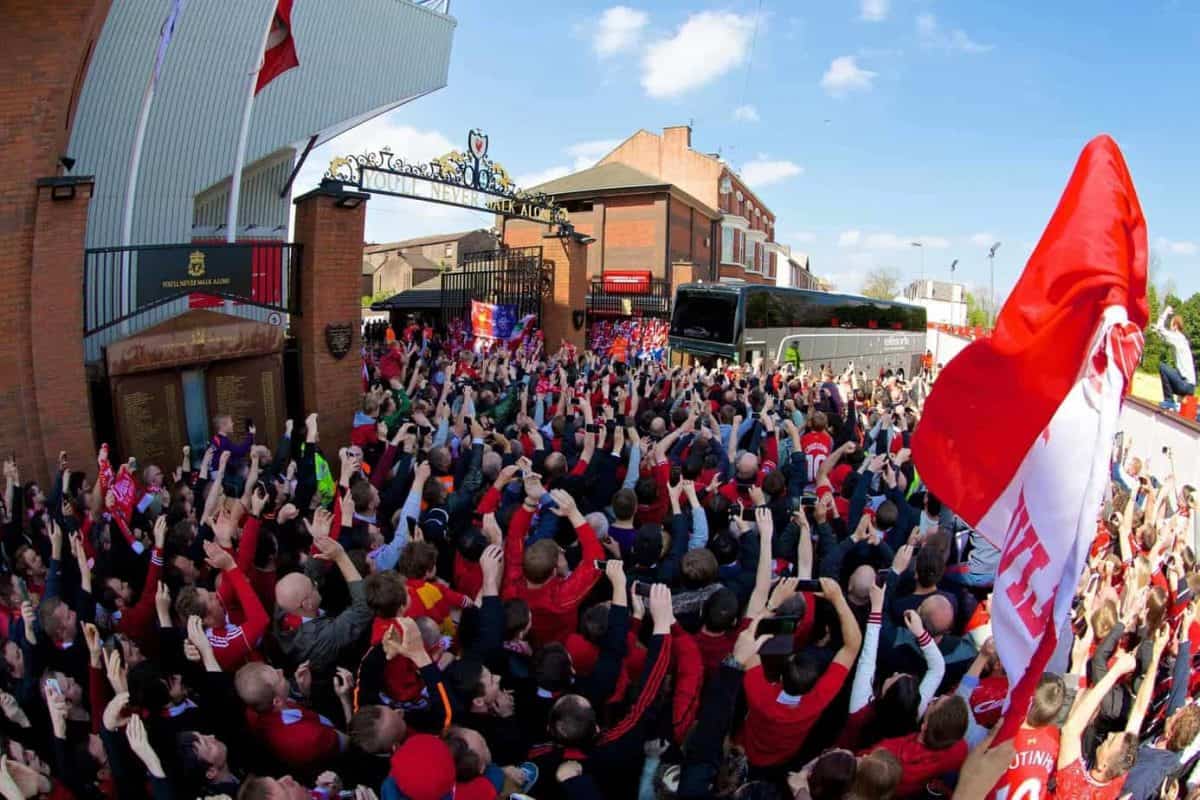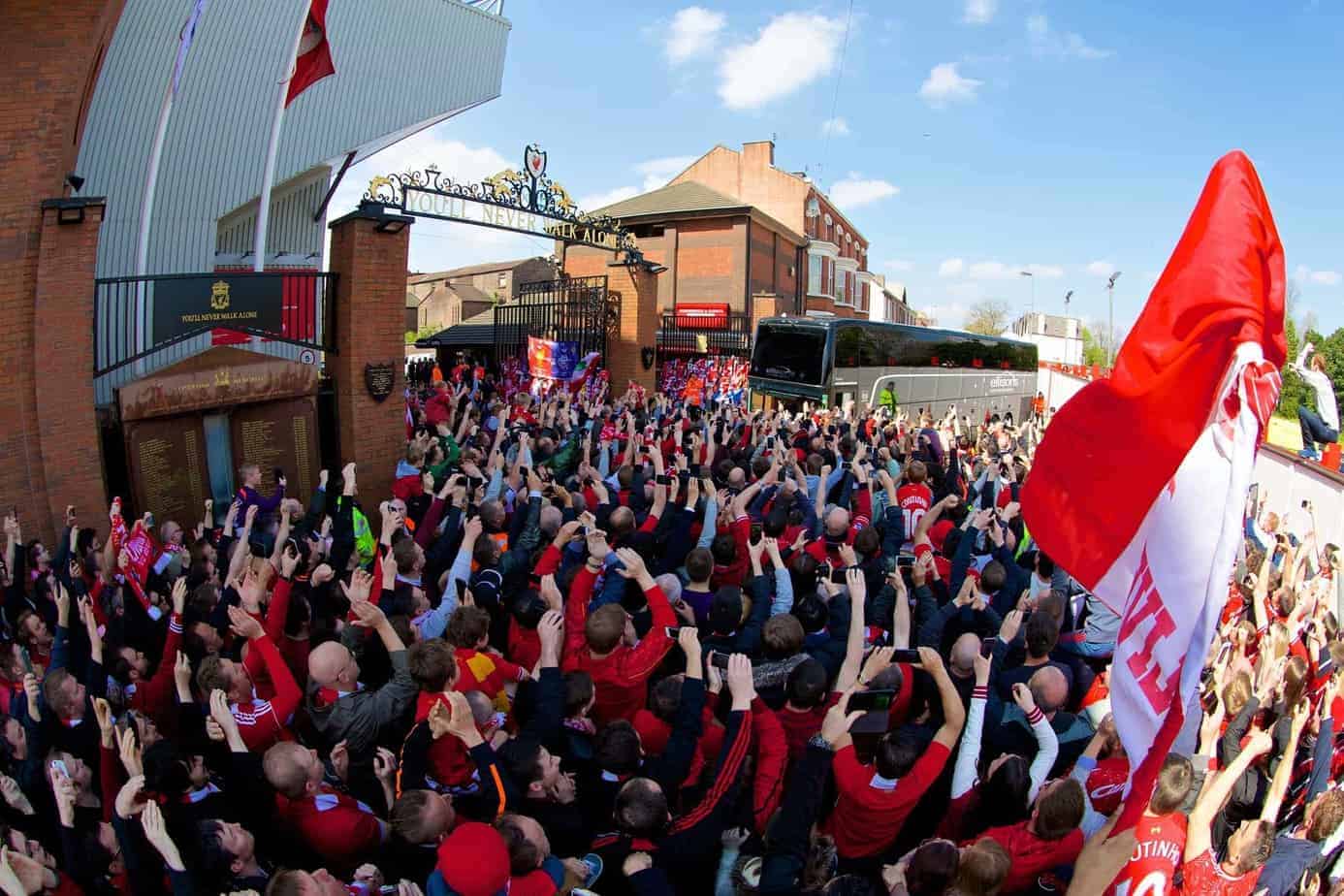 There has been a lot of talk of the club getting reviving it's identity and we're rightly back where we belong in challenging for the top honours, whether we win the league this season or not – and it's true.
When you look back on the campaign, you think of how much winning this league would or could have meant to the club as a whole.
And you can see this no less in the players. There have been games this year, especially in the magical run of 11 wins, where you couldn't pick a man of the match because each and every one of them stood out. It's the raw emotion in situations like Stevie's post-match rallying cry against City, and Suarez taking the Crystal Palace result so hard, when you see how much it really means.
Even if looking back these might not be in the best circumstances if we don't win the league, it's the determination to keep going as a team that is going to be rewarding in the next seasons.
In this day and age, it's so encouraging to see players who actually care for the club, even if it means taking results as hard as Suarez did.
Despite feeling sick before the game itself on Monday, he still did all he could, looking absolutely exhausted after each chance he attempted to convert.
And that's why with all his quality, the extra 10% that Suarez gives shows that he will stop at nothing to succeed.
Stevie's ultimate dream of winning the league has also been another factor of what has got us through those close and nervy moments throughout the season that have made all the difference.
Of course, it's not in our hands now, but this is the Premier League, if it was easy to win, it wouldn't be worth the effort, and surprises can be sprung from every angle – just as we were the victims to on Monday night.
Although a lot of us would be seen as biased because of the ups and downs, nervous moments, and elated celebrations, it's not just Liverpool fans who have noticed the significance of our progress.
Every year, there is usually one team that stands out for whatever their secret is for success in getting to the top, and this year it's been us.
Our attacking flair and aggressive play has impressed the majority of fans around the country. For the way we have played for a lot of the season, we do deserve it – but ultimately, it's keeping your cool in the final games that gets you the trophy.
Luis Suarez did represent what every Liverpool fan was feeling after the result on Monday night, and so over-optimistic tweets aren't exactly what you want to be reading.
However, what also stands out is the so called "taunting" from other sets of fans, especially the 'unique' way the official Spurs twitter account chose to look at the Palace draw.
It's refreshing to be seen as a contender and rival again, and not resting in an insignificant seventh. You want to be involved in the conversation when referring to the top teams.
We've been used to it for so many years, but the last few years of being in "transition" have been a bit of a slog, and it takes something to get back in that bracket.
The pain of not winning the Premier League (or even if we do due to a last minute Andy Carroll header…) is relieved somewhat because of what we're in for in the next few years – there's a real sense we are going far. So the clichés can be used again and again, it's been a season where they're actually relatable. We go again.