James Ayles predicts likely candidates to be heading for the exit door at Anfield this summer.

With this most entertaining, uplifting and enthralling of seasons now finally finished, eyes will now, predictably be drawn to the transfer dealings within Anfield.
Across the world, Liverpool fans wait with great expectation, hoping for Brendan Rodgers to entice more Philippe Coutinho's and Daniel Sturridges' instead of Oussama Aissaidi's and Iago Aspas'.
Yet, amidst the likely onslaught of purchases to bolster the squad ahead of Champions League football, it is also unavoidable that several faces will also depart the club as Rodgers' seeks to make his club both competitive but balanced across all four competitions.
Pepe Reina

Still a Liverpool favourite despite his Italian exile, it seems inevitable that the Spaniard will seek pastures anew this summer.
With £11 million Simon Mignolet having an impressive debut campaign as the Reds' number one, Reina would be a very expensive back up to retain at the club.
It therefore appears that his successful, impressive eight years at the club are now over.
Jose Enrique
Initially impressive, but consistently inconsistent under Rodgers, Enrique could be a departure should a higher quality replacement be found. Whilst Liverpool seem to be the only club not currently linked with Luke Shaw, there are numerous targets, both at home and abroad, that could tempt Rodgers' into selling Enrique, with Jon Flanagan likely to be at the very least a very able deputy for both full back positions over the next few seasons.
Sebastian Coates
Many fans may be surprised to find that Coates' name still lingers on Liverpool's books. Serious injury a year ago has curtailed any small hope he had of ever forcing his way into Rodgers plans, despite being the sort of imposing, ball playing centre half that many teams dream of owning. The purchase of Tiao Ilori and a loan spell at former club Nacional in his native Uruguay appears to be the precursor to a permanent move this summer.
Martin Kelly
A difficult one, in that it means finally giving up on a home-grown lad who has contributed greatly to the club for many years, but at 24 years of age, it now appears that Kelly must move on to fulfil his undoubted potential. With the likes of Flanagan, Jack Robinson and Tiago Ilori now occupying the tag of "promising youngsters," Kelly is unlikely to secure either the right-back or centre-back berth he desires, and still has many years left to secure first-team football, and perhaps even further international recognition, at a club with more modest ambitions.
With Champions League football on the horizon, it is perhaps debatable as to whether jettisoning a solid and proven midfielder of Lucas' ability would be the right move.
With the midfield in need of bolstering rather than trimming, many would consider the Brazilian an important squad player for next season.
Yet, alongside his various injury struggles over the past few seasons, it has also become abundantly clear that Lucas does not feature in Brendan Rodgers' ideal Liverpool XI.
Having started the season as part of a midfield two with Gerrard, team performances have improved markedly since Gerrard was deployed as the sole holding midfielder.
Lucas does not possess the passing ability or composure to operate in Gerrard's "quarterback" role, and his performances against Crystal Palace, Norwich and Chelsea also indicate that he does not have the dynamism or inclination to play in a more advanced midfield position.
It would perhaps, therefore, be more progressive to replace the 27-year-old with a player more suitable to Gerrard. Feyenoord's Jordy Clasie, a player of great tenacity and vision, or perhaps even Lars Bender, would be a more suitable fit for Liverpool's style than their current number 21, whilst Luis Alberto and Joao Teixeira could also be granted greater first team exposure.
Iago Aspas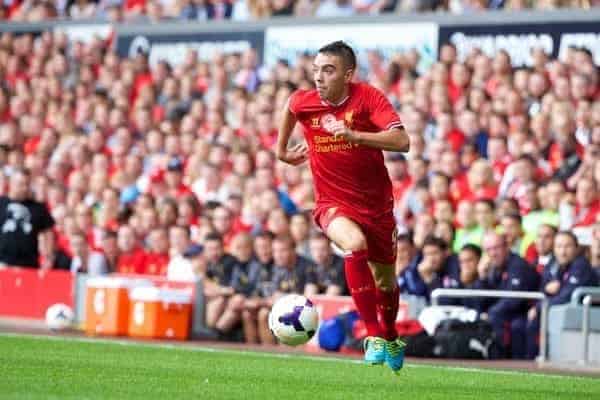 A player who was almost too obvious to be included on this list, Aspas appears to have little ahead of him than the Anfield exit door.
Admittedly, similar was said of Fabio Borini last season, and he may have just salvaged a Liverpool career with his performances at Sunderland.
But the sheer ineffectiveness of Aspas transcends words, statistics and belief. He has yet to score in 14 Premier League matches, none of which have seen him complete the full 90 minutes.
More damningly, in a side so praised for its attacking verve, he has mustered just two shots in that time, one of which was on target.
By contrast, Borini managed 17 shots in 13 appearances.
These are the current players whose departures would benefit not only the club, but also their own careers.
In order for Liverpool to progress, they must ensure that the all-round quality of the club rises progressively each year.
There are certainly more players whose futures will come into question over time; Glen Johnson is both ageing and declining as a force, and will not be a long term fixture at right back, especially with Jon Flanagan's continued excellence.
Regardless, this summer proves to be an exciting one for all concerned at Anfield.
Do you agree with James' selection? Let us know your thoughts on this summer's transfer exits in the comments below.