Everton boss Roberto Martinez says his side's will to beat Manchester City at Goodison Park is not influenced in the slightest by Liverpool's interests.
The Reds will be looking for a big favour from the local rivals by taking points off City, who need to drop points in their final three games of the season for Liverpool to take back hold of the title race.
What a bizarre day its going to be in Liverpool on Saturday, #LFC fans supporting Everton, its an Evertonian nightmare scenario.

— Simon Steers (@sisteers) April 27, 2014
City face the Toffees this Saturday afternoon, before hosting Aston Villa on Wednesday night and West Ham on the final day of the season at the Etihad stadium.
Liverpool meanwhile mostly likely need to beat Crystal Palace on Monday at Selhurst Park and Newcastle Utd at Anfield on May 11th to have a chance of winning the league title.
But Martinez told his pre-match press conference on Friday that his players are unfazed by the Liverpool-City storyline that accompanies his side's visit from Manuel Pellegrini's men.
Martinez is quoted in The Telegraph as saying, "I always felt the relationship between the two clubs in this city has had incredible chapters and this would be another fascinating one but there is no doubting our integrity towards the league and competition, we want to win every single game we go into.
"They are precious points for us and we cannot afford not to give everything we have. Helping other teams – that's not the way we do our work. We are just focused on trying to win for ourselves.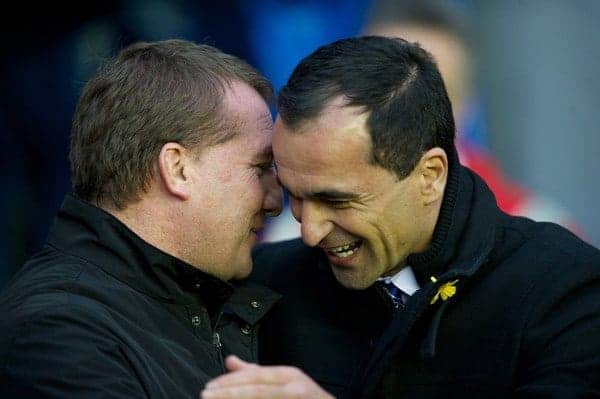 "It's fair to say we're very excited about our team and performances, we're not just making up the numbers. We're not the sort of club who will be looking elsewhere. We have 69 points and we want to beat that. We don't take it lightly.
"The fans want to come to Goodison, and be proud of the team. That adds some spice in the twists and turns of the title race, then so be it, but it's important we are as good as we can be."
"In my time at Liverpool we always said the best two teams on Merseyside were Everton and Everton Reserves." – Bill Shankly

— Rushian (@RushianLFC) April 29, 2014
Everton could still mathematically catch Arsenal for the fourth Champions League place, but must return to winning ways following last weekend's defeat at Southampton.
"We need six points because I still think 75 points would be an exceptional figure, wherever it takes you," the Spaniard added. "In the last three seasons would've been top three, so we're looking how good we can be and how strong we can build the platform for seasons to come. We're not a team happy to just do enough.
"Rivalry in football is essential, and we would never contemplate not giving our all in a game, especially with so much to fight for.
[yop_poll id="2″]
"The rivalry extends for many many years. This will be another exciting chapter and a real example in world football. We're not going on the pitch to do anyone a favour, just carry on making everyone in this football club proud.
"You need rivalry to push each other and it's something we welcome."
Everton v Man City gets underway at 5.30pm on Saturday, 3rd May. Liverpool meanwhile are preparing for their trip to Crystal Palace on Monday, 5th May. Kick-off is 8pm.
Do you think Everton can beat Manchester City this weekend? Vote in the poll above and leave your comments below.