Following his hugely impressive season with Liverpool, Luis Suarez has praised his teammates and looks on to their importance in next season's Champions League.

Quotes, via the Daily Mirror, this weekend have seen the Uruguayan striker evaluate his double-Footballer of the Year, 30-plus goal season with the Reds as the "best season of my career."
Following his problematic second season with the club, culminating in an 10-match ban for biting Chelsea's Branislav Ivanovic, Suarez expressed the importance of "focus".
"My year is a good example of keeping going, keeping your chin up."
"A lot of players might think they can't play somewhere if they are getting a lot of criticism from outside, but you have to focus on your job. My job is here at ­Liverpool, at Melwood, at Anfield. I put ­everything into that."
"Everyone knows how difficult last summer was, but I know that, if you try to do nothing wrong on the pitch, if you do not take a red card, you cannot get criticism.
"If you play for the team and play from the heart, then people r­ecognise your work."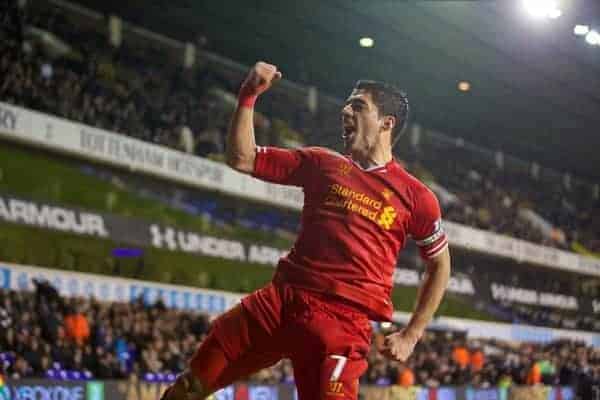 Liverpool's leading goalscorer is rightly proud of his achievements this season and his contribution to the Reds' outstanding campaign, but he insists it's not a individual effort:
"It is great that we have achieved Champions League football and I have taken a lot of praise for being top scorer. So, it's been a nice season for me but, most ­importantly, I recognise much more the work of my team-mates."
"They have done a great job. If we all stay together, we can stay at this level. We have good players and a really good manager."
Having played in the Champions League with Ajax, Suarez knows the rigours of Europe's elite competition well, and suggests that Rodgers' thin current squad will need reinforcing in order to compete on more fronts in 2014/15.
"Of course, we will need a bigger, stronger squad. We have a really good, but a short squad. Everyone knows we have a good base, but we will need more players because we will be fighting in four competitions."
One player who will central in this fight is Suarez, who reaffirmed his commitment to the club, amid speculation of interest from Real Madrid.
Having signed a new long-term contract with Liverpool last summer, the Uruguayan looks set on fulfilling it following the club's success: "I signed that long contract because I love it here."
See Suarez accept his Liverpool Players' Player of the Year award last week below:
[youtube http://www.youtube.com/watch?v=FMm5U0K4x6A&w=560&h=315]