Liverpool defender Mamadou Sakho says he and his teammates are not dwelling on Sunday's 2-0 defeat at Chelsea and are mental prepared for their next game.
The Reds take on Crystal Palace at Selhurst Park on Monday night, still very much carrying a chance of winning the Premier League title should Manchester City slip up in any of their three remaining games.
Chelsea's win at Anfield last weekend ended an 11-match winning run for Brendan Rodgers' side, but Sakho insists heads have not dropped in the Liverpool camp.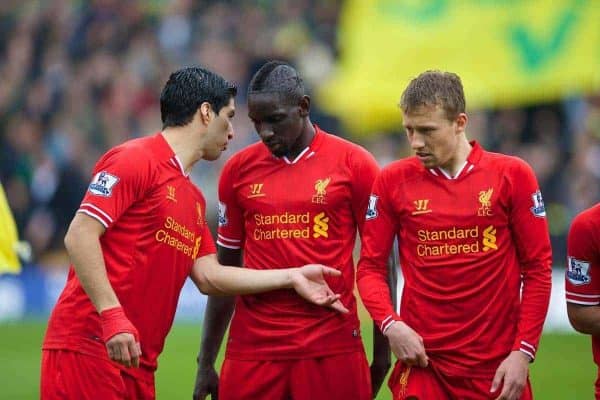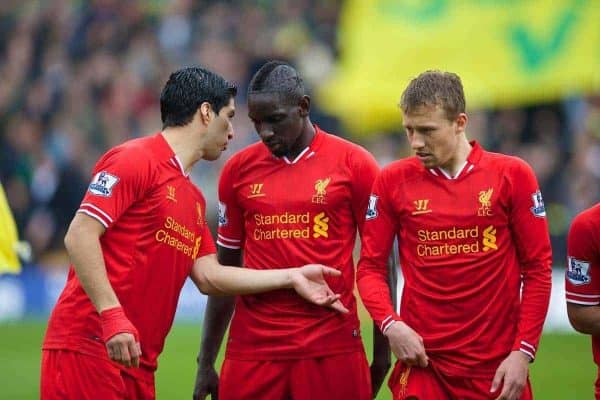 "Everything is going well, we are fine. Everything is cool," he told the club's official website.
"We have to remain calm and relaxed. Like I said, everything is going well, even though we lost that game. But that defeat, it's in the past now, it's behind us.
Dreams help us learn. They improve learning mental skills and help us organize the information we think about, #LFC #EPL still possible

— Ralph ricky singh (@Ricky052011) April 28, 2014
Hope Gerrard has an impromptu meeting with Dr Steve Peters ASAP, that mistake is clearly going to eat him up inside.

— Tom McMahon (@TomMc_Sports) April 27, 2014
"We now have to focus on what's ahead of us, meaning the next two games. And we mustn't change anything, we should remain true to ourselves and play our own game and then try and win those two matches so we can grab those six points."
Sakho also took the opportunity to thank Liverpool fans for their "fantastic" support all season, which sees the Reds top the table with two games to go.
"The support is fantastic," he added. "This is the Liverpool family. The supporters are very, very important for the team and the club.
"When people tell me Liverpool are a good team, I say it's not just the players and the staff – it is the players, staff and the city. For me, Liverpool is a country because the supporters are fantastic."
"Throughout this season we've both been equally valuable. The supporters have been fantastic all season but so have the players, it's been a joint effort, so we can thank them and they can thank us."
[yop_poll id="3″]
Crystal Palace v Liverpool gets underway at 8pm on Monday, 5th May 2014 and it's live on Sky Sports 1 in the UK.