It's reported this week that the 28-year-old England international is looking to leave Manchester City this summer, with Liverpool interested in bringing him to Anfield. Henry Jackson takes a look at a look at why James Milner would, and wouldn't, be a good signing.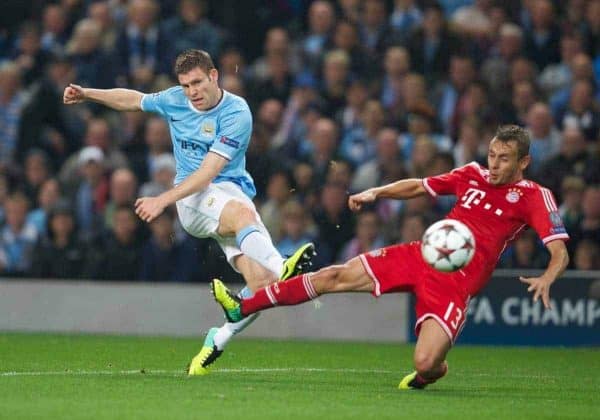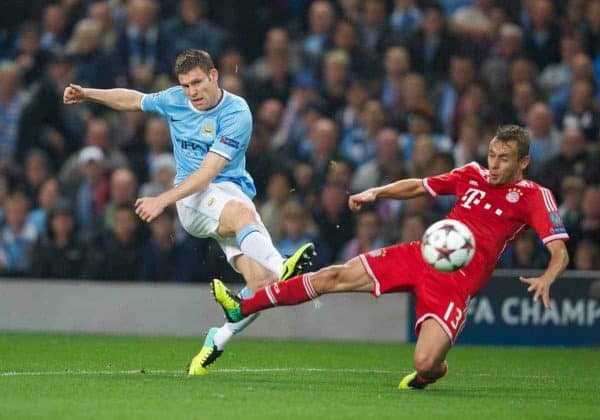 The Guardian write that Milner has grown frustrated with his lack of first-team action under Manuel Pellegrini and is keen on a move elsewhere. But what would the former Leeds and Newcastle midfielder bring to Liverpool if he were to join this summer?
PROS
The one word that immediately springs to mind when you think of Milner is 'versatile'. The 28-year-old is a player who can play out wide on either side, in the centre of midfield and even full-back if called upon, and he will always guarantee you at least a 7/10 performance.
His level of fitness and work-rate for the good of the team are both hugely impressive, and they are attributes Brendan Rodgers clearly admires in a player. In many ways, there are definite comparisons to be made between Milner and former Reds hero Dirk Kuyt. Both are very effective.
While it's easy to label him as a typical English grafter – hard-working, no-nonsense, efficient etc – that's doing a disservice to a very talented footballer.

Milner, who burst onto the scene as an exciting 16-year-old as Leeds in the early 2000s, is capable of beating a man, but also equally happy delivering high-quality crossing into the box early. The service he has provided for the likes of Sergio Aguero and Edin Dzeko over the years has invariably been very good.
At 28, Milner is right in the prime of his career, and has over a decade of experience at the top level under his belt now. Such are his fitness levels that Liverpool could easily get five or six good years out of him.
CONS
On the negative side, despite his underrated ability, Milner would be far from the most exciting signing in Liverpool's rich history. He is a player who you know exactly what you are going to get every game. While this can be a positive, it's also a polite way of saying he's a fairly predictable, unspectacular player.
When you think of how much the likes of Raheem Sterling and Philippe Coutinho have entertained us this season from wide and central attacking midfield positions, I find it hard to see Milner doing the same. In fact, would Milner really stand a chance of becoming a regular ahead of one of those two?
In my opinion, he's not a player who is going to massively impact on the Reds' starting XI next season, and Rodgers want to bring in players who will.
The England international, he is a huge favourite of Roy Hodgson's, which can't be a particularly good sign, also lacks the creativity to fit into a side as fluent and entertaining as Liverpool have been in 2013/14.
Another thing you have to look at is whether Milner is at the level of player Liverpool should be chasing after such a fantastic season. At the end of the day, we are a Champions League club again, so why buy a player who couldn't get into a Champions League team?
He is a player who the club would have signed in the Hodgson era- Milner would have been a good addition without a doubt- but the club's aspirations are far higher now. When you hear names like Xherdan Shaqiri and Alexis Sanchez being linked, they are on a completely different level to Milner.

CONCLUSION
There can be no doubting that Milner is a very fine player. He has numerous great qualities, and is a very strong squad player to have in your ranks.
That said, he's after a first-team place at Anfield, and he's not good enough to warrant being a key man under the Rodgers revolution. His predictable and naturally cautious style do not suit this new-look Liverpool side, and they must buy better players if they are to go the next level in 2014/15.
Some will feel he'd be a superb signing, while others will be far overjoyed at hearing his name linked with the club. I tends to agree with the latter.
Would you like to see Milner at Liverpool next season? Let us know in the comments section below.