Martin Skrtel has enjoyed a terrific season at Anfield on the whole, while Cardiff's Steven Caulker and Southampton's Dejan Lovren have both been strongly tipped to join Liverpool this summer. Henry Jackson (@OnFootballTweet) compares the trio's various attributes.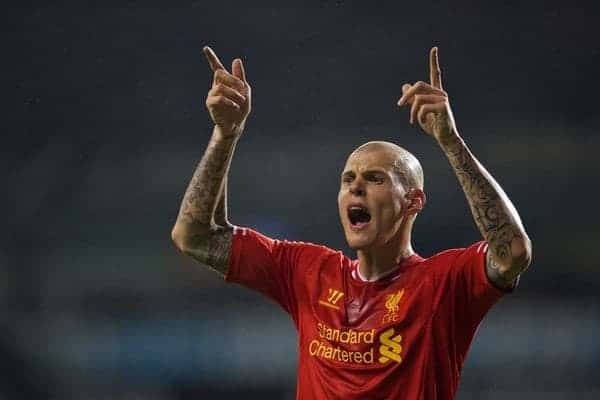 (all stats via Squawka and WhoScored)
Skrtel, Caulker and Lovren were three of the standout centre-backs during the 2013/14 Premier League season.
With Liverpool looking to improve defensively ahead of the new season, both the Cardiff and Southampton stars have been linked with a move to Anfield in the coming months.
Despite Skrtel's excellent season – he was far and away the Reds' most consistent defender – there are some who feel Brendan Rodgers can do better. Could Caulker or Lovren partner Mamadou Sakho at the back next season instead of the Slovakian?
The table below gives a good indication as to who was the most effective of the three last season.
[table id=60 /]
Strengths of each player
Skrtel's goal tally was hugely impressive, and many of them were at critical times. His doubles against Arsenal and Cardiff, and his towering header against Manchester City back that up.
His pass completion rate has also been superb, especially when you consider the 29-year-old is not always associated with being the most accomplished centre-back on the ball. It's a testament to how he has improved since losing his place in the side in 2012/13.
The statistic that stands out with Caulker is the fact that he has not made a single error leading to a goal all season. While that's impressive enough if you're playing for a top four team, to do it in a side that has been relegated is almost unheard of.

The former Tottenham man has also chipped in with a decent amount of goals, while his average blocks per game show that he is a player difficult to get past. At 22 he has a lot of potential, and could well be a future regular for England.
Lovren's terrific reading of the game is highlighted by his interception statistics. To make 2.7 per game on average shows just how important he was to Southampton's success this season. The same applies with his tackling.
The Croatia international also only made one error, which highlights the consistency in his game. There is no doubt he is someone who can play at the very top.
Weaknesses of each player
Skrtel is comfortably the most error-prone of the three, and the argument that some have against him is that his goalscoring has masked some of his defensive flaws.
He has scored four own goals, while his positional sense can also be slightly erratic. The way he and Sakho capitulated in the 3-3 draw with Crystal Palace was concerning.
It's hard to pick out flaws in Caulker's game this season, but you could perhaps look at his pass completion rate and say it's not particularly strong.
Rodgers' risky but ultimately rewarding style of play means his centre-backs must be comfortable on the ball and be confident of playing it out from the back. Whether the Cardiff man is top class in that respect is debatable.
Lovren's statistics are hugely impressive, and it really is hard to criticise him in any aspect of his game. His goalscoring has not exactly been prolific, but that's no major issue.
The one thing you could potentially say is that, although his tackles and interceptions per game are the best of the three players, that could be because he's got himself into the wrong position in the first place.
Someone like Sami Hyypia, for example, never had to be lunging into tackles because positionally he was almost perfect.
Conclusion

There can be no denying that Skrtel, Caulker and Lovren have all enjoyed superb seasons in their own right, but with Sakho clearly looking like a definite starter for the foreseeable future under Rodgers, who would be the best partner for him?
Skrtel's age works against him, and there is a nagging feeling that Rodgers isn't totally convinced by him.
Caulker is still very young, and has the potential to get better and better over the years. Whether or not he's ready to be a regular at such a huge club i'm not so sure.
In my opinion, Lovren would be the best option of the three. At 24, he is still a few years from his prime, but he has the experience- he already has 23 caps for Croatia, and will start for them at the World Cup- that Caulker lacks.
He's good on the ball, is a strong, dominant presence- something Liverpool have lacked hugely at the back- and would be the perfect signing by the club.
[poll id="191″]
Who would you prefer out of Skrtel, Caulker and Lovren? Let us know in the comments section below.