With Brendan Rodgers looking for a goalkeeper this summer, Jack Lusby looks at some of the options that may be on the move to Anfield.

Speaking before the 4-0 friendly victory over Shamrock Rovers on Wednesday, Rodgers told BT Sport that he was looking into signing another goalkeeper in this summer's transfer window, as per ESPN.co.uk: "We've only got two goalkeepers, we need another goalkeeper."
Current first choice Simon Mignolet has had an up-and-down maiden season with the Reds; his shot-stopping prowess is exceptional, however there remain questions over his confidence in the box and his distribution.
The Northern Irishman continued to outline how he was looking for "hungry" players. Asked whether this implied younger signings, Rodgers refuted this:
"No, that means good players and you can be a good player at whatever age – 32, 33 – but, of course, I like the hunger of a young player, I like the fearlessness of a young player. It's about balance. You need the senior players around them to help them flourish and grow."
When it comes to back-up goalkeepers, the tendency in the Premier League is to stick with a trusted, experienced stalwart, happy to wind down their remaining years warming the substitutes' bench—Spurs' Brad Friedel, West Ham's Jussi Jaaskelainen and Chelsea's Mark Schwarzer come to mind in that regard.
Rodgers' failed pursuit of a then-37-year-old Shay Given last summer, in order to provide competition for Simon Mignolet, suggests that he is aware of the benefits of an elder statesman in the goalkeeping areas; despite being 32 now, Brad Jones is far from the quality required.
However, this suggesting of "fearlessness" in youth may lend itself to a less-aged signing, but Mignolet himself is only 26 years old and there is little precedent for genuine rotation between the sticks in the Premier League.
Rodgers has proved he isn't one for precedent, and with that in mind here are five options for the Liverpool manager as he looks to bolster his shot-stopping ranks this summer.
Michel Vorm (Swansea City)
As the Daily Mirror reported on Sunday, Rodgers may be looking at one of his former charges this summer in Swansea City goalkeeper Michel Vorm.
The 30-year-old Dutchman has struggled with injuries this term but has performed admirably when fit, keeping seven clean sheets in 26 league appearances.
Playing in a similar system to Liverpool at Swansea, Vorm's distribution is one of his main attributes; as per Squawka the ex-Utrecht man is on par with Mignolet with a 69 percent pass success rate.
Vorm also commands his box adeptly, and has confidence in his abilities as evidenced by a 99% claim success rate, failing only once from 76 attempts.
Enjoying No.1 status at the Liberty Stadium, however, it is arguable that the Dutchman would look for first-team assurances if a move to Merseyside was to be arranged, but if Rodgers was able to persuade his former signing that competition with the Reds in a congested campaign would be worthwhile, Vorm has the talent to succeed.
David Marshall (Cardiff City)
Elsewhere in Wales, Cardiff City's Scottish goalkeeper David Marshall was in great form throughout 2013/14, belying his side's relegation struggles; he was linked with Liverpool by the Metro last month.
He was in many people's teams of the season, including Jamie Carragher's who, along with 83% of Monday Night Football viewers, opted for the 29-year-old over Chelsea's Petr Cech, as per WalesOnline.co.uk.
With the Cardiff goal peppered throughout the campaign, Marshall understandably has the most total saves in the Premier League in 2013/14, with Squawka attributing the Scot with 129 saves in total, at a rate of 3.49 per 90 minutes.
https://twitter.com/CardiffVines/status/464458378203643904
That Marshall managed to keep seven clean sheets in 37 appearances is commendable, with the Welsh side eventually relegated this left the 11-time international with a record only three worse than a title-challenging Mignolet.
Elsewhere, Marshall had the second most claims in the Premier League last season—making 135 and failing with 3, with a 98 percent success rate—and his meagre nine punches suggests he has supreme confidence in his ability in the box.
With his side relegated, it wouldn't be out of the question for Marshall to be looking for a move back to the Premier League, and he may relish the competition at a top-four club.
Guillermo Ochoa (Ajaccio)
A bit of a wild-card, Mexican international Guillermo Ochoa has been linked with a move to the Reds on a free transfer from French side Ajaccio by the Metro.
This move would, naturally, make economical sense, with the 28-year-old available on a Bosman and unlikely to command a large wage; however, a troubled season in Ligue 1 may go against him if a move was considered.
As per Squawka, the Mexican kept only two clean sheets in 36 appearances, conceding 68 goals at a rate of 1.89 per 90 minutes.
However, Ochoa does have a claim success rate of 100 percent, securing 76 loose balls, along with a commendable distribution success rate of 60 percent—particularly impressive considering his lengthy average pass distance of 51 metres.
Like Cardiff, Ajaccio will finish bottom of Ligue 1 in 2013/14, but unlike Marshall this isn't necessarily despite the performances of their goalkeeper—an economical move, but a risky one.
Karl Darlow (Nottingham Forest)
Linked with a move to Anfield in January, as per the Daily Mirror, Nottingham Forest 'keeper Darlow would represent a signing with youth on his side.
The 23-year-old emerged in 2013/14 as one of Forest's key performers, but his side failed to struggle the play-off positions in the Championship and eventually finished 11th.
Making 43 league appearances, the academy graduate kept 12 clean sheets, conceded only 58 goals—at a rate of 1.35 per 90 minutes—and made 87 saves, as per Squawka.
Much like Mignolet, Darlow struggles to command his area, failing to claim six loose balls—however, this may be due to his age, with this area open to development.
Signing Darlow would prove a shrewd move by Rodgers, as a step up from the Championship—combined with a young age—would likely see the 23-year-old content with providing competition for Mignolet.
Alex McCarthy (Reading)
English shot-stopper Alex McCarthy burst onto the scene with Reading in the 2012/13 Premier League with some outstanding performances in season unfortunately ending with relegation.
This included a man-of-the-match performance in a 0-0 draw with Rodgers' Liverpool, after which the Reds' manager described McCarthy as "brilliant," as per The Guardian.
[youtube http://www.youtube.com/watch?v=HAh9mnOUG88]
The 24-year-old has continued to impress this season, keeping 12 clean sheets in 44 league appearances.
As per Squawka, McCarthy made the most saves in the Championship in 2013/14 with 147—3.34 saves per 90 minutes—and also the most claims with 141; the Englishman failed to claim five loose balls, with a 97 percent success rate.
His distribution is on par with Marshall as the worst of any of the options presented at only 53 percent.
However, at Sunderland Mignolet had a distribution success rate of only 46 percent, an average distance of 51 metres, suggesting that his move into a shorter-passing system at Liverpool has aided his distribution, which is something which could well apply to someone like McCarthy.
With Reading facing another season in the Championship in 2014/15, it may be time for McCarthy to look for pastures new.
Move to Liverpool to compete with Mignolet would be a good move for the Englishman, and of the options presented above McCarthy would represent the best option pound-for-pound.
The Data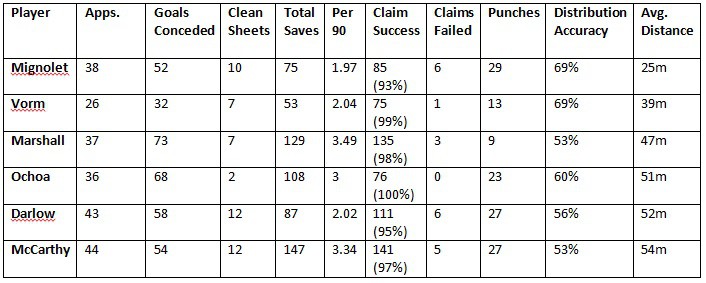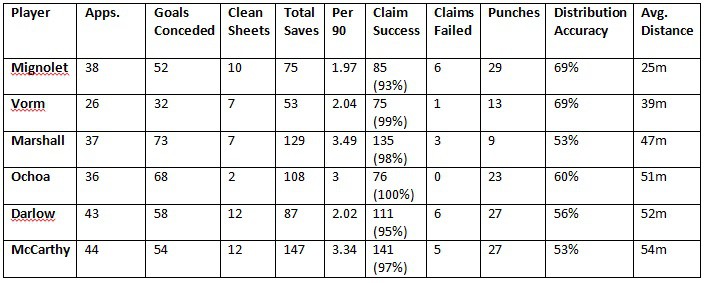 [poll="188″]
Which goalkeeper should Rodgers look to sign this summer? Let us know in the comments below.