Lucas Leiva has a fight on his hands to save his Liverpool career. Aaron Cutler looks back on the last two years and asks whether the Brazilian has a future at Anfield?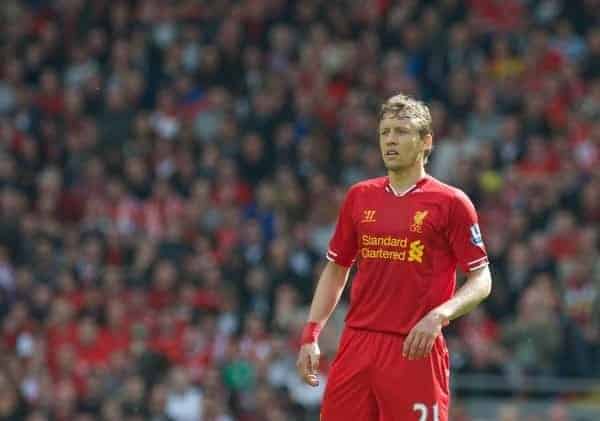 "Do it for yourselves, do it for the fans and most importantly, do it for this guy."
– Brendan Rodgers, 2012
LUCAS Leiva's rise from maligned scapegoat to revered stalwart is by now a familiar tale. Chastised by the Kop he came to symbolise the crumbling of the Rafa Benitez empire and a subsequent descent into Roy Hodgson hell. To knuckle down and persevere in the face of such animosity is admirable. To disprove your doubters and ultimately win their approval is nothing short of miraculous.
A victory for hard-work, the Brazilian midfielder was soon indispensable and elevated to leading light in the initial Kenny Dalglish revival. But if his rise from villain to hero read like a Fairytale the next chapter evoked memories of the harshest horror.
For fate dealt Lucas a cruel hand on November 29, 2011. Reveling in his defensive midfield role he fell awkwardly in a League Cup tie at Stamford Bridge. An Anterior cruciate injury condemned him to a six month absence, during which the promise of Kenny's kingship slowly unraveled.
An arduous road back to fitness, combined with Liverpool's on-field demise, saw the South American's value skyrocket accordingly. Indeed Lucas became a better player in his absence, many earmarking his return as a fork in the road from which the Reds would improve.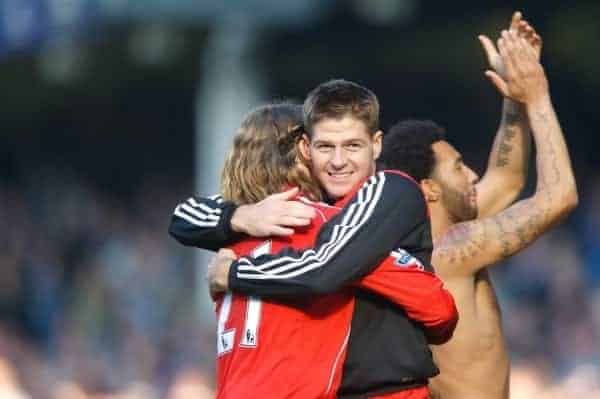 2012/13
A popular figure his likability was captured in one of many cringe-worthy scenes to emanate from the ill-advised Being: Liverpool documentary. Shortly before kick-off at home to FC Gomel Brendan Rodgers gathered his squad into a pre-match huddle and urged them to do it (win) for the club, its supporters and moreover .. for Lucas.
Indeed 'Do it for Lucas' soon became a satirical quip, along with reference to envelopes and personal portraits.
To be fair it was heartwarming to see the Brazilian back in the fold; his long road back to football reckoning something all identified with. But in another appalling twist he was soon camped-out in Dr Zaf's treatment room once more.
Gomel and West Brom passed without incident – personally at least – but five minutes into the following game with Man City Lucas pulled up with a thigh strain. Trudging down the Anfield tunnel the prospect of further treatment loomed large.
Never one to shirk a challenge Lucas fought back, encapsulating his Liverpool career in three short months. Returning to action ahead of schedule he lined up against Southampton on December 1 and made an immediate, if understated, impact.
His long-awaited comeback coincided with a drastic upturn in Liverpool's fortunes. Having won just three of their opening 14 matches before Lucas' reinstatement they went on to register thirteen victories in their remaining 24 games. Notable defeats to the likes of Zenit St Petersburg and Saints also transpired only when the Brazilian was rested.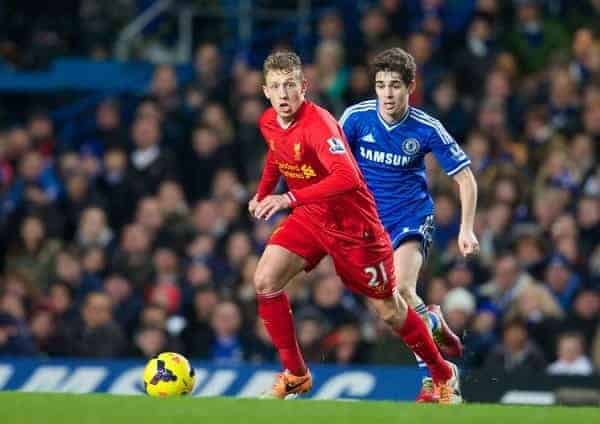 That said it became patently obvious he was someway shy of peak condition. Always playing catch-up, the hope was a full pre-season would extinguish any cobwebs and remedy his obvious tiring in games. Such a prognosis has not quite gone to plan.
2013/14
Lucas began last season in-form and in the side. Glaringly obvious however was his physical deterioration around the hour mark. Similar fatigue beset Steven Gerrard, the pair's weariness no doubt contributing to some below par second half performances.
The captain managed his body throughout the coming months, helped in part to a change in position and the effervescent energy of Jordan Henderson. Lucas though never quite found such sustainability.
Many supporters, myself included, predicted Rodgers would opt for one from two before the season's end. Unfortunately for Lucas yet another injury, this time striking at home to Villa in January, hastened and eased his manager's choice in one fell swoop.
In his absence Gerrard's rebirth ensued, no longer the lung-busting box to box midfielder of his youth but a composed, playmaking pivot patrolling the base of a central diamond. After some initial teething problems Steven came to master that role and in effect render Lucas redundant.
Often seen as a steely insurance in big games, our number 21 now had a watching brief. Like the rest of us he sat spellbound as a reinvigorated Liverpool tore into the likes of Everton, Arsenal, United and Spurs. Attack dominated the agenda in a gameplan far removed from the Houllier, Benitez and Hodgson blueprint. Lucas' blueprint.
Even in the nerve shredding tension of City, where Liverpool desperately clung to a one goal lead, our sole combative midfielder sat on the bench until the fourth minute of injury time. A symbolic snub, perhaps.
Relegated to fifth choice (behind Gerrard, Henderson, Coutinho and Allen) Lucas had gone from key first teamer to squad member in a matter of months. With Gerrard purring, his only involvement would now stem from an unfamiliar, advanced position.
Sadly, Lucas is to attacking football what Paul Merson is to elocution. A deer in the headlights his paltry six goals in 243 appearances make sorry reading. What's more, just one such strike was registered in the Premier League.

When introduced at West Ham Lucas sured-up the midfield and afforded space for the full-backs to run into. But when himself asked to influence play in the final third he was found wanting, particularly in Henderson's absence.
A wry smile adorned his face at Carrow Road after fluffing a golden opportunity at the second time of asking. An acceptance of his own failings it pretty much bellowed 'Well, what do you expect?' to all those cursing his profligacy.
But if his finishing could be excused that lack of energy proved far more problematic. In fairness Henderson's motor could power Merseyside for the next decade but taking away that comparison Lucas appeared to be treading water. Floundering badly he offered nothing in the way of midfield control while his passing left a lot to be desired.
It is worth mentioning that none of the aforementioned originated from a lack of effort. Nobody conjures more for the cause but Lucas' body now betrays his mind. He wants to bomb forward and create angles but his legs prevent him from doing so. Battle scarred, injuries have take their toll and three years since that fall at Chelsea optimum fitness still eludes him.
2014/15?
The suggestion is our comeback kid now has another fight on his hands. Once again his Anfield career is at stake. The arrival of Emre Can seems to have ushered him ever closer to the exit door. The former Bayer Leverkusen man can cover for Gerrard yes but also revert to left-back and crucially offer something different further forward. Lucas' lack of versatility may now prove his undoing.
Assuming Gerrard figures in 75% of our games next season, Can will be expecting to cover in those remaining 10-15 fixtures. Crucially he will also move ahead of Lucas in that progressive pecking order.
So where the Brazillian formerly stood as fifth choice he has now fallen further still, down to a sixth alternative, in other words a very last resort with more signings likely. The conundrum then is where, if at all, does he get his game?
Having fought back – on and off the field – few would discount another revival. But at 27 the time may have come for a sad but necessary parting of the ways.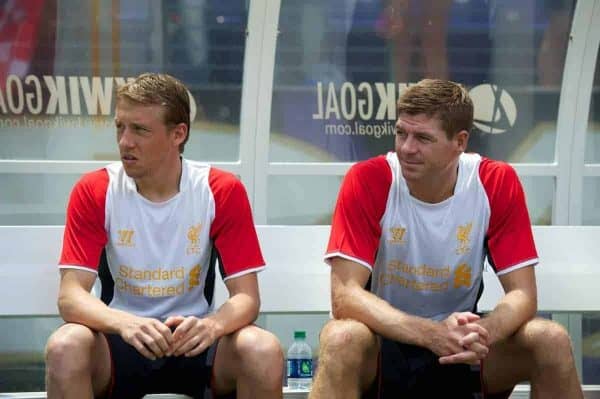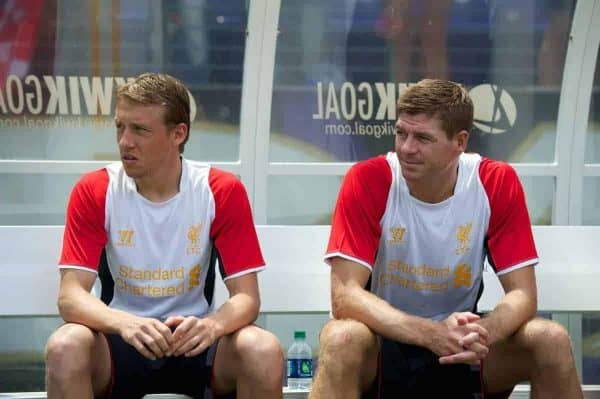 Lucas will always be a fans favourite. He and we know his limitations but he earned our respect through his sheer force of will. Furthermore he developed into one of the finest defensive midfielders in the league, testament to his footballing ability. Anyone capped 20 times by Brazil is obviously a top, top player.
If he can recapture former glories he may still have a future on Merseyside. Nevertheless you cannot help but think Liverpool, tactically at least, have left him behind.
Upon signing from Gremio, Lucas was unfairly compared to Xabi Alonso and Javier Mascherano. His inclusion often came at the expense of one of those two, both of whom were far better players. Eight years down the line he can proudly claim to have emerged from their overarching shadows.
His transformation from the timid youngster shedding tears at a barrage of abuse to the senior pro proudly boasting his own Kop chant is a triumph for the underdog.
Should he return to Melwood – his Liverpool career in-tact – nobody would begrudge him another crack at silencing those critics. Similarly, if this is goodbye, Lucas departs with his head held high.
Either way, someone has a big decision to make.