Unsurprisingly, Luis Suarez's biting incident in Uruguay's 1-0 victory over Italy on Tuesday continues to dominate the back pages on Thursday morning.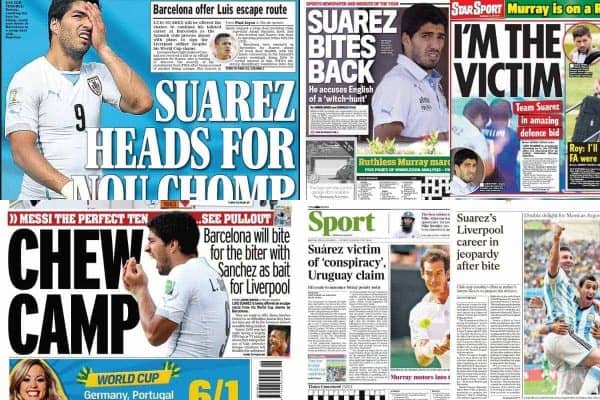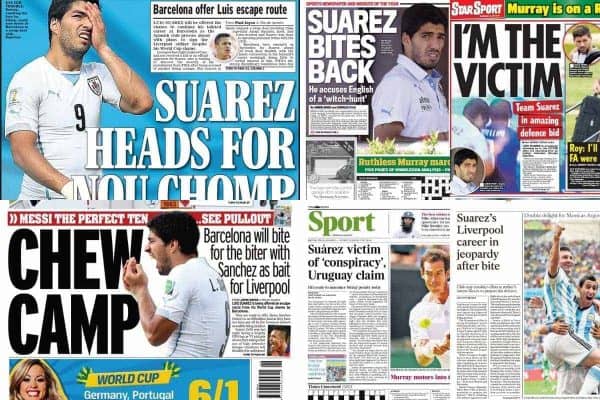 Since the incident involving Giorgio Chiellini just over 24 hours ago every man and his dog has had their say on football's biggest talking point.
It has somewhat conveniently overshadowed Roy Hodgson and England's dismal exit from the World Cup with just a point to their name.
Even British tennis player Andy Murray and rock star Bruce Springsteen have had their two cents as the media takes every opportunity to lap up another Suarez controversy.
Perhaps then, given the furore we will cover in this round-up, it is best to start with an excellent piece by Glenn Moore in The Independent who calls for some perspective on the whole situation:
Danny Mills would send him to jail, Alan Shearer would ban him worldwide for "as long as I could", which under Fifa statutes is two years. What heinous crime could Luis Suarez have committed to prompt such a response from two players who were not exactly shrinking violets on the field?

He bit someone.
Moore adds that whilst what Suarez did was "disgusting and horrible", he wasn't involved in match fixing, he didn't use performance-enhancing drugs and he didn't break an opponent's leg or attack a referee.
Meanwhile, The Guardian's Owen Gibson says "senior FIFA insiders" (sounds important) think Suarez will be handed a six game ban.
We should know by Thursday morning the extent of the 27-year-old Liverpool forward's punishment.
Gibson also discusses the repercussions for Suarez's sponsorship deals with the likes of poker firm 888.com and sportswear Adidas, whilst Uruguay launch their counter attack:
The Uruguayan Football Association has gone on the offensive in an effort to save Luis Suárez from a lengthy ban for biting Giorgio Chiellini, claiming he is the victim of a smear campaign by the Italians, the English media and the Brazilian hosts.
The Daily Mail carries quotes from Suarez's lawyer, Alejandro Balbi, who was probably enjoying a nice summer sipping cocktails on Copacabana beach until this:
"We don't have any doubts that this has happened because it's Suarez and secondly because Italy was eliminated," Balbi, who is also a Uruguay FA board member, told local Uruguayan radio.

"There's a lot of pressure from England and Italy. We're polishing off a defence argument.

"There is a possibility that they ban him, because there are precedents, but we're convinced that it was an absolutely casual play, because if Chiellini can show a scratch on one shoulder, Suarez can show a bruised and almost shut eye."
That antagonism from Uruguay towards England and in particular, the English media, is picked up by The Telegraph as well:
The leading Uruguayan broadcaster Tenfield took that view a step further, claiming the controversy had been exaggerated by the English media. "In our view, the TV images are not clear and you can't see Suarez biting Chiellini's shoulder," they said.
There's also claims that English newspapers on Wednesday carried a photoshopped image of Chiellini's shoulder.
Fair, balanced reporting on Suarez from the Mirror this morning. The middle one here is real, not photoshop. http://t.co/EsqSo00XRt

— Adam Gray (@AdamGray1250) June 25, 2014
That's Thursday's papers on a plate for you. Make of it what you will.
It seems only apt to finish by referring back to Moore's article in The Independent again, stating that Suarez fits a media-agenda for a South American villain:
In England, however, Suarez is beyond the pale. Diving, biting, cheating: he fits our stereotype of the South American footballing bad guy, the latest in a long line stretching back past Diego Maradona to Antonio Rattin. There is also a place, it should be said, for lovable South Americans, such as Ossie Ardiles, Gus Poyet, and all things Brazilian.
Agree? Disagree? Had a chance to reflect on the whole saga? Let us know your thoughts in the comments below.