Author of 'Punk Football: the rise of fan ownership in English football' Jim Keoghan shares his interesting words on the rise of fan-owned clubs and how it very much hits home with Liverpool.

So the title wasn't to be. But despite this, Liverpool fans can still look back on the past few years with a growing sense of satisfaction. From the vantage point of today, it can sometimes seem difficult to believe how far the club has travelled in such a short time. Just a few years ago, things looked pretty bleak.
The Gillett and Hicks era will long go down as one of the darkest in the club's history. It was a master class in how not to run a football club. Debt, mismanagement and the total alienation of the fans, it all added up to an unholy triumvirate that reds across the world must hope will never be repeated at the club again.
Unsurprisingly, even after FSG arrived to save Liverpool from financial Armageddon, there was a period of hangover. A crisis that large was never going to be fixed overnight and that proved to be the case. But finally, the club appears to be back on track.
Aside from a transfer policy that during its early days came in for some criticism, it's difficult to deny the good work that FSG have undertaken. Not only has the club's level of debt been reduced since they arrived, but commercial revenue has risen, the stadium is finally being developed and on the playing side a structure has been put in place that appears to be bearing fruit.
Future
So what happens next? Despite their many qualities, FSG don't have an affiliation with Liverpool. He might watch the games and occasionally wear a 'credibility' scarf, but John Henry is no red. If you're being kind then you could call FSG a 'sports investment company'. More realistically though, they're simply a hedge fund; one that spotted an undervalued asset, got it cheap, and once fully developed will likely sell it on.
While it's unlikely that this will happen in the very short-term (after all, there is still so much potential in the club), should Liverpool continue to prosper and build upon the great work undertaken by Rodgers this season, then the value of the asset will continue to grow to the point where selling-up will undoubtedly prove a temptation that is difficult to ignore.
What then? Liverpudlians have already experienced the disaster that can unfold when ownership is transferred. And the sad truth in the modern game is that it could happen again. Each time a new regime takes over a club, there is just as much chance of abject failure as there is of success. The only constant is the fans inability to influence the sale.
If proof be needed of this then as fans we need only look along the M62 at what has happened at Utd. Despite having the largest supporters union in the country and mounting the most sophisticated campaign against a takeover ever seen in our game, the Glazers still took control and went on to bleed the club dry.

Although there are plenty of Reds (and many other fans) who take enjoyment from this, what happened at Utd should stand as a cautionary tale. If it can happen there, it can happen anywhere.
Fan Ownership?
So what's the answer? How can Liverpool be protected from the worst excesses of private ownership? Well, one possibility is the fans taking control themselves.
There has already been an attempt at this back when the club was in the midst of the Gillett and Hicks crisis. The first serious manifestation of supporter ownership was the creation of ShareLiverpoolFC (SLFC), a collective of fans who sought to lead a supporter-led buyout of the club. SLFC (which later joined with the Spirit of Shankly to create SLFC/SOS) represented a rare attempt to enact supporter ownership at one of the English game's big beasts.
As most fans will no doubt recall, their aim was to turn Liverpool into a Scouse version of Barcelona, with around 100,000 members buying a single share at around £5,000 a-pop (giving SLFC/SOS enough cash to mount a takeover).
Although there were some concerns over the price of investment, there was still a positive response. In the end, the scheme received about 30,000 people registering an interest, to which you could add another 20,000 further supporters from SOS that were open to the idea of investing if the price could be brought down.
Despite considerable interest from the fans, in October 2010, any notion of a supporter takeover was rendered moot when FSG arrived. Since then, the improvement of the club's fortunes on and off the pitch has, for many reds, made the prospect of fan ownership more remote.
But with FSG's long-term commitment to the club uncertain, perhaps the idea of supporter ownership should be revived?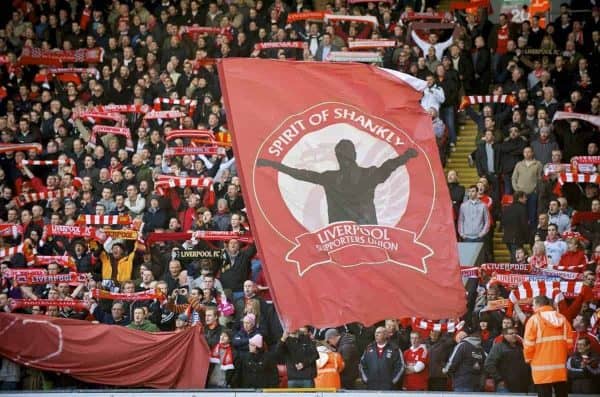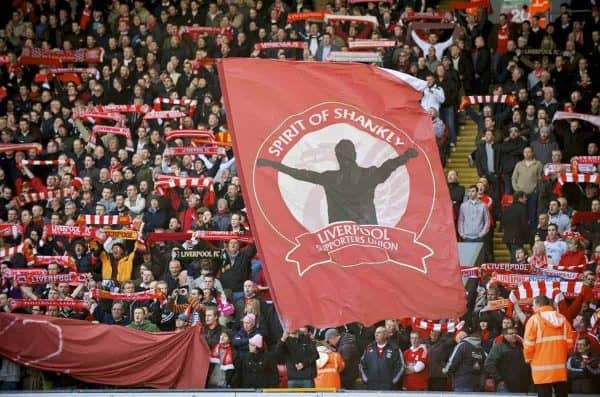 During the past twelve months I've been writing a book on the phenomenon of supporters taking control at clubs. As part of this I covered what has happened at Liverpool and talked to some of those involved, people like one time secretary of the Spirit of Shankly, Graham Smith, who outlined what he would like to see the fans do:
"FSG are probably not in this for the long haul. Because of this, the fans should be setting themselves up as FSG's exit route. I, and many others involved with supporter activism at Liverpool, would like to see the owners sell parts of the club bit-by-bit to the supporters with a long term aim for them to have 100 per cent ownership or at least majority control at Anfield."
And the numbers are certainly out there he contends.
"There are millions of people across the world who have some affiliation with Liverpool. If FSG, the club and the supporters worked together on this, there's no reason why it couldn't happen."
Liverpool's turnaround over the past few years has been nothing short of remarkable. The good times appear to be back and for the first time in a long time, there is an air of confidence around Anfield again. But Liverpudlians of all people should appreciate how quickly those good times can unravel. Back when Gillett and Hicks took over, no-one could foresee just how bad things would get. The club was very nearly destroyed, with the fans virtually powerless to stop it happening. The only way to guarantee that this can never happen again would be to embrace the spirit of punk football and for the supporters to seize control themselves.

Jim Keoghan is author of 'Punk Football: the rise of fan ownership in English football', which is published by Pitch Publishing.