Reports emerged this week suggesting Liverpool's Raheem Sterling was set to be rewarded with a bumper new contract; Jack Lusby asks whether he has warranted it.

Following a stellar season, flourishing in Brendan Rodgers' fluid attacking line as Liverpool bid for the Premier League title, 19-year-old winger Raheem Sterling is reportedly set to be rewarded with a huge wage rise.
The former QPR youngster travelled with the England squad to their Miami training camp this week, and is set to star for Roy Hodgson's Three Lions at the World Cup this summer.
If he continues to impress on the international stage, Sterling could be looking at near tripling his current wage at Liverpool.
The Daily Mirror write that "if Sterling returns from Brazil with his burgeoning reputation enhanced even further, he will be looking to command a salary in the region of £100,000 a week."
Similarly, the Daily Mail concurs that "Liverpool know a successful World Cup will see Sterling's profile sky-rocket and could lead to interest from rival clubs."
Clearly seen as a measure to both secure the long-term future of one of the club's most prodigious talents and reward genuine top-class form, tying the 19-year-old down with a bumper contract will act as a security blanket for the Reds, particularly if Sterling impresses in Brazil.
However, the reported £100,000-a-week wage may leave many reeling, but committing Raheem Sterling to the club in such a way is worth every penny.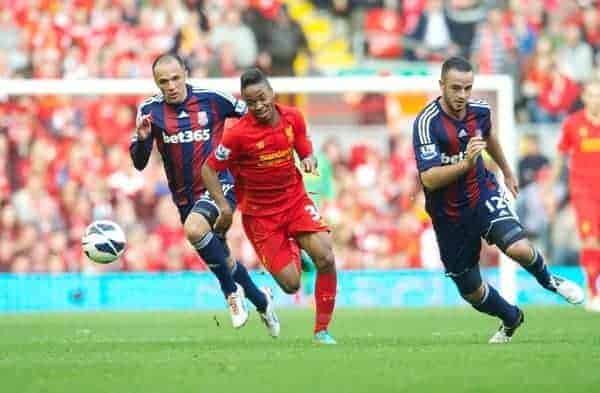 This Season's Rise
Liverpool's second-place finish in the Premier League in 2013/14 capped a season of remarkable progress for Rodgers' side, and in much the same way Sterling's development took the same trajectory.
The Reds, finishing seventh in the previous season, with an impressive second half of 2012/13—spurred on by the January signings of Daniel Sturridge and Philippe Coutinho—failing to recuperate points lost prior to the mid-season transfer window.
Sterling's 2012/13 actually tailed off in the second half of the season; after initially breaking through into Rodgers' first team, he was often left on the bench as the Brazilian Coutinho shone.
However, flash forward and as Rodgers' side rose to the upper echelons of the Premier League the following season, so did Sterling.
As per WhoScored.com, in 24 appearances, the 19-year-old scored only two goals and made two assists in the Premier League in 2012/13.
However, stepping up his game the following season, Sterling helped himself to nine goals and made five more for others in 33 appearances.
This contribution helped propel the club into the lucrative landscape of the Champions League, and can now be rewarded as such.
Reports back in January, courtesy of ESPN, suggesting that the winger was set to leave the club on loan in January, proved way wide of the mark; in 2013/14 Sterling became symbolic of Liverpool's recent rise.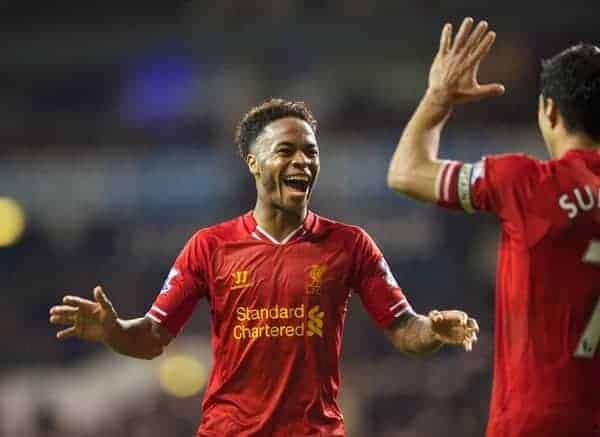 Goals & Assists
Paying a player £100,000-a-week demands consistent, multi-faceted performances, and throughout 2013/14 Sterling showed that he has the qualities to continue to do so with the Reds.
As mentioned previously, the attacker has added a goalscoring sheen to his game in recent months—coinciding with an unstoppable run of form towards the end of the season—and within two examples we can see how Sterling has developed his game.
Firstly, an instinctive, long-range strike away to Norwich City at Carrow Road showed immense technique.
Sterling insane goal vs Norwich!#sport#soccer#goal https://t.co/DH1ulCJP4F

— Best sports plays (@sportvine1) April 22, 2014
As per Squawka, Sterling had a 67 percent shooting accuracy in 2013/14, from long and short range—the highest of any Liverpool player, on par with Steven Gerrard.
Furthermore, his turn, into another turn, into an easy finish against Manchester City in the Reds' 3-2 win at Anfield in April showed the 19-year-old's composure—beyond his years.
Sterling Goal, Liverpool 1-0 Man City https://t.co/b7EtgylAqr #LFC"

— fico (@fernan_laureano) April 13, 2014
Performances in big-game situations such as this go some way to showing why Sterling is worth such a significant pay-rise.
Elsewhere, Sterling also turned provider for his teammates at pivotal moments in 2013/14; an exquisite long-range through ball with the outside of his boot against Swansea showing the quality of his game.
Sturridge first goal against the Swans. Brilliant assist from Sterling! #LFC #Sturridge https://t.co/ykizpYJkuY

— Liverpool FC Vines (@LFC_Vines) February 23, 2014

Confidence & Versatility
Elsewhere, beyond more obvious contributions, Sterling's position as a hugely confident player with the ball at his feet—with the ability to match—is underlined by his 64 percent success rate when it comes to taking the ball past an opposition player, as per Squawka.
The 92 take ons that Sterling completed places him as third in the Premier League for 2013/14, behind only Eden Hazard (132) and Suarez (93).
This is clearly stellar company, and both are currently on much higher wages than the Englishman.

Finally, as WhoScored show above, the versatility of Sterling has increased his value to Rodgers hugely.
The ability to contribute all across the front line has endeared the 19-year-old to his manager's playing style, and the Liverpool Echo saw the Northern Irishman hailing his charge's "tactical intelligence."
As detailed, Sterling is a multi-faceted player capable of performing to justify a £100,000-a-week wage.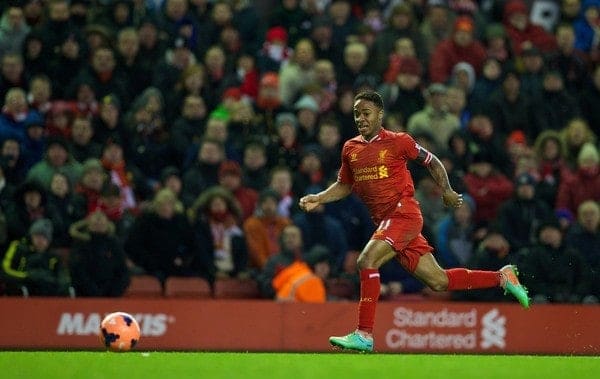 Theo Walcott & Protecting Value
Last season, Arsenal's Theo Walcott signed a long-term contract, with his wages too being increased to £100,000-a-week, as per The Guardian.
This move saw manager Arsene Wenger rewarding the form of a talent who burst onto the scene much like Sterling did, several years ago.
Walcott—when fit—now stands as a key player for both Arsenal and England, and Arsenal's move to secure his long-term future with this deal saw them protect his value; this is particularly pertinent given the Reds' reported interest in the player around the same time.
Tying down Sterling to a similar deal will, hopefully, keep the player with the club well into his development, and if said development continues to follow course Liverpool will have a world-class talent on their hands.
With Roy Hodgson set to experiment with Sterling in his starting line-up in the coming Miami friendlies, there is every chance the 19-year-old will be given the chance to impress in the same role at the World Cup.
Liverpool's reported high wage offer may seem premature when bearing in mind the player's age, but performances, potential and precedent suggest that this is a wise move worth every penny.
Is Raheem Sterling worth £100,000-a-week? Let us know in the comments below.