Andy Yates revels in the passion of being reunited with the spark that makes us tick every Saturday and the effect such positivity has on the rest of life.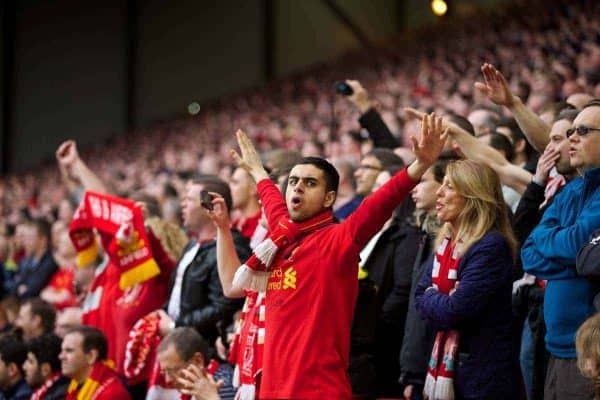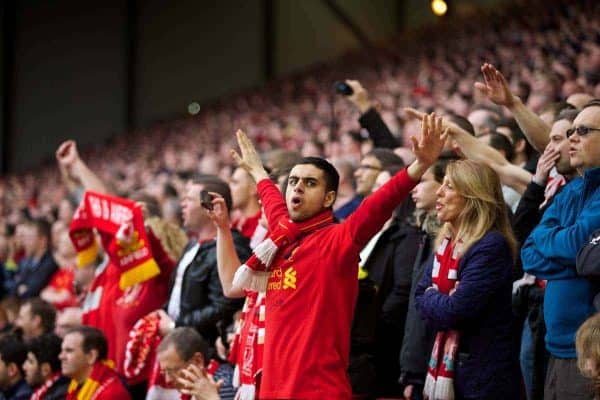 Retrouvaille; The joy of meeting or finding someone again after a long separation; rediscovery.
I've watched Goal Rush 13/14 on LFCTV seven times since the season ending. If you have a spare hour or you're a silly Big Brother watcher who realises your life needs reassessing, then switch over and view 101 fine Liverpool goals.
Immense. It was just immense. It's almost the World Cup and I can't stop reminiscing, can't stop looking back. We're told to always look to the future, look and hope towards better things.
I chose not to. Why look forward when you can watch that Tottenham away game over and over again.
Look at Jon Flanagan. Look at his happy face.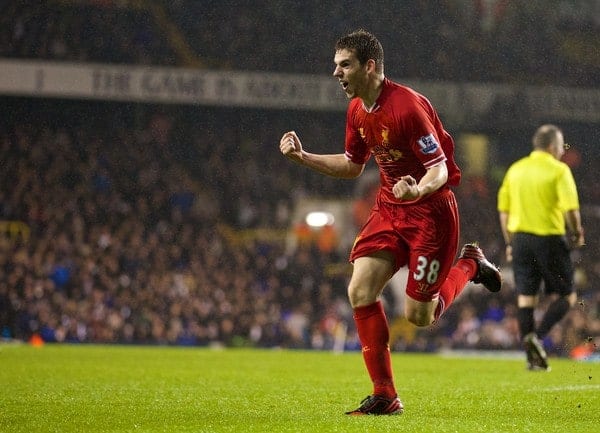 It goes birth, growth, teenager, adulthood, Jon Flangan's goal, marriage, fatherhood, career, grow old, death.
Look at his little face. Life affirming.
That goal was the stag do before wedding after party. A toast raised as game after game was won as we snowballed and careered through the best league on the planet. And even in defeat, the art of entertaining gripped us like a bloodbath in a Roman Coliseum.
I sang You'll Never Walk Alone on the Kop, as Fernando squared and Willian tapped in, teary eyed, but never prouder. I looked up to the sky like a Sparta staring at a million arrows, facing defeat in the most glorious way.
It wasn't as glorious as Hollywood at the time. It was a slip and a 9 minute meltdown, but looking back it just added to the madness.
I lived for the moment last season. I hung around the ground before and after the games.
The queue at the Lucky Star chippy on Walton Breck Road used to piss me off. I'd look through the murky windows as three Chinese women politely yelled at customers to see if they wanted salt and vinegar.
This season I didn't care. I stood there content, feet swinging back and forth like I'd just met my first love.
In truth, I already was in love. We all were. It just needed a little re-ignition. It needed a new spark.
It was evident on the Kop that IT, was back. The place was glowing. Smiling Scousers who cared not for the week of work that had relented on their stress levels or which team Liverpool were even playing that day.
It was utopian like at times. Like one of those slow motion HD camera's. Everything seemed so smooth, so translucent. An aura of invincibility. Everything required of your match day experience. The reason you fell in love with it in the first place.
The walk to the ground felt like a rendition of Singing in the Rain, a merry dance towards the turnstiles. I wanted to sprint to the ground, an hour before kick off I felt if I wasn't there I'd be missing out.
I wanted to hug the fella who played the bagpipes so relentlessly, adjacent to the Kop. When Hodgson was in charge I wanted to burn them, the dull ache of traditional Scottish music as heart breaking at some of his post match press conferences.
These past couple of seasons I've wanted to gallop around him, chanting Brendan Rodgers and tipping him, just because.
There was free bacon at the burger bars outside the ground. I high fived the burger man after he slapped a load of heart attack inducing pig fat onto the questionable meat below.
Even when you brushed past a fellow match go-er as you made your way towards Anfield, resentment at such disrespect did not exist.
We'd just look each and smile, common in the knowledge we were about to watch or had just watched some of the most splendid football ever witnessed.
Because that's what it was. Just splendid.
The waiting and wondering for next season currently controls our thoughts. With the World Cup being a welcome distraction from the usual June and July black hole of no football, pre season will be just around the corner when the last ball is kicked in the Maracana on July 13th.
Brendan Rodgers has already signed an English International and a young German starlet with Champions League experience. There looks set to be at least one more arrival by the time the World Cup kicks off, but we never know where or just quite what Ian Ayre is doing sometimes.
A lucrative tour of America is always something to look forward to, as well as a mouth-watering game against Borussia Dortmund at Anfield a week before the season gets under way, a Champions League warm-up perhaps?
Last summer was a period of hope; words like 'progression' and 'transition' were spoken of before the Stoke opener at Anfield. This summer feels different. The expectation has risen, and so has the cloud which hung over L4 for the last 5 or 6 years.

We can attempt to predict and distinguish how a season will pan out, but in truth it is virtually impossible. Not one article predicted Liverpool's campaign of 2013/14, whilst many in the mainstream media consigned Liverpool to 4th or 5th place at best.
10 months down the line and the club is setting itself up for a Champions League adventure, adding freshness and depth to the squad whilst boasting the best attacking duo in Europe.
This summer is very much 'retrouvaille', a rediscovery of our team. A rediscovery of Liverpool Football Club.
Feels good doesn't it?
We go again.