With players returning to training the first pre-season friendly less than a fortnight away, Jack Lusby looks at why this is a crucial period for Lucas Leiva.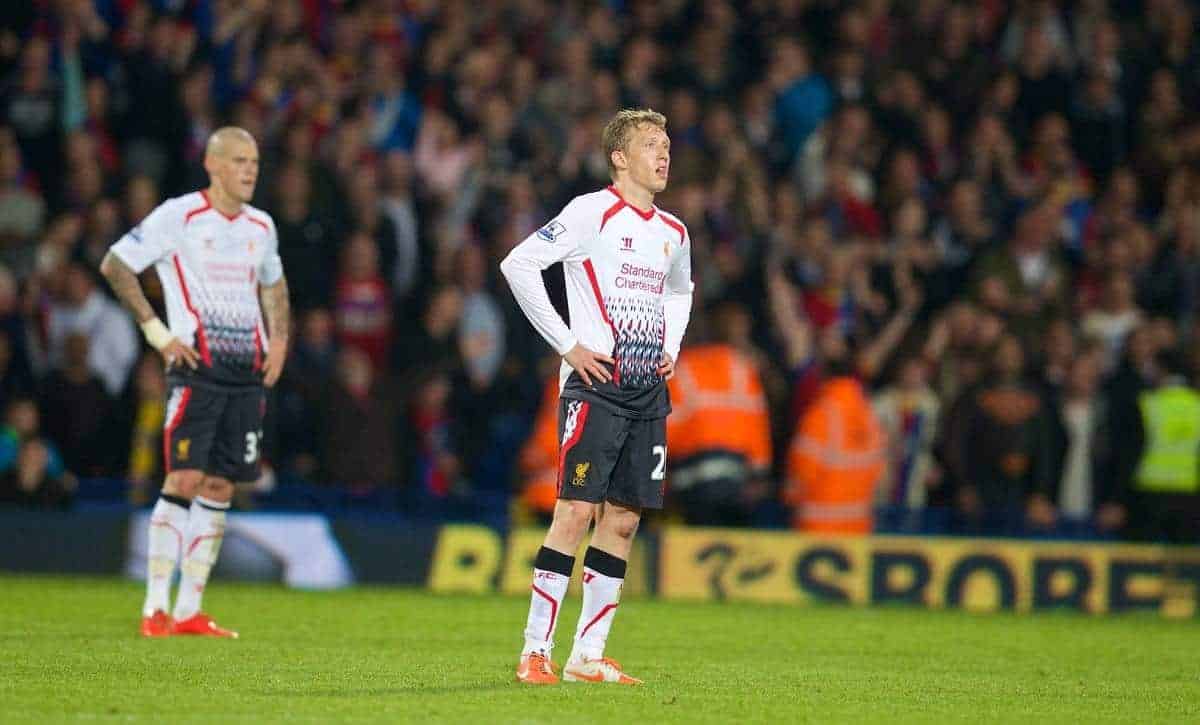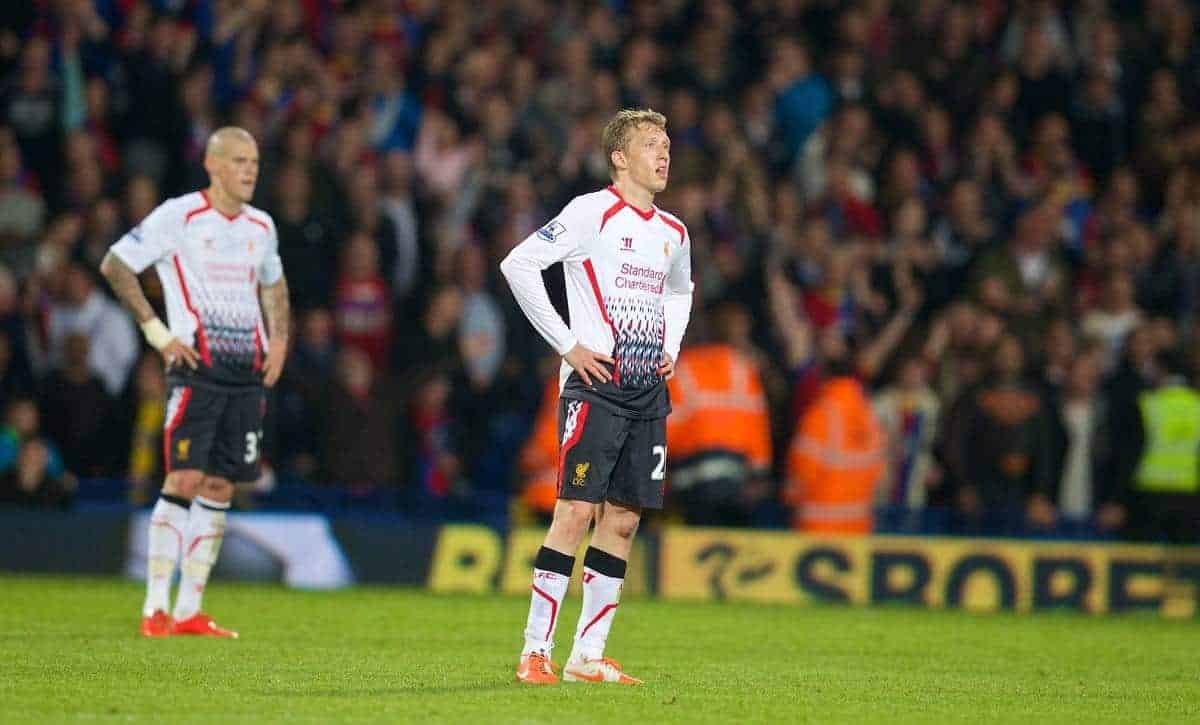 As Brendan Rodgers and his Reds head into pre-season, this offers a chance, initially at least, for Liverpool's non-World Cup players to prove to their manager that they're worth the inclusion in the coming season.
One such player is Brazilian defensive midfielder Lucas Leiva, who was left out of Luiz Felipe Scolari's World Cup squad this summer.
For the early stages of pre-season at least, players who are also deployed in Lucas' position, such as England's Steven Gerrard and Jordan Henderson, will be given an extended leave of absence.
This leaves the 27-year-old with the perfect chance to impress his manager, and Lucas needs to grab this opportunity with both hands or face further first-team exile.
Squad Status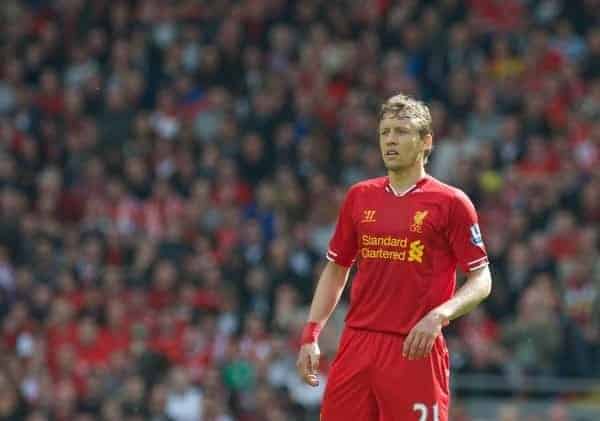 Lucas is a hugely interesting figure amongst the Liverpool first team; a player who has moved from pariah, to hero, to forgotten man.
Signed by Rafa Benitez as a more advanced midfielder, Lucas was soon adapted to plump the depths of defensive midfield, and responded remarkably.
The Brazilian became an important figure and for a while one of the league's leading ball winners; what's more, Lucas is by all accounts a hugely popular dressing room personality.
Unfortunately a series of serious injuries have hampered the progress of the 27-year-old, and in the past season this has been hindered by the impressive development of Gerrard in the deep-lying role.
These injuries left Lucas out of Scolari's World Cup squad, with Spurs midfielder Paulinho, Wolfsburg stopper Luis Gustavo and Manchester City's Fernandinho all preferred.
The midfielder returned at the latter stages of Liverpool's ultimately unsuccessful title challenge but was more often than not a mere squad player.
More often than not this came in the form of a now unfamiliar, advanced midfield role to accommodate for the absences of players such as Henderson and Joe Allen – and in this role, sadly, Lucas did little to impress.
Staring into the void, with Gerrard solid in his deep-lying role and Henderson, Allen, and Lucas' compatriot Coutinho flourishing in the more advanced midfield roles, Lucas will need this pre-season to prove his enduring worth to Rodgers.
Pre-season for Lucas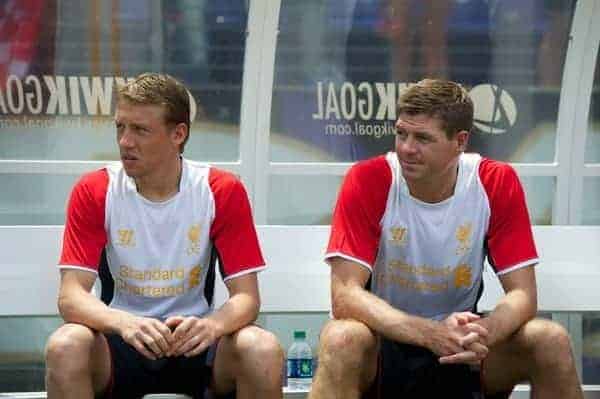 In the middle of May, The Telegraph (and others) reported that a dozen of Liverpool's fringe players were available for transfer this summer; one of these mentioned was Lucas.
It is likely that this notion will continue under Rodgers throughout the summer, and these reports suggest "The popular Brazilian would undoubtedly be retained as a squad player if he wished, but he is at a point in his career where he wants to be a permanent starter."
Italian clubs such as Napoli and Inter Milan have been rumoured to be interested but no concrete bid has yet surfaced.
Up for sale but with his future, apparently, in his hands, Lucas would need to utilise this pre-season build-up to secure a position as a regular in Rodgers' squad.
An unwelcome mission, perhaps, given the Brazilian's lowly status in the first-team squad.
Liverpool play—at this juncture, at least seven friendly fixtures this pre-season, including a four-game tour of America encompassing a money-spinning "International Champions Cup".
Seven opportunities for Lucas to impress.
Gerrard will return at some point during this jaunt and, as club captain, talisman and still one of the squad's most important players, will undoubtedly resume his role at the heart of the midfield and between the centre-backs.
Between now and then, Lucas will need to make himself genuinely indispensable to Rodgers, although this is hampered even further by the arrival of next year's model.
Rodgers: "Emre is an exciting young talent and I'm delighted he's chosen Liverpool." – http://t.co/kVWUbLtZe0 #LFCCan pic.twitter.com/CFOL4WTB9s

— Liverpool FC (@LFC) July 3, 2014
Signed from German side Bayer Leverkusen this summer, Emre Can is a 20-year-old defensive midfielder and a new, direct rival for Lucas' position.
A good stats comparison of Can, Lucas and Schneiderlin, by @TalkingAnfield: pic.twitter.com/yIJRvUTq1D

— Andrew Beasley (@BassTunedToRed) June 5, 2014
What this statistical comparison shows, to some extent, is that whilst in some regions Lucas is the better option than his 20-year-old adversary, Can stands head and shoulders above the Brazilian in all-round play.
Rodgers will be expecting players in all positions within his fluid attacking system to contribute going forward, and in this area Lucas becomes somewhat of a passenger.
For example, according to WhoScored, in the past five Premier League seasons for the Reds, Lucas has scored no goals and made just four assists. This is in 133 appearances.
Comparatively, Can scored three and made another three in just 29 Bundesliga outings last term.
Clearly, these are two very different players, but Can now represents more the type of option which Rodgers prefers in midfield.
The German should be joining the squad for pre-season, and as such this provides Liverpool's manager with a direct comparison between the two with players such as Gerrard absent.
Tasked with developing his game and keeping up with a newer model, this is the exact reason why Lucas needs to impress significantly this pre-season.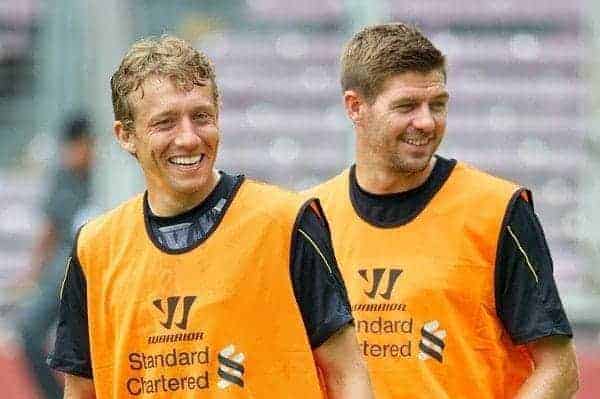 To conclude, this pre-season should represent a make or break situation for Lucas Leiva; a veritable outcast in Brendan Rodgers' first-team thinking, a succession of seriously strong displays against sides such as Milan and Borussia Dortmund could sway this.
There is a big 'if' here though, as players such as Steven Gerrard and new arrival Emre Can will likely be further up the pecking order when it comes to a deep-lying defensive midfield role.
Both more capable of fulfilling attacking duties, these players are more likely to appeal to Rodgers' particular system.
It'll be a tough ask, but the Brazilian has managed it before — a hugely impressive pre-season for Lucas is a must.
Does Lucas Leiva have what it takes to secure his Liverpool future this pre-season? Let us know in the comments below.