The 27-year-old's fantastic Reds career has come to an end, set to sign for Barcelona for £75 million, but where does he rank in the pantheon of Liverpool greats when it comes to ability? Henry Jackson gives his verdict.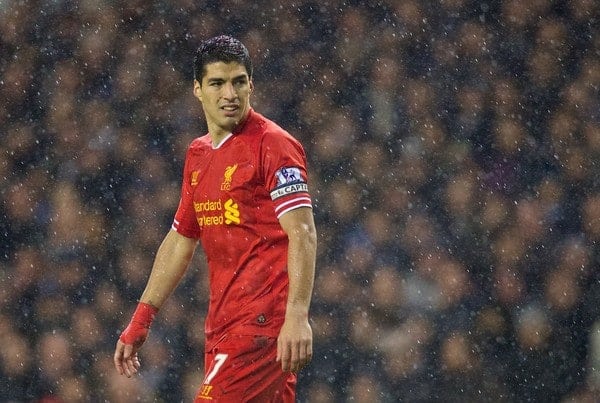 First thing's first, this is not an article claiming that Luis Suarez is the greatest player in Liverpool's rich and illustrious history. In terms of longevity, influence and success he cannot compete with a number of Reds greats.
Suarez
Suarez is a truly special footballer. His touch, vision, finishing and eye for the spectacular are all absolutely thrilling to watch, and there is even an argument to say he is the most exciting player on the planet currently. Lionel Messi and Cristiano Ronaldo are unquestionably two of the all-time great players, but do they get you off your seat as much as Suarez?
In his three and a half years at Anfield before departing for Barcelona, El Pistolero has provided moments of individual genius that will live with us all for many years.
He scored countless goals that left us speechless and produced moments of trickery that required a replay to fathom exactly what had just happened. If that's not enough, his work-rate and team ethic were also exemplary.
His tears after Liverpool's 3-3 draw at Crystal Palace last season may have been ridiculed by some, but it perfectly highlighted how much the team's success meant to him during his time at the club.
The question is, has there ever been a more naturally gifted player to have worn the famous Liverpool shirt than the 27-year-old Uruguayan?
Contenders
Kenny Dalglish is seen by many as Liverpool's greatest ever player. The Scot was noted for his exceptional creativity, with an ability to produce a magical pass out of nothing or curl a stunning effort into the top scorer.
In terms of natural ability he was fabulous, but it's worth noting that he was playing in a better Reds side than Suarez, and at a time where there wasn't the same level of intensity and quality in the majority of top-flight sides. It was arguably slightly easier to stand out during Dalglish's era, especially when Liverpool were dominating most matches.
Steven Gerrard is another Reds legend with unbelievable talent. At his peak, his marauding runs and wonderful long-range strikes often overlooked the fact that he was one of the best passers of a ball in world football. While many associated him with power, he has a huge amount of guile in his armoury as well.
John Barnes would certainly have to go down as one of Liverpool's most talented ever players, with wonderful dribbling and close control at his disposal.
During the 1980s he was one of the finest wingers in world football, and is probably the best wide man in the Reds' history. Despite his brilliance, he was still a level down from Suarez.
Ian Rush and Robbie Fowler were easily the two most naturally gifted finishers the club has seen, but neither had the complete all-round game of Suarez. Michael Owen, meanwhile, was heavily dependant on lightning speed.
Fellow strikers Fernando Torres, Roger Hunt and Ian St John were all ruthless at their peak, but couldn't win a game on their own like the Barcelona-bound Uruguayan is capable of doing.
The likes of Graeme Souness, Terry McDermott, Xabi Alonso and Peter Beardsley are all Liverpool superstars in their own right, but once again none had Suarez's genius.
Long-serving legends like Ian Callaghan, Jamie Carragher, Ronnie Whelan and Phil Neal may have the edge on Suarez in terms of longevity, but their talent was limited.
Conclusion
There have so many top players to have represented the Reds down the years, many of whom have been truly world-class, but none have the ability of Suarez.
While he may not be Liverpool's greatest ever player – he lacks Dalglish's success, Gerrard's influence over more than a decade, Rush's goalscoring exploits or Carragher's durability – he is the most talented of all time in my opinion.
Not Liverpool's "greatest" ever player, but for me the most "talented".
Hopefully it won't be the case, but it could be a long time before we see a player of Luis Suarez's calibre in a Reds shirt again.
[poll id="210″]