Liverpool captain Steven Gerrard called it a day with England on Monday afternoon, following 14 years of excellent service for the Three Lions. Henry Jackson takes a look at how the footballing community reacted to Gerrard's decision.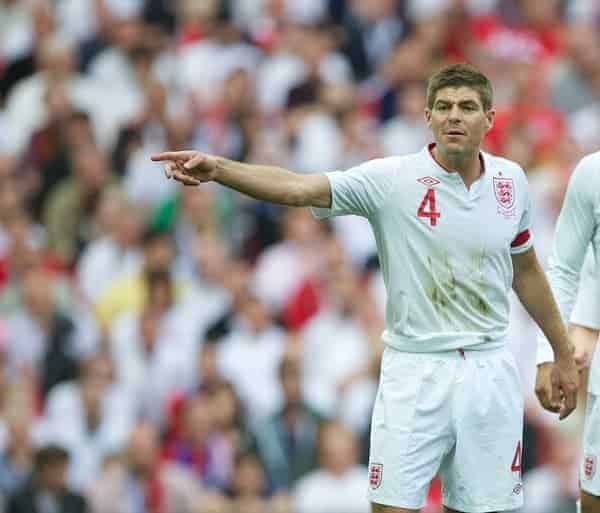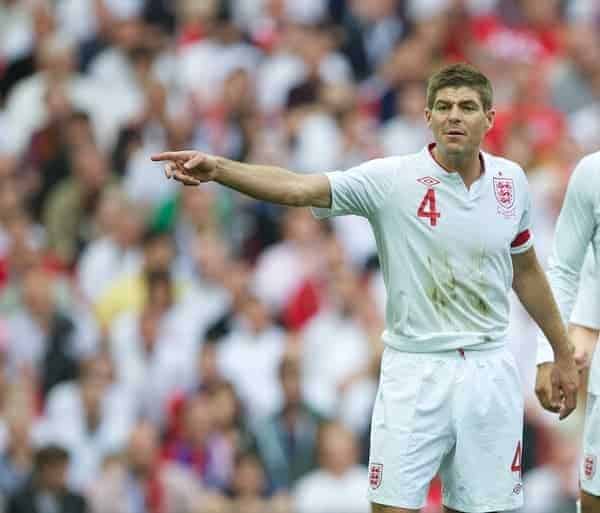 Steven Gerrard announced his international retirement on Monday, bringing an end to an England career that sees him third on the all-time list of appearance makers for his country.
The 34-year-old released a statement on the FA's website, saying:
"I have enjoyed every minute of representing my country and it is a sad day for me knowing that I won't pull on the England shirt again. This has been a very difficult decision, one of the toughest I've had to make in my career. I have agonised over this since coming back from Brazil and have spoken to family, friends and people close to me in the game before coming to this point.
"To ensure I can keep playing to a high level and giving everything to Liverpool Football Club I believe this is the right decision, and having Champions League football back at Anfield is another big factor in my decision."
"In particular, the supporters have been amazing, not least in Brazil when they got behind the team despite the disappointing results.
"I'd especially like to thank Roy [Hodgson], firstly for giving me the captaincy permanently when he took the job, making me the proudest man in the country and allowing me to fulfil my childhood dream.
"He has been very understanding over the past few weeks and is a man I will always hold in the highest regard."
Here's how journalists, players, ex-players and fans reacted to Gerrard's decision on twitter:
JOURNALISTS
OLIVER HOLT of the Mirror:
Tough decision for Gerrard but correct decision. He has been fantastic player for England but now's right time to go for him, England + LFC.

— Oliver Holt (@OllieHolt22) July 21, 2014
BBC sport's PHIL MCNULTY:
Gerrard has energies to devote to Liverpool's CL campaign this season – but his influence in & around England camp will be tough to replace.

— Phil McNulty (@philmcnulty) July 21, 2014
LFCTV commentator JOHN BRADLEY:
right time for Steven Gerrard to step away from international football. No quick fix for National team and at 34 he has to consider his body

— John Bradley (@JBcommentator) July 21, 2014
The BBC's DAN ROAN:
Gerrard nowhere near wonderful best at WC, but impressive as ever off the pitch. Obvious how much shirt meant to him. England will miss him

— Dan Roan (@danroan) July 21, 2014
PLAYERS AND EX-PLAYERS
Liverpool legend JAMIE CARRAGHER:
Good decision by Steven Gerrard, 114 caps great servant for England.

— Jamie Carragher (@Carra23) July 21, 2014
Former Liverpool striker MICHAEL OWEN:
Fair play to Steven Gerrard. A huge decision and so tough to make. England will miss him bu… http://t.co/07td3MObxS pic.twitter.com/zIjWV2m52q

— michael owen (@themichaelowen) July 21, 2014
Former England striker GARY LINEKER:
Steven Gerrard has retired from international football. He's been a wonderful servant to his country. A great player who always gave all.

— Gary Lineker (@GaryLineker) July 21, 2014
Former England defender RIO FERDINAND:
Next England captain??? Gerrard has been an incredible player. Surpassing 100caps is some achievement.

— Rio Ferdinand (@rioferdy5) July 21, 2014
Former Wales striker JOHN HARTSON:
When the king @kennethdalglish pays you the compliment of being the best Liverpool player of all time you take notice.. Gerrard class act.

— John Hartson (@JohnHartson10) July 21, 2014
Former Everton midfielder TIM CAHILL:
Respect to an amazing footballer even though he's a Red, retiring from international duty Steven Gerrard. #Worldclass

— Tim Cahill (@Tim_Cahill) July 21, 2014
QPR midfielder JOEY BARTON:
Stevie Gerrard, fantastic servant for his country. Correct decision made today. Never quite produced at the frequency he did for LFC.

— Joseph Barton (@Joey7Barton) July 21, 2014
LIVERPOOL FANS AND WRITERS
#Gerrard been an absolute warrior for #England – only shame was a team wasn't built around him in his prime. Can retire with pride. Legend.

— Simon Steers (@sisteers) July 21, 2014
Dreading the day that Gerrard retires from #LFC , I'll be inconsolable.

— Tom McMahon (@TomMc_Sports) July 21, 2014
Fantastic international career from Gerrard who never got the respect he deserved. All ours now.

— Thomas Fairclough (@Tom_fairclough9) July 21, 2014
An all-encompassing sign of #ENG's most repeatedly misused player, Scott Parker was once given the captaincy over Gerrard.

— Dave Phillips (@lovefutebol) July 21, 2014
Steven Gerrard no longer has to play for fans who routinely take the piss out of him during the season. Good.

— Sachin Nakrani (@SachinNakrani) July 21, 2014
The point Gerrard knew he'd had enough of International football https://t.co/WeUwnf35ym

— Martin Fitzgerald (@4hundredblows) July 21, 2014
Steven Gerrard made 114 appearances for England, only two players made more appearances for England than Gerrard.

— LFC Fans Corner (@LFCFansCorner) July 21, 2014
We would love to hear your reaction following Steven Gerrard's international retirement. Let us know your thoughts in the comments section below.