With the sale of Luis Suarez to Barcelona finally confirmed, we take a look at how the world reacted on this announcement.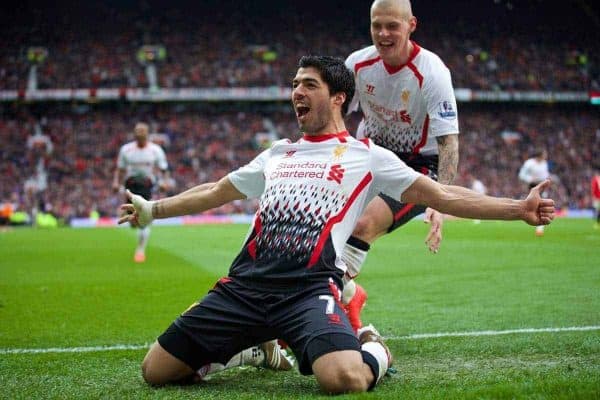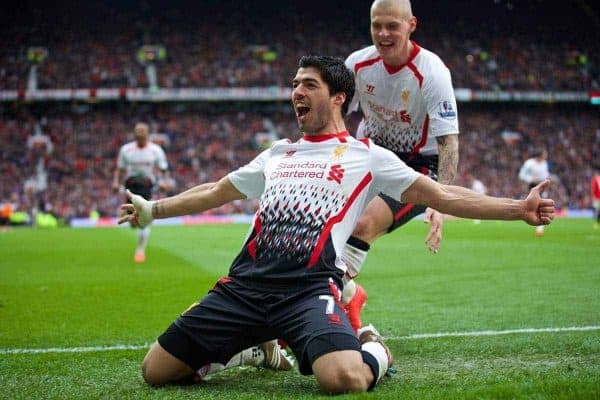 The news has finally, officially, broken— Luis Suarez is set to move to La Liga side Barcelona this summer, for a fee reported to be in the region of £75 million.
Likely the biggest transfer of the summer, reaction has been widespread since announcements were made, from fans to players to journalists.
The Club
Ostensibly primed long before the announcement, Liverpool's official statement regarding the sale of their Uruguayan maverick was refined and understated:
"We would like to thank Luis for his contribution and the role he played in helping bring Champions League football back to Anfield.
"Everyone at Liverpool Football Club wishes Luis and his family well for the future."
Everyone at #LFC wishes @luis16suarez and his family well for the future pic.twitter.com/8ODQXoRYEH

— Liverpool FC (@LFC) July 11, 2014
The Journalists
Elsewhere, journalists and media-types have had their say on the deal, with the consensus focusing on thanking the striker for his phenomenal contribution over the past three-and-a-half seasons.
This is perhaps most succinctly summed up The Times' Oliver Kay:
When #mufc sold Ronaldo, someone at club said: "It was a rocky marriage but the sex was great."
Analogy works even better for Suarez at #LFC

— Oliver Kay (@OliverKay) July 11, 2014
Andy Hunter, of The Guardian, believes memories of the Uruguayan will endure as of one of a flawed genius.
"Suarez leaves glorious, gory memories and with a reputation as one of Anfield's finest talents minus the character to match."
Chris Bascombe, writing for The Telegraph, questioned whether the player will receive the adulation he did at Anfield at his new club:
"Liverpool should admit it. Loud and proud. They will really miss Luis Suarez. But give it time, and there is every chance Suarez won't half miss Liverpool."
David Triggs and Joe Rimmer, writing for the Liverpool Echo, stress that no player in Liverpool history has been irreplaceable: "for every Suarez there is a Kevin Keegan, an Ian Rush or a Fernando Torres."
The Players and Managers
At the other side of the critical spectrum, former players and managers weighed in with their opinions on the transfer of Suarez, with more widespread praise on the agenda.
Sad to see Suarez go. A genius on the football pitch a privilege to watch and for me will always be a Liverpool great. I Wish him well

— ROY EVANS (@Roy_Evo) July 11, 2014
Luis was the best Lfc player I played with bar Gerrard. Gutted he's gone but was inevitable he would go to Spain one day.

— Jamie Carragher (@Carra23) July 11, 2014
What a player Suarez was to watch for Liverpool. His desire and brilliant ability brought so much joy. He became world class at Liverpool.

— Neil Mellor (@NeilMellor33) July 11, 2014
Former Reds No. 9 Robbie Fowler showcased his usual acerbic wit, referencing perhaps Suarez's biggest adversary throughout his Premier League tenure…
"I'm not gonna lie, couldn't wait for him to leave"….. John ruddy

— Robbie Fowler (@Robbie9Fowler) July 11, 2014
The Norwich Keeper
https://twitter.com/Johnruddy86/status/487588779201667073
Fans
Perhaps the biggest reflection of the impact Suarez's sale had on the world upon its announcement is the reaction of the everyday football fan.
Once more, the majority of the attention was focussed on praising the contributions of the 27-year-old.
The tearing United's defence, the hat-tricks at Carrow road, the nut megs… I'm going to miss you Suarez.

— LFC Fans Corner (@LFCFansCorner) July 11, 2014
https://twitter.com/Robish13/status/487562251113873409
Best individual brilliance i've seen in a Red shirt. I just cant seem to dislike him, even if I want to. He will be missed. #LFC #Suarez

— Graeme Kelly (@GraemeKelly1) July 11, 2014
If ever a vine summed up the best side of Luis Suarez: https://t.co/ME9wi3IH9S #Adios

— Nik Postinger (@nikpostinger) July 11, 2014
https://twitter.com/Kop305/status/487566133382631424
I wish everyone who's writing "better off w/o him" loses their press pass for the WC final bc they obv don't deserve to write about football

— nate (@natefc) July 11, 2014
It's almost a travesty that the best player I've ever seen at Liverpool only won a Carling Cup medal.

— Ste Hoare (@stehoare) July 11, 2014
Suarez is irreplaceable. Two players in one – goal-a-game striker & inventive, assist-making genius. Best player I've seen in an #LFC shirt.

— Football Insider (@footyinsider247) July 11, 2014
However, some perhaps struggled to come to terms with the loss of one of the club's greatest ever players.
So, sorry I don't wish Suarez good luck at Barca. I hope he crashes and burns like most players who leave LFC, sorry about that.

— Dan Shepherd (@TheCarteI) July 11, 2014
Others paid more interest in the financial impact of Suarez's sale, with the reported £75 million considered an exceptional return for a player signed for £22.4 million in January 2011.
Reluctant as #LFC were to sell Suarez, their American owners have played a blinder taking 50M off #CFC for Torres & now 75M from Barcelona

— Richard Buxton (@RichardBuxton_) July 11, 2014
Setting aside that we've lost PL's best player, £75m for 27yo, who misses around 10games/season, thats good. How we replace goals is key.

— Karl Matchett (@karlmatchett) July 11, 2014
The Stats
Luis Suárez: Premier League 2013/14 #LFC #FCB pic.twitter.com/b2FLlD3JxD

— WhoScored.com (@WhoScored) July 11, 2014
Brendan Rodgers

The man who has proved vital in this development of investment is Suarez's now former manager, Brendan Rodgers.
In his official statement on the club's loss, Rodgers expressed his gratitude for the Uruguayan's immense contribution with typical nuance.
"Luis [Suarez] is a very special talent and I thank him for the role he has played in the team in the past two years." – Brendan Rodgers

— Squawka Football (@Squawka) July 11, 2014
However, in typically pragmatic fashion, the Ulsterman set his sights on the future for the club with great optimism.
"If there is one thing the history of this great club teaches us, it is that Liverpool FC is bigger than any individual." – Brendan Rodgers

— Squawka Football (@Squawka) July 11, 2014
"I am confident we will improve the team further and will be stronger for this coming season, when we will be competing on all fronts." – BR

— Squawka Football (@Squawka) July 11, 2014
The sale of Suarez is clearly a significant loss for Liverpool, but one which Rodgers clearly believes can be rectified this summer and beyond.
The Future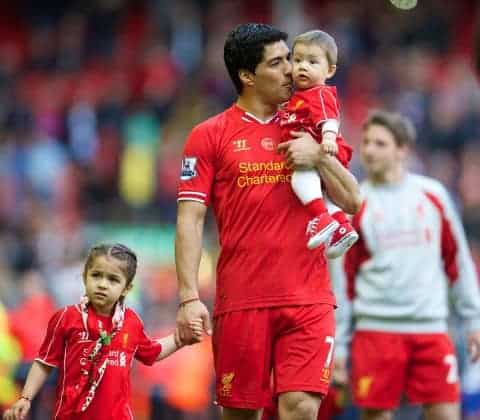 With the majority of reaction positive, focussing on the goals and performances of Luis Suarez—particularly in his past two seasons under Rodgers—it is importance to indulge on this sale the unique talents of the 27-year-old.
Responses of the club and manager exude considerable gratitude on the loss of a genuine, world-class talent.
https://twitter.com/MostarLFC/status/487573570583678976
Luis Suarez is clearly a vast talent lost, but £75 million is clearly a vast sum gained.
It is important that the focus is on the positive contributions of Suarez in a Liverpool shirt, and towards the development of the club without him.
Will Brendan Rodgers and Liverpool cope without Luis Suarez? Let us know in the comments below.