PJ Vaughan uses data from the last 19 years, through eight manager terms, to analyse the success and importance of the Liverpool's transfer strategies in recent times.

Transfers are one of the most import areas of management. I decided to see how Liverpool as a club did in terms of transfers and how successful each manager was in the last 30 odd years. So I have collated data from the last eight Liverpool managers from Kenny Dalglish in 1985 to our current manager Brendan Rodgers in 2014.
The good the bad and the ugly
From 1985 to May 2014 I have calculated the total number of successful signings to be 33% of all money spent. The total number of average signings accounted for 32% of all monies spent and the total number of failure signings accounted for 35% of all monies spent. Therefore approximately only one third of all signings are successes.
From the figures it would seem fairly cut and dry. If you sign 3 players, one will succeed, one will fail and the other will be average. However, looking at each manager individually there are huge disparities on how successful each of them performs in the transfer market.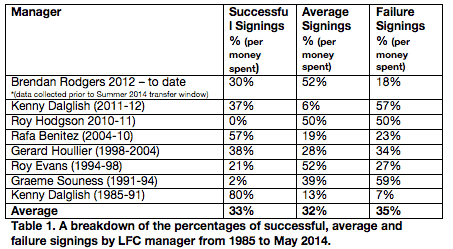 Kenny Dalglish from 1985-91 was incredibly successful in the transfer market. Rafa Benitez was the best Liverpool have had since, with over half his signing successful signings.
The worst were Graeme Souness and Roy Hodgson. Between them they only signed one successful player (Rob Jones). Souness, Hodgson and Dalglish (2011-12) performed poorly in signing failure players. The only caveat for Dalglish is that he also signed Luis Suarez and Jordan Henderson, which softens the burdens of his failure signings somewhat.

Roy Evans signed mainly average players. While Brendan Rodgers average signing figures are currently the same, some of his average signings have the ability to become successes. Roy Hodgson unsurprisingly also had an eye for an average player.
Good custodians or bad custodians
The next measurement I used to consider how well mangers did in the transfer market, was measuring the number of successful and failure players that they left on their departure. Ideally a manger would have increased the number of successful players at the club or in the very least not reduced this number.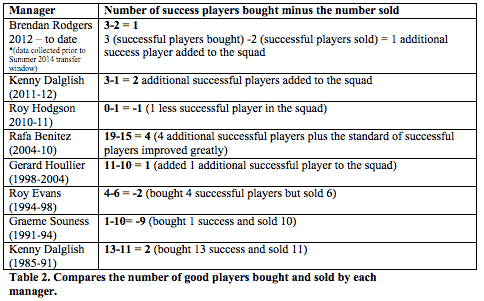 Benitez improved the squad greatly in his time he brought in a lot of good players and he improved the level of player in the squad overall. The table doesn't always show how hard it is to keep the number positive. Dalglish in 1985-91 lost some true club legends such as Sammy Lee, Phil Neal, and Alan Kennedy but managed to replace them all with successful players.
Souness was by far the worst he failed to replace good players and Evans and Hodgson also left less good players at the club.
I also used the same measurement to see how many failure players that the manger left after his departure. However, the number can sometimes get inflated as in Dalglish's second term when he offloaded many of his predecessors failures. Generally you wish to keep this as a positive number rather than a negative.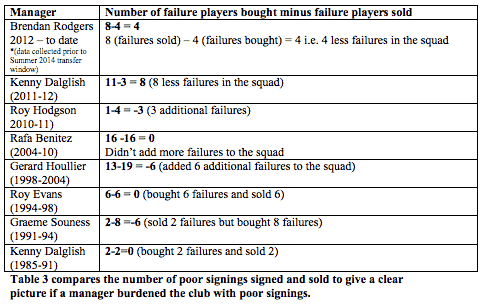 Dalglish (2011-12) and Brendan Rodgers have reduced the number of failing players within the squad. Gerard Houllier and Souness were by far the worst at signing failure player. If one criticism could be given to Benitez is that he bought some poor players thankfully most were low to medium fees and thankful he signed some great players too.
Balancing the books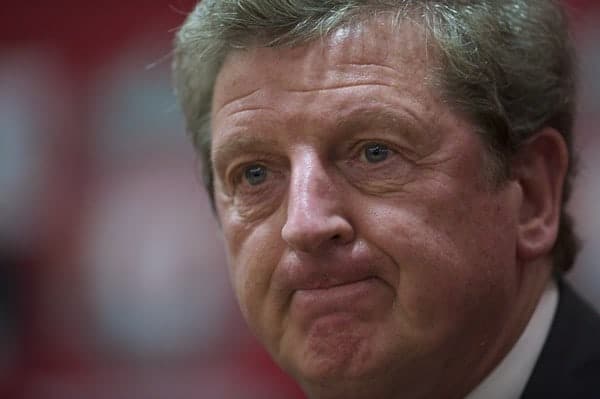 It's important that a manger leaves the club in a sound economic footing, so it is important to bring in something like 60% of all money you spend from sales.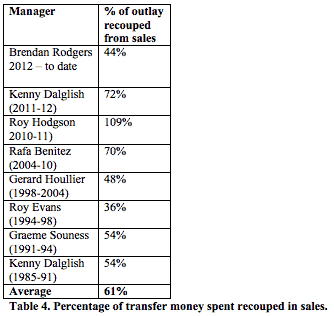 Hodgson topped the table here keeping the executives at the club happy. For all the talk in the papers about the millions Benitez spent he can indeed point to his net spend figures as the above table shows.
Winners and Losers
You can get away with not doing great in the transfer market for longer if you win matches. This is probably most true for Evans who was helped by the best generation of young players in the period.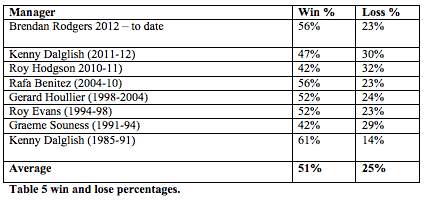 As you can see the Brendan Rodgers figures are the exactly same as Benitez, while both are someway off Dalglish 1985-91. Houllier and Evans had pretty much the same winning and lose percentages. However Houllier won more trophies.
Conclusion
Transfers can be a lottery, from my data I could see the more money spent on a player the more likely they were going to be a success. Transfers are an import part of any mangers role, but there are many other factors that lead to be a successful coach. Good coaching and having an excellent youth set up can reduce the reliance on brilliant transfers. Having said that if a manager performs poorly in the transfer market they are very likely to end up getting the sack.
Footnote
Deciding on who is a successful, average or failure signing isn't an exact science.
As an example, my successful signings are the likes of Luis Suarez, Fernando Torres, Jordan Henderson, Javier Mascherano, Xabi Alonso, Pepe Reina and Peter Crouch. My average signings were the likes of Jermaine Pennant, Bolo Zenden, Albert Riera, Raul Meireles and Robbie Keane. While my failures were the likes of Antonio Nunez, Josemi, Jan Kromkamp, Andriy Voronin, and Joe Cole.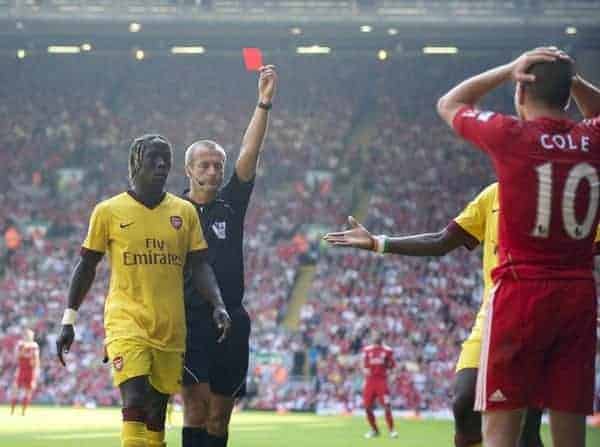 There are plenty of debatable ones, such as Joe Allen, who I have classified as average currently. Hopefully he will be a successful signing by next summer if he has a good season. Some average players such as Stewart Downing, Andy Carroll and Fernando Morientes became failure signings because we spent far too much money on them. So if a player was at the club for less than two seasons and left for more than half his transfer fee, I classified him a failure.
The logic I have used is that most young players that we signed that did not make it at the club were average signings and not failures as most had a career elsewhere. Also most were signed for little money so they don't really make much impact on the figures.