There was much to debate and discuss following Liverpool's 3-1 defeat to Man City on Monday evening, with teething problems apparent in the early stages of Brendan Rodgers' new look side.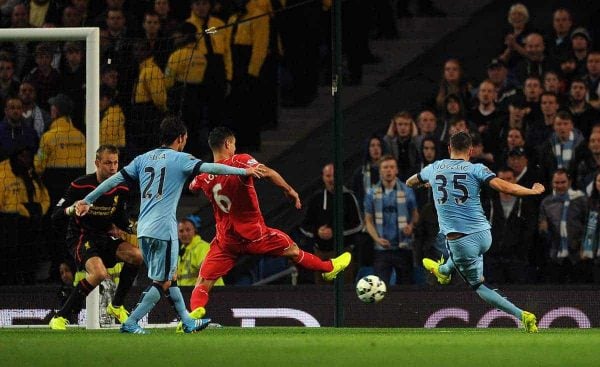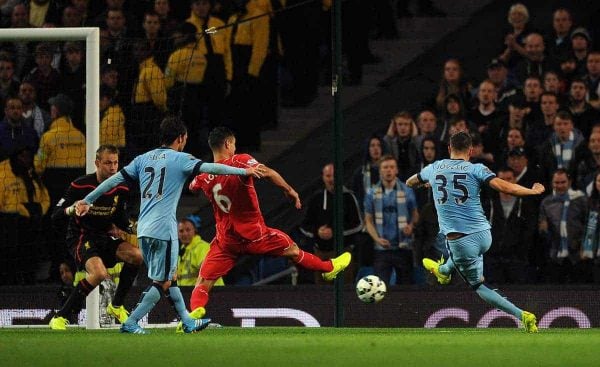 Lovren and Skrtel partnership will take some time
For the first goal, new signing Dejan Lovren is initially far too close to his partner, Martin Skrtel, and not having moved across to his left-back Alberto Moreno. As noted by Gilbert Anderson on his blog:
The space left between Moreno and Lovren is enormous and gives Silva the opportunity to dart into the box. Lovren is far too close to Skrtel and Johnson. Gerrard could have arguably done a better tracking job of Silva, though if Lovren was positioned say five yards further to his left then it would have been an easy clearance and the duel with Silva avoided. Why three of the back four are so far across the field is beyond me.
Coutinho needs to play in the middle
The Brazilian struggled again from the wide left role, misplacing passes and struggling to be the creative brains of the team that Brendan Rodgers wants him to be.
Admittedly he won't always have such defensive duties in the role, but Coutinho looks far more at home in a central role; either as one of the three in a midfield trio or diamond, or at the point of a midfield diamond as the attacking impetus of the side.
2 up front is the way forward
After switching to a midfield diamond and two up front in order to win last week's opener against Southampton, The Reds got their consolation goal on Monday after making the same change.
Rickie Lambert's presence seemingly allows Daniel Sturridge more space to prosper and occupy the opponent's defence. It also means more protection from the narrow midfielders alongside Steven Gerrard.
With Mario Balotelli's arrival, partnering him alongside Sturridge seems most likely.
Defensive midfielder needed?

While Steven Gerrard adds much from his range of passing and set-piece delivery, his duties ahead of his centre-back pairing, especially up against a talented and mobile midfield runners such as David Silva and Samir Nasri, are exposed. As noted by Sami Faizullah of OOTB:
"On the ball, the retired England captain is still excellent; his long balls particularly, from deep in midfield a familiar sight in last season's title challenging side. But off-the-ball, Gerrard is virtually non existent; his positional sense and defensive movement are worryingly weak, while his general defensive intelligence is always questionable."
Liverpool have squad depth
To end on a positive, Liverpool finally have some squad depth. Even without new signing Mario Balotelli and injured quartet Adam Lallana, Jon Flanagan, Daniel Agger and Fabio Borini, Rodgers had a bench consisting of £20m winger Lazar Markovic – who certainly injected pace and purpose after his arrival – £18m centre-back Mamadou Sakho, plus new signings Rickie Lambert, Emre Can and Javier Manquillo.