With Daniel Agger reportedly set to depart Liverpool this summer, Jack Lusby assesses the options to replace the Dane as vice-captain of the club.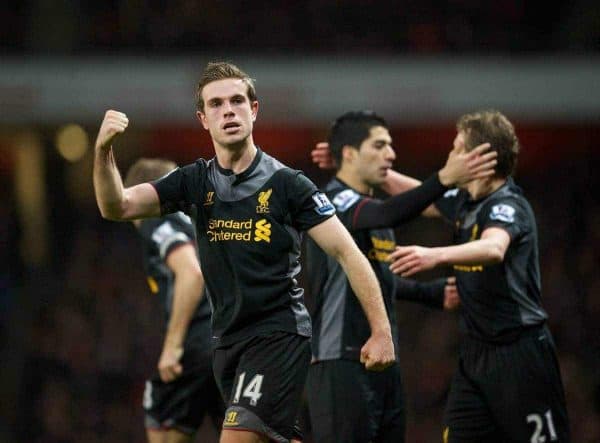 Speculation has mounted in recent days that Daniel Agger's Liverpool career is on its last legs, with The Independent reporting that the 29-year-old "thinks his future lies away from [the Reds]."
Arsenal and Barcelona are mooted destinations for the Danish international, and it would be a huge surprise is the centre-back remained at the club for the coming season.
Whilst his on-pitch contribution may not be missed, Agger will leave the club vice-captaincy vacant on his departure.
With that in mind, here are five options for future Liverpool vice-captain, with each given a grade in terms of likelihood.
ADVERTISING
PHOTO: Jordan Henderson leading the way during #LFC's training session at Melwood this morning pic.twitter.com/TNSWBpQXHk

— Liverpool FC (@LFC) January 3, 2014
Midfield dynamo Jordan Henderson could well warrant the vice-captaincy due to his determined rise through the Reds ranks under Brendan Rodgers.
This determination bleeds through into the former Sunderland man's playing style, with a seemingly boundless energy spurring Liverpool on with true fervour.
Henderson is now integral to the Reds' system, and this lends to the notion of the 24-year-old as a leader on and off the pitch.
Furthermore, the midfielder boasts a wealth of experience already, despite still being a relatively young age.
ADVERTISING
Since moving to Liverpool in 2011, Henderson has grown from boy to man, and in between several key landmarks have prompted this—particularly on the international stage, Henderson has proved his worth as a leader.
The midfielder is now a veteran of two major international tournaments, having featured in Roy Hodgson's squads for Euro 2012 and this summer's World Cup, wherein which Henderson started in two of England's three games.
Jordan Henderson with his England U21 Player of the Year award pic.twitter.com/1oznJrT4

— Liverpool FC (@LFC) February 3, 2013
In between these two tournaments, Henderson captained England at the 2013 European U21's Championship.
ADVERTISING
Recently, Reds legend told Mark Lawrenson told the Liverpool Echo that "When Steven [Gerrard] does retire – granted that won't be for a couple more years – I seriously think Henderson is a contender to take[the captaincy]."
Perhaps vice-captain is the perfect primer?
Likelihood (out of 5): 4
Marshalling the defence, Dejan Lovren in action today for #LFC at Anfield pic.twitter.com/jkeEWKus8G

— Liverpool FC (@LFC) August 8, 2014

ADVERTISING
It may be early days—the Croatian is yet to make his debut for the club—but central defender Dejan Lovren could well be the perfect replacement for Daniel Agger as vice-captain.
One main reason behind Liverpool signing the former Southampton man were organisational skills and true leadership at the heart of defence, qualities perhaps lacking last season.
Rodgers told LiverpoolFC.com that "[Lovren] is a commanding and powerful presence and clearly has leadership skills, which is important; he fits the profile of player we are looking for."
Like Henderson, Lovren is still young at 24 years old, but possesses a wealth of experience in the Premier League, Champions League and on the international stage.
Departing St. Mary's this summer, Lovren will look to fill the void left by Jamie Carragher, following the former vice-captain's retirement in 2013.
The Reds talisman , courtesy of the Liverpool Echo, suggested Lovren could replace Gerrard as Reds leader in the future, claiming "centre-backs normally make great captains."
ADVERTISING
https://www.youtube.com/watch?v=zEpoLdEeNE0
Carragher and Gary Neville analysed the importance of Lovren's leadership to Southampton's pressing game on Monday Night Football last season—a style of play Liverpool are well versed in.
A leader on the pitch, perhaps Lovren could be rewarded as such.
Likelihood: 3
Mamadou Sakho
"Brendan Rodgers manages to get the maximum out of every player," enthuses @mamadousakho3 – http://t.co/teasgxvzbS pic.twitter.com/pr1N9F6VsA

— Liverpool FC (@LFC) April 9, 2014
With one season on Lovren in terms of Anfield experience, French central defender Mamadou Sakho is another humble contender for the soon-to-be vacant vice-captaincy.
Signed for £18 million last summer, Sakho is set to become on the Premier League's leading centre-backs in the coming years, and this appointment could kick this off.
The former PSG man is no stranger to the responsibilities of leadership—Sakho captained the Ligue 1 side at just 17 years old, the youngest player to ever captain a side in the French top tier.
As such Sakho would bring this experience into a vice-captain role at Liverpool, and could well succeed Gerrard as captain in a few years' time.
One apparent reflection of this young responsibility can be seen within the Frenchman's role as an ambassador for the Liverpool FC Foundation, providing support to local communities such as All Saints Primary School near Anfield.
The Daily Mail detailed how "as well as coaching and mentoring the children on the pitch, [Sakho] will also be joining in with their French lessons," following in the footsteps of Reds elder Lucas Leiva.
https://twitter.com/MrBoywunder/status/494910924143071233
This responsibility combines well with the defender's aggressive, assertive playing style to form the composite model of the perfect vice-captain for the club.
If Sakho can hold down a first-team place under pressure from Lovren and Martin Skrtel, the vice-captaincy could suit his role.
Likelihood: 3
Martin Skrtel
PHOTO: Martin Skrtel heads down the steps of the #LFC team plane ready for the second leg of the #lfctour pic.twitter.com/s5Pw3u82r9

— LFC USA (@LFCUSA) July 26, 2014
If awarding Agger the vice-captaincy last summer was a mistake by Rodgers, given the Dane's lack of game-time, perhaps the appointment would have better suited a resurgent Martin Skrtel—this season, the Reds manager could atone for this.
The Slovakian centre-back has a similar level of experience at the club—joining a year later than Agger, Skrtel has experience in the Champions League and with serious title challenges at Liverpool.
Furthermore, much like Lovren, Skrtel is a vocal presence at the heart of the defence, and The Guardian quote Rodgers as praising the 29-year-old's "real leadership role with the young players" at the club.
This should come as no surprise, as Skrtel already captains the Slovakia national team.
This leadership has developed in tandem with the centre-back's ability within Rodgers' system, and this rise—particularly last season—under the Northern Irishman is much like that of Henderson.
An example for all, and a player with leadership qualities, Skrtel would be a fine replacement for his soon-to-be former defensive partner as vice-captain.
Likelihood: 4
PHOTO: @D_Sturridge battles for the ball in the @IntChampionsCup clash with Olympiacos #lfctour pic.twitter.com/ksTzbUCFg9

— Liverpool FC (@LFC) July 27, 2014
This last suggestion is perhaps the most tenuous, but appointing Daniel Sturridge as vice-captain may benefit all parties this season.
Following Luis Suarez's summer departure, the English forward has essentially been tasked with providing the goals to fill the void left by the Uruguayan at Liverpool.
A huge responsibility, indeed.
Courtesy of the Liverpool Echo, Sturridge believes this is possible, claiming "in terms of next season for the goals, I'll step up myself and everyone has to step up to get the goals because it is a long season."
The vice-captaincy would be somewhat of a symbol of this responsibility for Sturridge, and could well provide the 24-year-old with an injection of confidence—the former Chelsea man is the archetypal confidence-player, after all.
Like Henderson, Lovren and Sakho, Sturridge is at such a young age still—despite having been a fixture in the Premier League for many years already—and is set to star for years to come.
The popular striker certainly has the character for the role, but would be the most left-field appointment of this selection.
Likelihood: 2
[poll id="223″]
Who would you like to see replace a departing Daniel Agger as vice-captain? Let us know in the comments below.
More from This Is Anfield
Fan Comments