Deployed as a centre-back in Germany U21s' 2-0 victory over Republic of Ireland U21s, Emre Can added another string to his bow, writes Jack Lusby.
With the international break in full flow, thus signals a miserable period for Liverpool fans as a long wait for Premier League action ensues, cruelly so soon after the summer's inactivity.
The Reds' England internationals have so far endured a torrid time away with Roy Hodgson's Three Lions, with the 67-year-old set to blow a casket any time he is presented to a baying media.
However, a host of other Liverpool stars are in action for their respective national teams throughout this break.
Naturally, these sides have performed more admirably.
One outstanding character is summer signing Emre Can, who played the full 90 minutes as Germany's U21s side ran out 2-0 victors over the Republic of Ireland U21s.
https://twitter.com/AshTJay/status/508063319388094464
Contrary to the above graphic, Can was deployed as a right-sided centre-back alongside VfL Wolfsburg defender Robin Knoche.
With this performance, the 20-year-old may well have shown a likely restless Brendan Rodgers that he has another string to his bow.
The Performance
Against a mixed bag in the young ROI charges, Can's performance was dominant.
This is particularly impressive given the creative attacking prowess possessed by Aston Villa playmaker Jack Grealish, who excelled in the central role.
Throughout the 90 minutes, Can underlined his passing ability, his raw defensive capabilities and his devastating bursting runs through the centre of the field.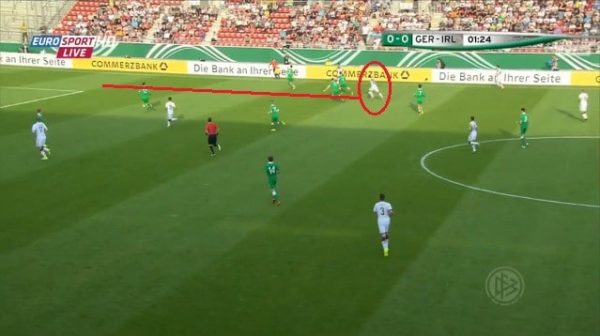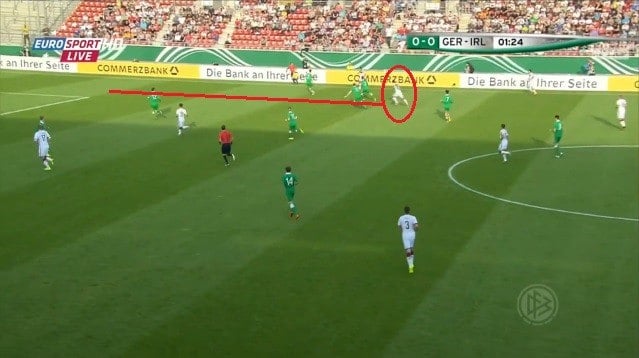 One such run on two minutes saw the 20-year-old make his way from the central defensive position to a wide right role with terrifying ease.
This is similar to the way in which Can tore through the Spurs midfield, shaking the attentions of Moussa Dembele, in the recent 3-0 victory.
Liverpool need players, particularly defenders, that are front-footed in their approach, and Can continued these forays throughout the 90 minutes, his energy key.
Can's confidence in possession was evident throughout, with the former Bayer Leverkusen man often adopting the deep-lying role whilst his teammates probed forward.
Accepting and recycling possession with a series of short, sharp passes, Can kept things moving in the early stages; most impressive however, was the way in which the centre-back switch play with a raking, long-range ball to find striker Philip Hoffman on 21 minutes.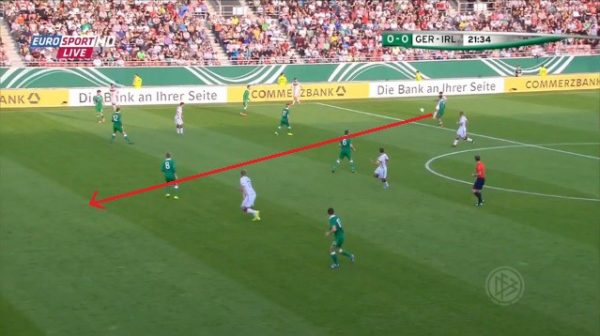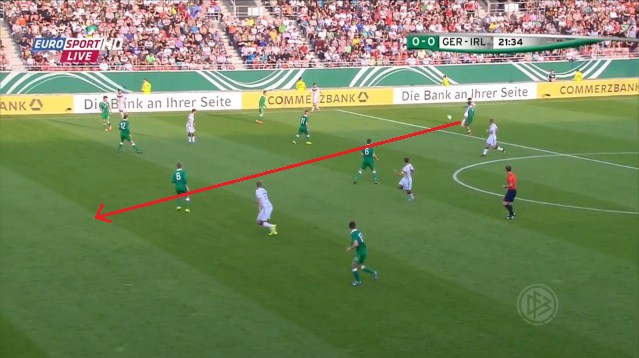 A particular quality rather reminiscent of Liverpool's current deep-lying playmaker, Steven Gerrard.
These attacking qualities were paired with a defensive brutality, and this would be paramount should Can be considered a central defensive option for Liverpool this season.
Can was dominant in the air as the ROI switched to a persistent long-ball style of play, as can be seen with a towering header to win the ball ahead of three Irish midfielders on 58 minutes.

On the deck, Can was equally as impressive.
Liverpool's style under Rodgers feature a notorious, high-energy pressing game, and a ruthless pursuit of Ireland's No. 7, Grealish, on 68 minutes outlined just how suitable Can is to this system.
To cap a great performance, Can utilised his strength to thwart Ireland's forward Conor Wilkinson as the No. 9 made a dangerous run into the Germany box on 86 minutes.
A meaty block tackle stopped the Bolton Wanderers man in his tracks, and ensured a clean sheet for Horst Hrubesch's side.

Last season, over 29 Bundesliga appearances for Leverkusen, Can made an average of 2.6 tackles (T), 1.5 interceptions (I) and 1.5 clearances (C) per game, according to WhoScored.
Comparing this to Dejan Lovren (2T, 2.7I, 7.8C) Mamadou Sakho (1.5T, 1.5I, 7.6C), Martin Skrtel (1.4T, 1.7I, 11.4C) and Kolo Toure (1.7T, 0.8I, 7.4C), Liverpool's new No. 23 is comparable on all fronts apart from clearances made.
This is understandable given the 20-year-old made just one appearance as a centre-back last season.

This was a performance that echoed this defensive prowess, but will Can be able to replicate this within a central defensive capacity for Liverpool, if required?
Can as a Centre-Back for Liverpool?
This performance outlined the encouraging prospect of Can as a centre-back for Liverpool, and with the right-hand side of the defence arguably the Reds' weakest area, the youngster could be a welcome option for Rodgers.
Partnering Lovren with Sakho could well be the way forward for Liverpool, and Skrtel can provide sufficient cover as third-choice, but there remains the potential for Can to oust Toure as de facto fourth choice.
Toure turned down a move to Turkish side Trabzonspor this summer, but will unlikely feature often under Rodgers this season.
Emre Can: "Carragher wore No.23 & was a legend playing here. I want to become a great LFC player too & maybe the No.23 can help with that."

— Viktor Fagerström (@ViktorFagerLFC) September 7, 2014
Can follows somewhat in the footsteps of the retired Jamie Carragher, taking his famous No. 23 shirt, and the youngster may be deployed in the Englishman's famed role this season for the Reds.
It should be a limited measure, and it is still early days, despite a promising display outlining a dominant defensive mind and a classy, hurtling attacking prowess.
Nevertheless, the option is there for Rodgers.
Granted this was a prominent display against unconvincing opposition, but perhaps Emre Can has shown Brendan Rodgers that he is capable of filling this position for the Reds in the future.
Can Emre Can overtake Kolo Toure as Liverpool's fourth-choice centre-back option this season? Let us know in the comments below.